RevoTile™ is the game-changing newcomer to the tile industry that offers a revolutionary floating floor installation system that goes in twice as fast as traditional tile. Offered in twenty-six gorgeous marble, wood, stone, and concrete looks, RevoTile can transform your space in just one day.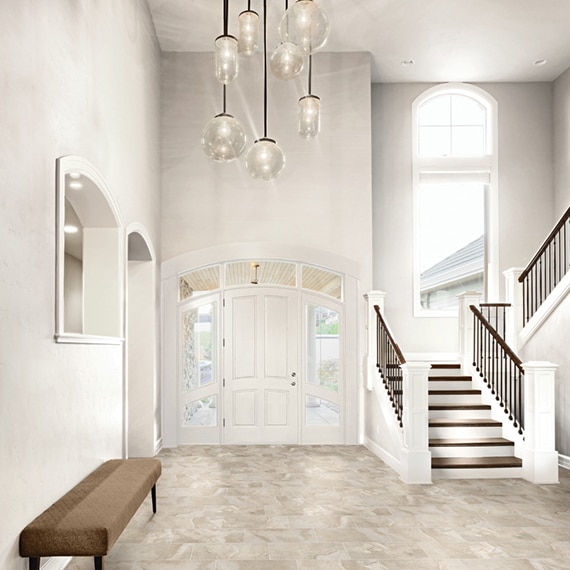 FLOATING FLOOR SYSTEM UNLIKE ANY OTHER
Patented RevoTile is genuine Daltile porcelain tile enhanced with a proprietary core that features ClicFit™ Technology – an interlocking tongue and groove system. ClicFit fosters consistent alignment for perfect grout lines, no lippage, and gives the DIY installer professional-looking results.
Unlike other hard surface floors, RevoTile installs over many existing floors eliminating the need for demolition and removal. It isn't necessary for the tile to acclimate before installing, nor is there mortar or grout mixing. A project can be completed in one day because drying and curing time is eliminated. It's also easy to remove should you change your mind about your floor down the road.
Additionally, RevoTile reduces sound in the floor below when walked upon, a common complaint for many hard surface floors.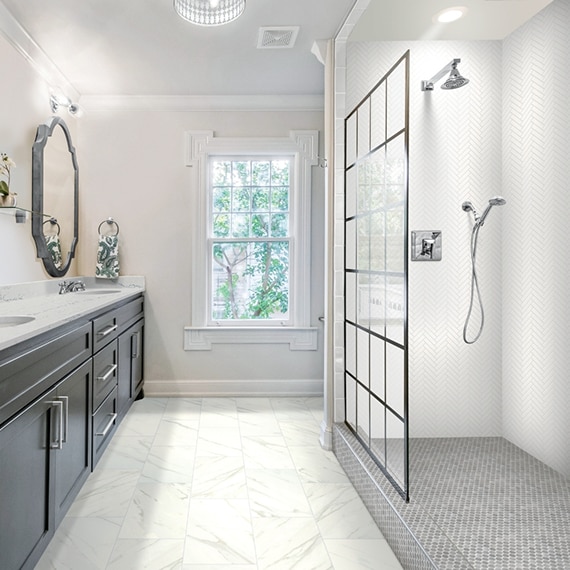 Porcelain Tile Installation in Record Time
RevoTile installs in three easy steps:


1. Place underlayment (no mortar needed - no demo of existing flooring)
2. Click-together tiles
3. Grout immediately (no wait time for mortar to dry)


RevoTile is one of the simplest floors to install, requires no demolition of the previous flooring, and is waterproof. Because RevoTile is so easy and quick to install, you enjoy reduced labor costs and minimal downtime.
No Guess Work in Grout Joints
RevoTile removes much of the worry about tile grout joints. You'll get perfectly straight, evenly spaced grout joints every time.
By its very nature, RevoTile is the quickest option for tile installation professionals and is virtually foolproof for do-it-yourselfers.
The ClicFit Install Kit provides everything you need to install RevoTile quickly and successfully.
REAL BEAUTY. REAL PORCELAIN. REALLY FAST.
RevoTile™ is waterproof, stain-proof, scratch-resistant, dent-proof, fire-resistant, slip-resistant, and easy to clean. Enjoy all the advantages of porcelain tile installed in half the time.
Prominent in style and design, Daltile provides fashion-driven, on-trend products and innovation that define modern luxury. RevoTile™ offers marble, wood, stone, and concrete looks in the most popular sizes and shapes.
REvotile Tools
RapidPrep underlayment, RapidGrout, & ClicFit Install Kit work perfectly with RevoTile.
How to Install
Install RevoTile in half the time as regular tile with this installation guide.
Clicfit Wararnty
Products featuring ClicFit Technology are backed by industry-leading warranties.