4 REASONS WOOD LOOK TILE IS BETTER THAN THE REAL THING
What is Wood Look Tile Flooring?
As you may have guessed, it is quite simply porcelain tile that looks like wood. In fact many of these products look so much like real wood, it is nearly impossible to know it is not real wood.
Thanks to advancements in technology and manufacturing processes, this tile flooring contains a level of detail not previously possible. Detail so innovative and precise, these products can mirror the look and feel of hand-scraped wood.
No longer limited to traditional sizes, wood look tile comes in planks of varying widths and lengths, as well as unique shapes and mosaics.
Wood look tile flooring is one of the hottest trends in the flooring industry. Here are four reasons it is not just as good as natural wood, it is actually better.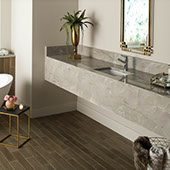 Performance and Durability
Daltile's wood look tile flooring products are designed with a focus on performance and durability, which makes them perfect for any room of the house any many commercial spaces.

Unlike wood, porcelain wood look tile can be used in wet areas including kitchens and bathrooms. There are other benefits too. Porcelain tile is easier to clean and maintain than real wood and thanks to sophisticated manufacturing techniques are durable enough for long lasting enjoyment.

All wood look tile products at Daltile are certified porcelain, meaning they've been certified by the Porcelain Tile Certification Agency.
A style for Every Taste
Daltile offers a vast selection of wood look tile that meets the diverse needs of our customers. Whether contemporary, rustic, traditional or modern, the Daltile wood look tile collection has products to help you create your dream design.
The wide range of colors and sizes, plus unique shapes, parquet style, and mosaics provides for almost endless design opportunities with a wood visual.
Daltile is constantly adding to our wood look tile collections. View the
entire collection
and find the perfect product for your project.
A Broad Selection
With dozens of products to choose from in the wood look tile-flooring category, Daltile has one of the largest assortments available in the industry.
Daltile's products come in a variety of colors, each carefully chosen to mimic the hues of real wood. There is a multitude of sizes as well, with some of our largest planks stretching four feet in length.
No matter what your needs, we're sure you'll find the right size and color combination to make your project a success. Find a complete listing of
wood look tile flooring
products at Daltile.
Where to Buy
Daltile's wood look tile along with thousands of other Daltile products can be purchased at flooring dealers everywhere.
Be sure to contact your local dealer to find out what's new and take home a sample of your favorite.
To find the location nearest to you, enter your zip code into our
dealer locator
.
Find Wood Look Tile
Find your nearest Daltile dealer to see our selection of wood look tile for the floor, wall, and more.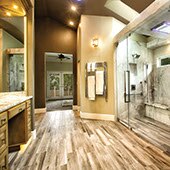 Wood Look
Shower
Real wood in a shower is crazy. But slip-resistant wood look tile is perfect for the shower.
Grout for Wood Look Tile

Our experts provide these 5 things you need to know about grout for wood look tile.