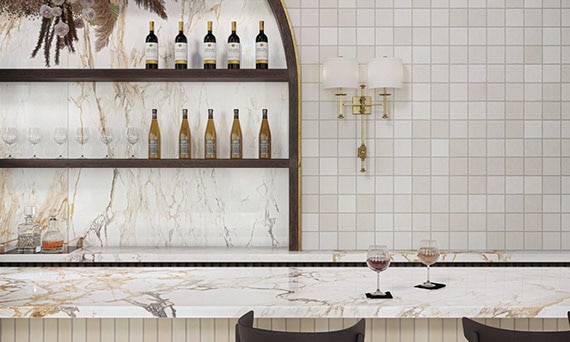 FAQs
Being in the tile industry for 75 years, we've received a lot questions. While we could not present them all here, these are the most frequently asked questions. All are answered by our subject matter experts.
These questions and more can also be answered by the outstanding staff at our sales service centers, design studios, and showrooms. We would love to meet you and provide personal this service - something we are known for! You can quickly find your nearest location with our
store locator
.
Cutting tile can produce silica dust, which can be hazardous if inhaled. Dry cutting tile produces the highest probability of silica dust and is not recommended. Wet cutting methods are best. Also, use adequate ventilation to keep dust exposure below recommended exposure levels and avoid inhaling any dust created by cutting tile.

Use of a properly fitted NIOSH/MSHA approved particulate respirator is recommended when cutting tiles for installation or during the removal of installed tile.

Use dust-proof goggles or safety glasses with side shields. Contact lenses may absorb irritants. Do not wear contact lenses in work areas.

Cotton or leather work gloves should be worn when cutting this product to minimize skin exposure to dust and/or cuts. Wash hands prior to eating, drinking, or smoking, and at the end of the work shift, after cutting operations are conducted.

Can I drill a hole through porcelain tile?

Yes. However, the only thing hard enough to drill through porcelain is a diamond drill bit. Bits of different sizes are available at your local home center.

When should I reseal my grout?

Conduct a simple water test to determine the condition of your sealant. Drop a small amount of water on the grout. If the water droplets bead up, the sealant is fine. If the water is absorbed into the grout, it is time to reseal.

Which type of grout is the best to use with tile?

There are several types of grout to choose from including sanded grout and epoxy grout. We reached out to leading grout manufacturers who provided everything you need to know about

selecting the perfect grout

for your project.

How do I choose grout color?

We recommend getting grout samples and placing them with your tile in the space where they will be installed. This will allow you to observe how they look with each other and how the lighting affects them.

Whether to match your grout and tile or use contrasting colors is a matter of taste. Expert craftsman and HGTV star Chip Wade offers tips for selecting grout color. Or visit one of our showrooms to consult with one of our designers (consultations are free!).

Pro Tips:

• For grout that requires you to add water and mix, the color can vary slightly from batch to batch.

• If grout color doesn't come out as anticipated, you can use a grout stain to correct the color or the consistency of the color.

• Keep in mind that grout color can darken over time and use.

Attic Stock is additional tile purchased and stored. We highly recommend that you purchase approximately 10% more tile than you anticipate needing for your project. This "attic stock" will allow you to easily replace any broken tiles or expand your tiled space with tile from the same dye lot and printing process (which can change slightly over years) as the original installation for a perfect match.

Is it difficult to replace broken tile?

Replacing a broken tile is rather simple. It is very important to wear protective gear, especially goggles.

First, remove the grout around the broken tile. Second, carefully remove the broken tile using a hammer and chisel. Third, remove the hard mortar or adhesive that was underneath the tile. You are now ready to replace the tile, using a tile from your attic stock, and re-grout.

What does COF or DCOF mean?

Coefficient of Friction (COF) or Dynamic Coefficient of Friction (DCOF) is the relative slip resistance of tile. The DCOF test results reported by Daltile is a laboratory or field test established by the American Society for Testing and Materials (ASTM) to provide its customers comparable slip resistance values for each of its floor tiles. The measurements are designed to be one important factor to consider in evaluating slip resistance.

Other factors can affect slip resistance, such as the degree of wear on shoes and flooring material; presence of foreign material, such as water, oil and dirt; the length of the person's stride; type of floor finish; and the physical and mental condition of the person.

Explore

StepWise

™, our patented, slip-resistance technology, and more information on

DCOF

.
Natural Stone information
What is the difference between natural stone and manufactured stone?

Manufacture stone is man-made.

Natural stone is created when one or more minerals consolidate into a solid formation. There are 3 main classes of natural stone as they vary in their development: sedimentary, metamorphic, and igneous. Sedimentary stone are made by amalgamated mineral deposits on the ocean floor, or other bodies of surface water, forming rock beds that are then fused together by heat and pressure. Metamorphic stone are stones that have morphed into another type of stone by heat, pressure and mineral deposits. Igneous stone are made by liquid and gas minerals permeating volcanic magma as it cools and hardens.

Natural stone blocks are removed from the quarry, the blocks are cut into 2cm and 3cm slabs and polished. Every block and every slab is unique. Skillful blending or matching of the dimension stone blocks, veneer panels, tops, etc., results in a beautiful blending of nature's variety and man's design. In contrast to the uniformity of materials produced by machine or assembly line, stone's naturally varied appearance has wonderful character. "Uniformity of material," when applied to natural stone, is a term of relative value that needs to be understood when making a selection.

What are examples of natural stone products?

Limestone and travertine are examples of sedimentary stone. Examples of metamorphic stone are marble, quartzite, slate, and soapstone. Granite is an igneous stone.



What are the finishes for natural stone products?

Common finishes for natural stone products include polished, honed, tumbled and antique brushed.

What does "natural cleft" mean?

This term usually refers to slate stones. It means a cleavage face formed when the stone is split into any thickness.

How much material should I order for my project?

Take wastage into account to ensure you will have enough material to complete the project.

Also, keep in mind that the material from a quarry today may be different from what was available six months ago. Further, there may be more than one quarry of the material. It is always recommended to include "attic stock," which is a small amount of material (approx. 10% extra) to be stored in the event future repairs are needed.

How do I get the best from a natural stone installation?

The final look of mixed tiles may vary considerably, especially if the stone is variegated and veined. The installer should mix tiles from different boxes during the installation to achieve a more even, visually pleasing result in the finished surface. We recommend you view the natural stone with your installer prior to installation. Moreover, it is highly recommended that you discuss in detail the stone layout with your installer to prevent misunderstandings. Visit our

installation guides

to read more.

How do I care for my natural stone countertop?

Use coasters under all drink containers, particularly those containing alcohol or citrus juices. Many common foods and drinks contain acids that will etch or dull the surface of many stones. Do not place hot items directly on the stone surface. Use trivets or mats under hot dishes and placemats under objects that can scratch the surface. Visit our care and maintenance section to read more about

natural stone care

.

How do I care for my natural stone floor?

Sweep and mop interior floors frequently using a clean, non-treated, dry dust mop. Sand, dirt and grit do the most damage to natural stone surfaces due to their abrasiveness. Mats or area rugs inside and outside an entrance will help to minimize them. Be sure that the underside of the mat or rug is a non-slip surface. Normally, it will take a person about eight steps on a floor surface to remove sand or dirt from the bottom of their shoes. Do not use vacuum cleaners that are worn. The metal or plastic attachments or the wheels may scratch the surface. Visit our

care and maintenance

section to learn more.

How do I prevent staining on natural stone?

Most natural stones are porous and readily absorb liquids and moisture. Materials like limestone and sandstone are extremely absorbent, whereas granite and serpentine (green marble) are denser, but will still absorb liquids that are allowed to remain in contact with them for extended periods of time. The use of a sealer will help prevent staining in most situations. Even a sealed surface can stain if left in contact with a staining agent for a long period of time.

Therefore, all spills should be wiped up as soon as possible, and coasters or napkins should be set when serving food or drinks on a stone bar, table or countertop. Soft drinks, coffee, tea and fruit juices contain mild acids and can etch the polished surface of a stone and stain quite rapidly. These should be cleaned off immediately with mild soap and warm water.

Sealers are recommended to protect your natural stone.

A sealer cures as a film on the stone surface. Since the material is actually covering the stone, the appearance of the stone surface may be altered. This material will absorb most of the wear on the countertop. Since the sealer is softer than the stone, normal use of the countertop will result in abrasion of the sealer surface and require periodic reapplication to maintain the original luster of the surface. A properly applied topical sealer will normally reduce, although not eliminate, the vulnerability of calcareous stones from mildly acidic solutions.

General Precautions: When any surface protection product is used, care must be taken to read and follow the manufacturer's instructions accurately. This will provide the greatest benefit from the application and will guarantee safe handling of the product.

How do I clean my natural stone tiles and slabs?

Clean natural stone surfaces with a neutral pH stone cleaner (available at many retail stores and tile and stone dealers) or a mild liquid dish-washing detergent and warm water. Use a clean rag mop on floors and a soft cloth for other surfaces for best results. Rinse the surface thoroughly and dry with a soft cloth. Change the rinse water frequently. Visit our natural stone care and maintenance section to learn more.

Quick tips:

• Do not use scouring powders or creams; these products contain abrasives that may scratch the surface.

• Do not use products that contain lemon, vinegar or other acids on marble or limestone.

• Too much cleaner or soap may leave a film and cause streaks.

How do I care for my natural stone in wet areas?

In the bath or other wet areas, soap scum can be minimized by using a squeegee after each use. To remove soap scum, use an approved non-acidic soap scum remover available at retail stores or at your local tile and stone dealer. Visit our care and maintenance for

natural stone

to learn more.

What do I do if fill is coming out of my travertine stone floor?

After installation and throughout the life of the travertine floor, some of the fill may become loose depending on the foot traffic and/or because of sharp objects (shoe heels, dog paw nails, etc.) in constant contact with the floor. This is a natural occurrence and can be solved by re-filling the tiles where needed with a non-sanded grout. This is part of the regular stone maintenance and pores are a natural characteristic of travertine.
Daltile Product information
Does any Daltile tile contain lead?

Daltile does not intentionally add lead in any form as an ingredient to either the body materials or the glazes of our manufactured products, with only one exception. The single exception is related to a specialty color of red glaze. This color is used almost exclusively as accents in some wall and mosaic tile installation projects. Our efforts to eliminate the lead additive have been thus far resisted by our customers, because of the inability to duplicate the exact shade of red without using lead.

Our products are also free of asbestos.

Does Daltile sell recycled tile?

Dal-Tile Corporation has an environmentally friendly manufacturing process that recycles scrap tile (both fired and unfired) into the manufacturing process. Almost every product we sell contains recycled material. It is Daltile's corporate objective to minimize any waste relating to our manufacturing operations. Both water and material recycling is widely practiced throughout our manufacturing operations.

Get all the details about

our green manufacturing processes

.

Where can I find product test results (DCOF, breakage, water absorption, etc.)?

Test results provide buyers information on product performance. Daltile provides extensive product information to allow customization without having to sacrifice the practical needs of the application.

Daltile recommends that you refer to our

sales sheets

, which are available for download on each series page under "Documents," or in our

product catalogs

for test results and the industry recommendations for performance given your unique application needs.

If I have a specific question, who can I contact?
Purchasing Daltile Products
Where can I purchase Daltile products?

Daltile has Sales Service Centers located throughout the United States (including Puerto Rico) and Canada to service our trade professional clients. Daltile does not sell to the general public, however, Daltile has a network of authorized retailers and Elite Statements Dealers that offer our products. To locate the Daltile Dealer nearest you, see our

Store Locator

.

Can I purchase tile directly from Daltile.com?

Daltile does not sell directly to the general public. However, Daltile products are sold to the public through our network of dealers and authorized retailers. Our Elite Statements Dealers are knowledgeable floor covering experts who can help you define the style of tile or natural stone you are seeking. To locate the dealer nearest you, see our

Store Locator

.

Can I order tile samples from Daltile.com?

Yes, you can order samples online! Select "order sample" from the product page or search results, or "add to cart" from the

Samples

page.

When can I expect to receive my tile sample?

Samples orders placed before 4:00pm (CT) are shipped the same day. Orders placed after 4:00pm (CT) are shipped the next business day. Exact number of days in transit are dependent upon your location and distance from our distribution center.

Where can I find the price of a product?

Daltile doesn't sell directly to the public. We have a network of authorized retailers and Elite Statements Dealers who have access to product availability and pricing for the Daltile products you prefer. To locate a dealer near you, see our

Store Locator

.

How can I check the availability of a specific product?

Daltile has a network of dealers who have access to product availability and pricing for the Daltile products you prefer. To locate the dealer nearest you, see our

Store Locator

.

Can I purchase a product after it has been discontinued?

On many occasions, you can find remaining inventory within the first six months after a product has been discontinued by contacting one of our Sales Service Centers (SSCs). Beyond six months, it becomes extremely difficult to locate discontinued products. Occasionally, they may be made available through special production runs from third-party specialty manufacturing companies on a custom basis and at a premium price. For more information, please contact the

Daltile SSC nearest you

.

How do I become a Daltile dealer?

How can I contact a Daltile representative?