Reinvent the Traditional Tub Surround with Tile
Like most facets of bathroom design, the traditional tub surround has its limitations when it comes to making a contemporary statement. Homeowners looking to set their bathrooms apart in a bold way should look toward tile to accomplish their design goals.

A floor-to-ceiling tile tub surround can turn time spent in your bath into a luxurious experience that's complete with the colors and features that suit your tastes. The right tile can bring a powerful dimension to your bathroom, making the tub the centerpiece of the room.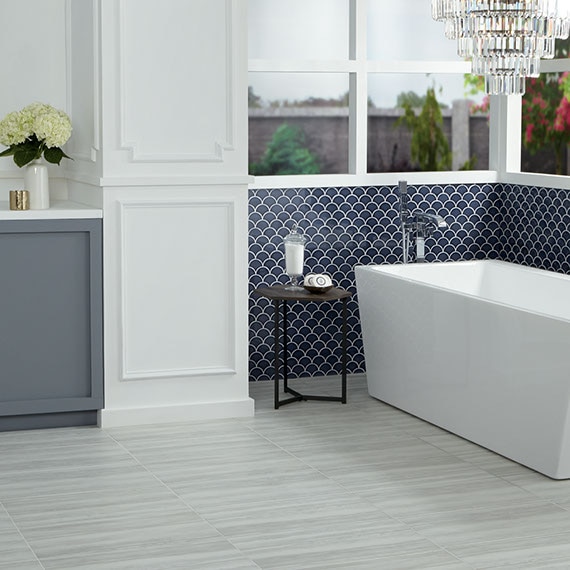 Start with the Style
When looking to reinvent the traditional tub surround, the first step is to choose the right style. For instance, are you looking to create a bold design that dramatically differentiates the space from the rest of your home? If the bathroom is in your master suite, are you attempting to create a seamless design flow from the bedroom to the bathroom?
Setting your design strategy in place is crucial to making the tile selection process an easy one.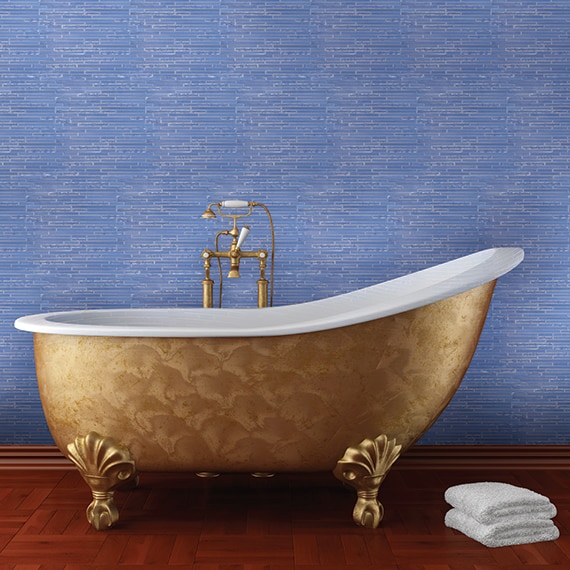 Lift Your Glass
One tile line has homeowners thinking they have stepped into the looking glass. The imaginative Opulence™ line gives your bathroom depth on surfaces like your tub surround. The glass mosaic tile features random linear pattern and is versatile enough to fit traditional or contemporary styles.
Are you looking for a tile with color versatility? Opulence comes in rich color options.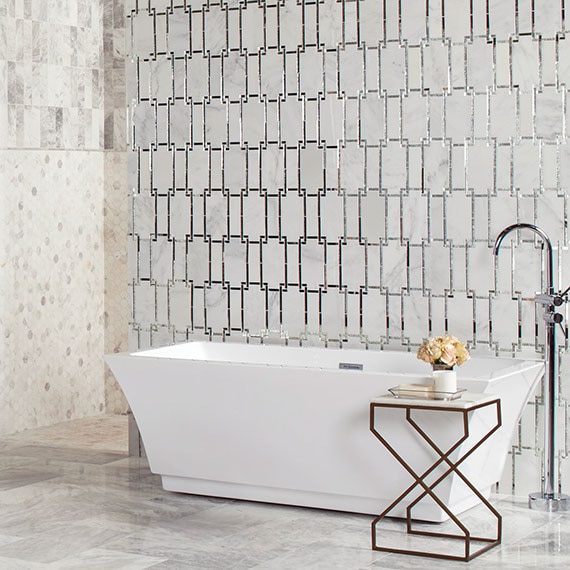 Marvel at Marble
Many homeowners opt for the traditional, unique look of marble tile for their bathroom design. With the aesthetic flair produced by marble's natural veining patterns,
marble
stands apart from other options.
Marble has stepped beyond its traditional design with the introduction of our stunning
Lavaliere™
collection. Antique mirror accents adorn luxurious marble for an unrivaled marriage of the past and present.
You can also achieve the appearance of multiple textures by utilizing slightly different marble colors and a mix of smaller and larger tiles. This will generate a layering effect that's sure to make your design pop.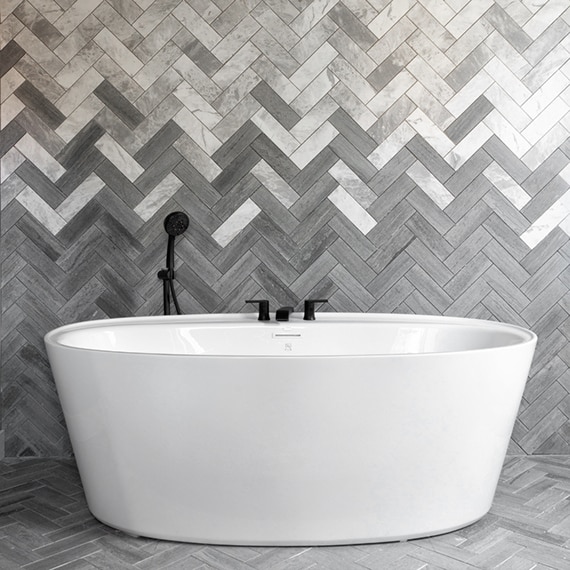 Follow Your Dreams
Regardless of which tile you choose to design your tub surround, the possibilities are limitless. Think big with oversized tiles to form the majority of your surround, or think small and create a stunning accent wall that's made up of only mosaics.
Mix colors and styles to make your tub surround the unique focal point of your bathroom. This beautiful combination, featured on
Bargain Mansions
, is
Raine™
&
Fonté™
, two natural stone collections that offer mosaic tile as well as traditional tile sizes. Choose a style and run with it, allowing your design preferences and goals to guide you along the way.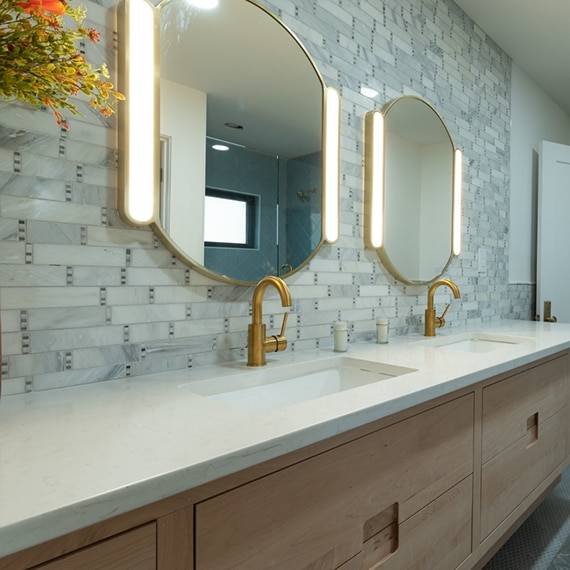 Best Bathroom
Vanities
What's the best bathroom vanity countertop? Chip Wade answers this common question.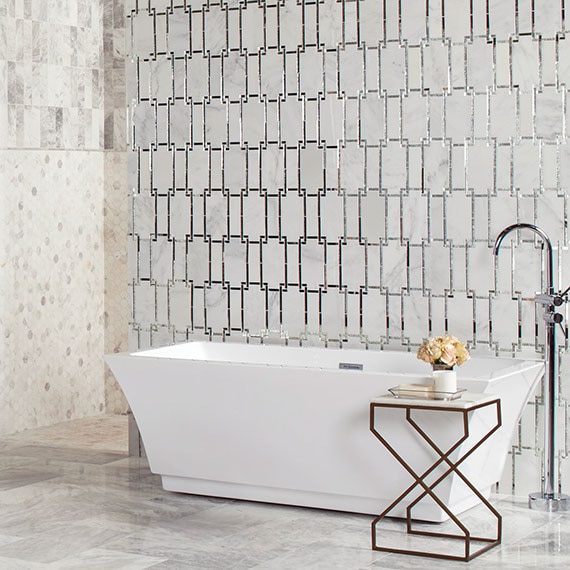 Bathroom Renovations
Chip gives his top 3 tips for maximizing your return on investment.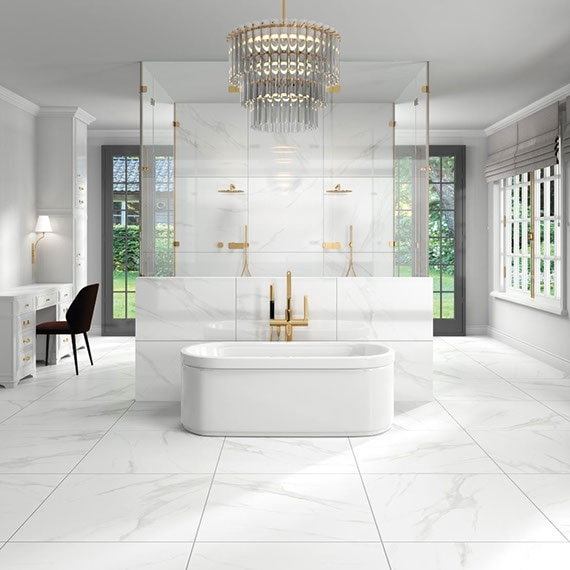 Shower Tile Do's & Don'ts
Avoid these common mistakes for a long-lasting, waterproof shower tile installation.