Tips for Natural Stone Tile in the Shower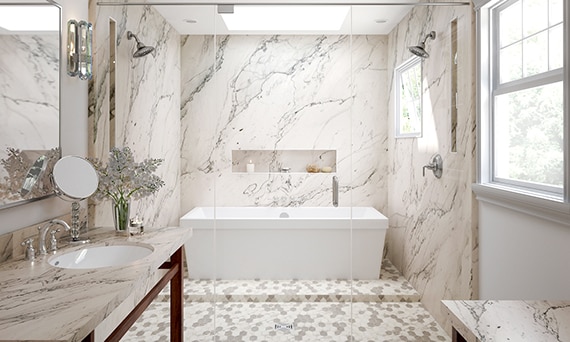 The luxury of natural stone is a showstopper.
Although a little extra care and maintenance is required, we believe you should strongly consider incorporating natural stone into your bathroom design.
Our natural stone experts provide these easy to follow tips to keep your natural stone shower looking beautiful.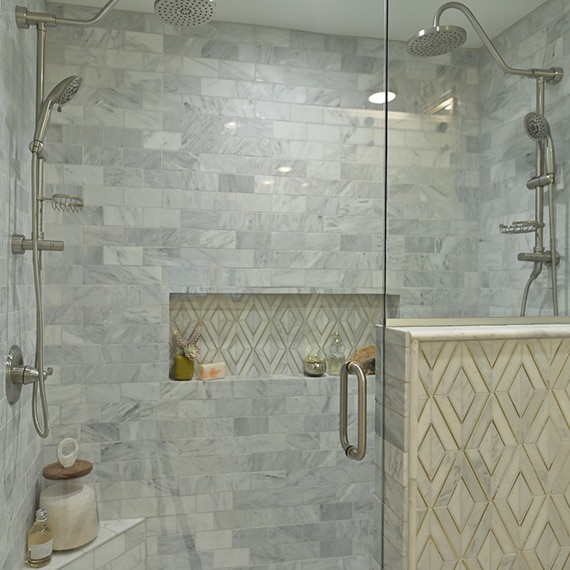 Avoiding Mold & MIldew
Mold and mildew can be a problem in the bathroom and it is one of the reasons some hesitate to choose stone in the shower. But mildew can be avoided. The little extra you have to do to keep stone maintained in the shower is far outweighed by the beauty stone offers.
The issue with mold and mildew is not the surface of your shower, but the water. Water that does not drain can cause mold and mildew growth. If your surfaces are water repellent, drained properly and dried quickly, mold and mildew will not form.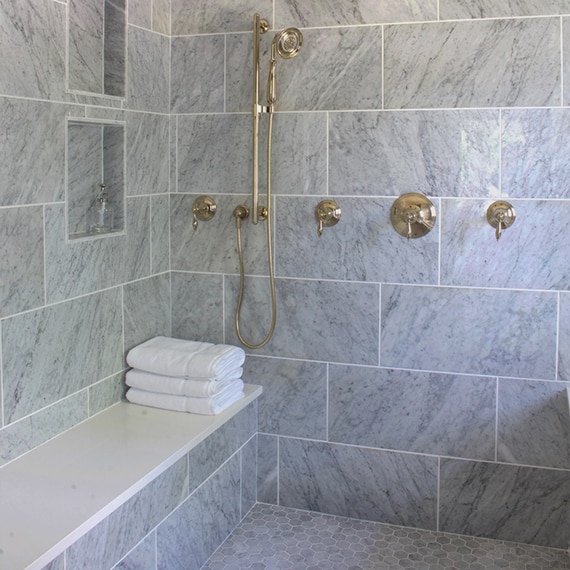 stone Slab in the Shower
Slabs are not just for countertops. They are a stunning addition to the shower wall. A beautiful marble or unique granite solid surface puts your design in contention with five-star hotels. For an even more inspiring design, consider book matched stone. This will introduce not only the beauty of natural stone, but a pattern of naturally occurring veining.
Maintain stone slab in the shower by ensuring it is sealed well once per year. This will help the stone repel water and keep mold and mildew at bay.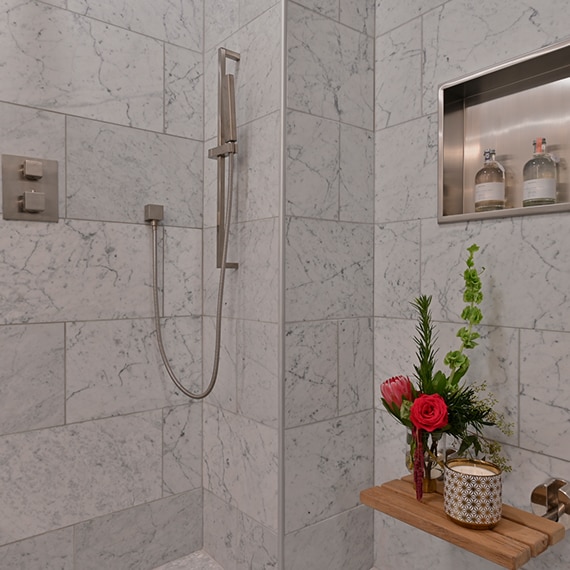 Polishing & Sealing
The more polished your stone, the better it repels water.
Honed and other finishes will not dry as quickly. Natural stone with these surfaces need an excellent drainage system and to be dried after each shower.
Regardless of finish, frequent cleaning is the best method to maintain the beauty of your natural stone shower.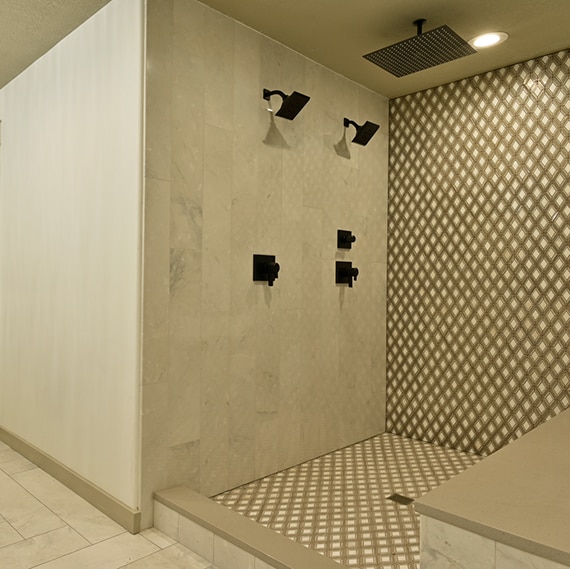 Grout & CAulk
Lock water out by ensuring caulk and grout are properly maintained. Inspect it regularly to identify when repairs need to be made before any water can get behind stone tiles in the shower.
Consider a grout and caulk with built-in mildewcide to stop mildew growth before it starts.
DRAINAGE & VENTILATION
When updating your bathroom with a stone shower, plan for a system that will reduce moisture.
Excellent drainage is a must to preserve natural stone. Any shower nooks or shower shelves should be built with proper drainage. Drainage for the shower floor is equally imperative.
Ventilation helps dry the shower, which will prevent mildew and mold from developing. Fans and central air vents can greatly aid this effort.
Your contractor can help you make the right choices from the start if you plan with your stone in mind.
*Always check manufacturer recommendations before installing shower stone to ensure proper and safe installation.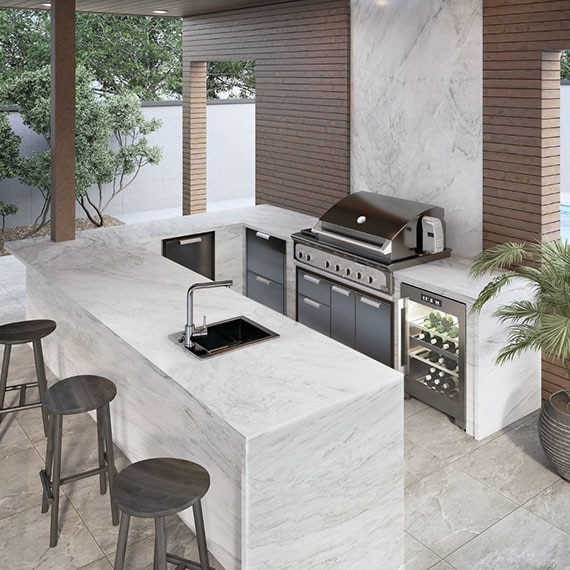 Browse Natural stone
For all of human history, natural stone has been the pinnacle of style and luxury.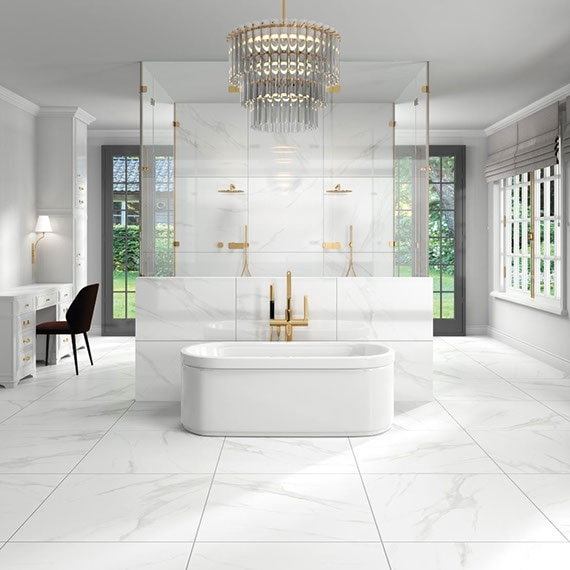 Shower Tile Do's & Don'ts
Avoid these common mistakes for a long-lasting, waterproof shower tile installation.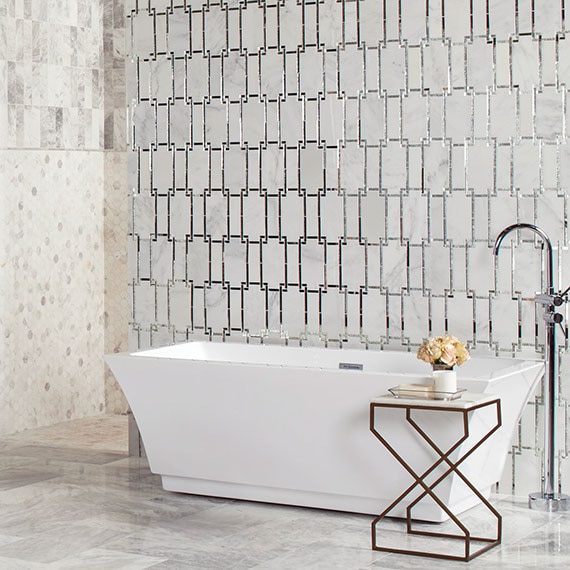 Bathroom Renovations
Chip gives his top 3 tips for maximizing your return on investment.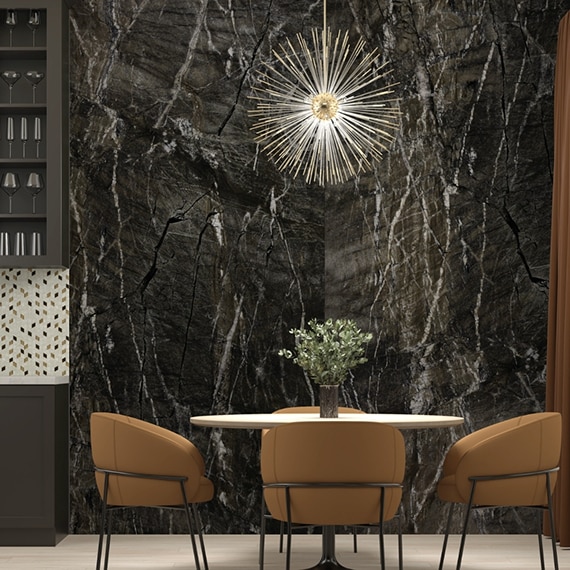 Your nearest stone center
Stop by a stone center to see beautiful natural stone in every type and style.