When your bathroom is ready for an update and you don't know where to start, look to the year's trends to define your style. Start collecting some bathroom remodel ideas, then you can create a unique design you'll be happy with through the years.

Here are the trends that made the top of our list.
#1 MIXED MATERIAL
Mix up your bathroom design with different materials. Wood and glass work great together. Or try marble and wood. There are all sorts of combinations that can form a solid design foundation without becoming overbearing.

Bathroom Tile Ideas
Wood-look tile is a great option for the bathroom where wood might be a no-no. Our wood portfolio has grown a lot in the last year so there's plenty to choose from. Add to that a gorgeous glass or elegant natural stone mosaic and you're set.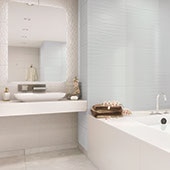 #2 TEXTURE
A little texture on the wall is a hot trend. Tile is a great way to get it. Whether it's a raised geometric shape or rustic, split face stone, texture will add a richness to the space you can't get any other way. The shower is the number one place to put textured tile. It lends a spa feel and makes your bathroom luxurious.

Bathroom Tile Ideas
Multitude is Daltile's latest and greatest textured tile. It comes in a wave, pinstripe, or hexagon raised pattern that seamlessly flows from one tile to the next for interrupted texture. Pick from muted, neutral colors perfect for the bathroom.
#3 FREE-STANDING TUB
Elegant, free-standing tubs of all sorts are hot. Whether you're talking about a vintage version or a sleek Scandinavian type, these tubs make the bathroom special. Wall-mounted faucets are on-trend too.
Bathroom Tile Ideas
Both free-standing tubs and wall-mounted faucets are perfect companions to a feature wall covered in tile. Large-format tile in a stone look or sleek concrete look is on-trend. Or try a unique mosaic to add a little bling to the space.
#4 LIGHTING
Another hot trend is unique lighting. Chandeliers over the tub and sconces over the vanity. The right lighting sets the tone for an upscale bathroom.

Bathroom Tile Ideas
Tile looks great in any light, but if you're going for something worthy of your chandelier, go with a neutral matte stone or a concrete look that won't steal the show from your chandelier.
#5 PATTERNED TILE
Patterns of all kinds are a hit in bathroom design right now. Prints on the tile give you a high contrast retro look that still exudes fresh style. Or create patterns like herringbone or checkerboard with your tile for a design worth paying attention to.

Bathroom Tile Ideas
Subway tile is easy to create patterns with as the size is easy to work with and come in so many colors. Try an updated subway look with natural stone.

Wood-look planks are another great option for patterning. It won't overwhelm the room and adds personality.

#6 DARKER COLORS
Richer colors, on the whole, are in vogue. And the darker the color, the more neutral it becomes. Look for dark green, purple, and blue making an appearance in bathroom design-especially the powder room.

Bathroom Tile Ideas
A concrete-inspired tile in a dark color is a good option or go with the darker wood-look tones or beautiful fabric-inspired looks in darker colors. Whether it's on the walls or on the floor, dark tile enriches the bathroom space.
#7 VINTAGE
Vintage style has been growing as a favorite style in the last couple of years and that continues into today. Vintage tile is of particular interest this year. Tile has been around for many years and many of the styles that were original favorites are still around-think black and white hex, 4 x 4 glossy finish ceramic, or Turkish or Moroccan mosaic shapes.

Bathroom Tile Ideas
Subway has been getting an update because of the popularity of vintage tile. You can now get it in a one-inch, black and white hex.
Now you're ready to start designing a bathroom that's perfect for you. Take a look at both cutting-edge and traditional tiles for your bathroom remodel today at Daltile.
Best Bathroom
Vanities
What's the best bathroom vanity countertop? Chip Wade answers this common question.
Bathroom
Remodeling
Updated bathrooms increase property value. See Chip Wade's tips for maximizing ROI.
Seamless
Backsplashes
See Chip Wade's ideas for seamless bathroom & kitchen backsplashes.