Insiders Tile Trends Forecast
Daltile is looking ahead with plans well under way for the tile that fits right in with the hottest trends but is timeless enough to keep your bathroom, kitchen, patio... in fact every space... looking great for years to come.
Ciao! I'm Laura Grilli, director of Sr. Product Development Manager at Daltile. I am here to give you the inside scoop on what's coming up in tile trends.
TREND #1 WOOD-LOOK TILE IS HERE TO STAY
Wood-look is the largest selling category in the tile industry right now. It looks more authentic than ever and offers unmatched durability. Wood-look tile isn't going anywhere. It's now a standard offering rather alongside some of our best-loved tile, but that's just the beginning. As far as design and style, wood-look goes with everything from rustic to the cleanest contemporary and it is the tie that binds different styles together in an eclectic whole. It can do an urban loft as easily as it can do a traditional kitchen.

What's new in wood this year? Glad you asked!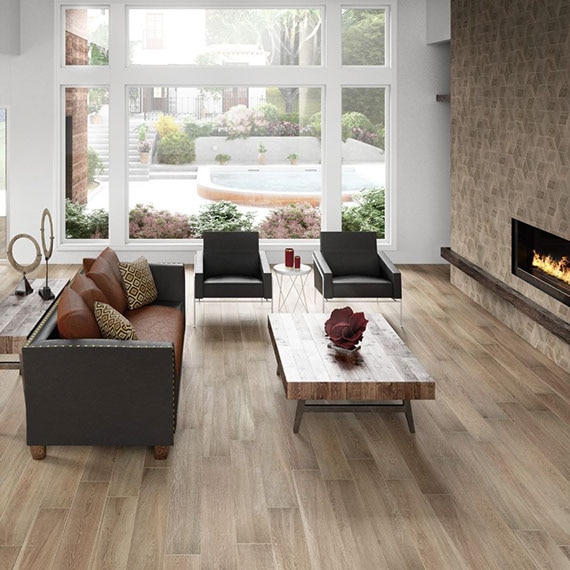 Exotic Species, Old Favorites
Designers still love the clean, simple look of Scandinavian styles and the hottest wood look this year will probably be inspired by Larch wood. It's a clean, tight-veined wood with plenty of contrast that complements the smooth, contemporary style making its way across the world.

Also look for traditional, rustic oak looks in tile this year. Chipped edges, saw marks, hand scraped, and chatter marks are the trend standard for traditional style in 2017. Tile technology is able to authentically replicate these looks with synchronized graphic printing and structures that add the character that make this style so loved.
New Finishes
Wood-look tile finishes making an appearance in design this year will lean toward innovations of centuries past. Look for vaporized wood-looks, aka, wire brushed, that have a more pronounced grain and texture and ceruse looks with their whitewashed effect.

The emphasis with these new finishes is aimed at bringing out the rich grain and textures of the wood. You'll be amazed how well the tile industry replicates these finishes!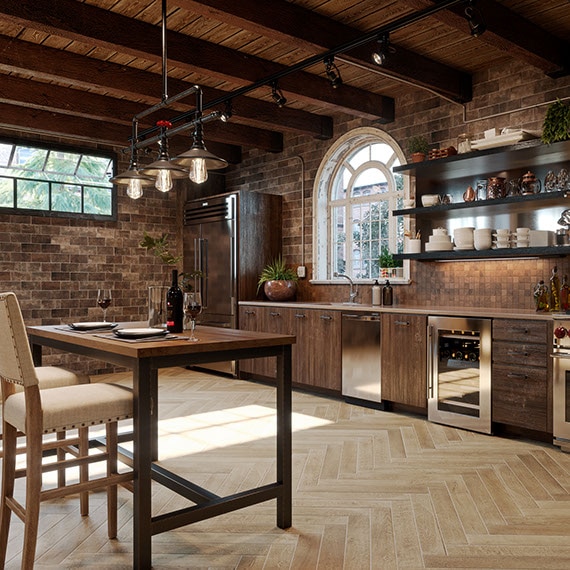 Sizes & Shapes
Look for wood grain tile in both more traditional and completely surprising shapes and sizes this year. Shorter, narrower planks that were popular in the mid-century modern era are back. In fact, Daltile is introducing a 4 x 28 (our narrowest) plank early in the year. This tile looks so elegant and is perfectly suited to herringbone patterns. On the other hand, the planks also keep getting bigger—we currently have tile up to 60 inches long! The natural wood flooring market is producing larger planks and with new advances in tile technology and our newer factories, we are able to match their offerings step for step.
Wood looks in brick sizes, hexagons of all sizes, even mosaics will become the new favorite use of wood.
TREND #2 SEAMLESS OUTDOOR-INDOOR LIVING
Open-formats have already taken in the patio and the trend for indoor-to-outdoor transitional living will continue growing. Tile will assist in this trend by offering more products that can be used both indoors and outdoors. Daltile introduced Saddle Brook XT, an outdoor-safe wood look recently and we will see more options for this type of seamless living ahead. Another successful product is Slate Attaché with the same outdoor technology and easy clean-ability.

The biggest trend in indoor/outdoor tile products will be 2 cm pavers. This is about twice the thickness of regular tile. These large, thick pavers already come in several stone-looks and keep your eyes open for more option coming on the market soon. Wood, stone, and sophisticated cement interpretations will be popular in the kitchen and moving out onto the patio. This can be installed directly on gravel, sand, or dirt.

TREND #3 MASONRY INTERPRETATIONS
Brick was a favorite for rustic or industrial kitchen backsplashes last year and the masonry trend is just going to grow. It will begin to embrace some interesting interpretations like brick sizes and shapes in different looks like wood or concrete.

Look for subtle surfacing on cement interpretations and mashups of concrete and metal. Italian craft cementine will continue to make a comeback in tile this year and will be a great option for trendy commercial and retail spaces.

Classic ceramics will also make a comeback. Terra cotta and traditional adobe brick type colors and looks will make an appearance on fireplaces, patio walls, and urban industrial backsplashes. Masonry, like wood, just goes well with everything and the more eclectic styles will use lots of both.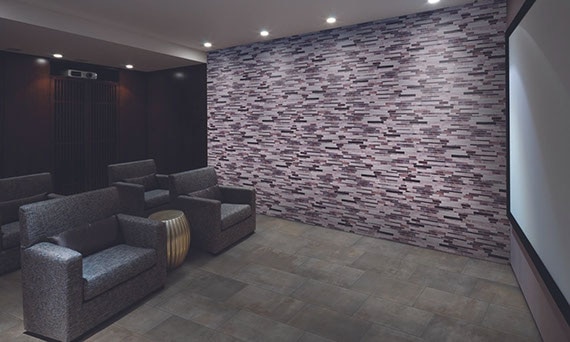 TREND #4 METAL & TEXTILES
Tile with metal or textile looks and finishes are the big news. Metal has been growing as a favorite for a few years. The color offerings are getting better (gun metal and pewter rather than just stainless) and finishes are now available in matte or light polishes. Metal-look tile is more authentic yet also offers styles that you can't get anywhere else like metal-influenced concrete looks.
Textile-look tile is always around and is a great fallback. They will breathe life into design. Linens, tweeds, tartans, and patterns will all make an appearance. You'll see these in concrete and stone mashups too.
TREND #5 STONE
I couldn't talk about trends without stopping to mention marble. White marble still takes the cake but we will see many more colored marbles gaining popularity in design. Grey, beige, black, and brown marble are hot contenders with classic white marble.

Another favorite stone will be anything monochromatic with minimal movement or graphics like limestone and monochromatic slate. Bluestone (a limestone) will be big because of its bluish tone. Blue will be everywhere this year.

Stone in multiple sizes, shapes, and finishes will be in high demand as with ceramic tile.
TREND #6 WALL TILE
Yes, wall tile is still huge. Look for even more feature walls, accent walls, and tile on the walls in general. Bold colors, especially blue, will be the latest favorite on the wall. Textures will also continue to be a hit. 3D tile is a perfect fit for the wall and you will see it in abundance. Geometric shapes that pop off the wall, natural leaf shapes that add Zen, and linear structures that are more than just visual will be the big thing on the walls this year.

Tile on the wall will get bigger, literally. From large-format 8 x 24, 12 x 24, and even including 24 x 48 tiles to 70 inch porcelain slabs, commercial designers will love using big tile on vast walls.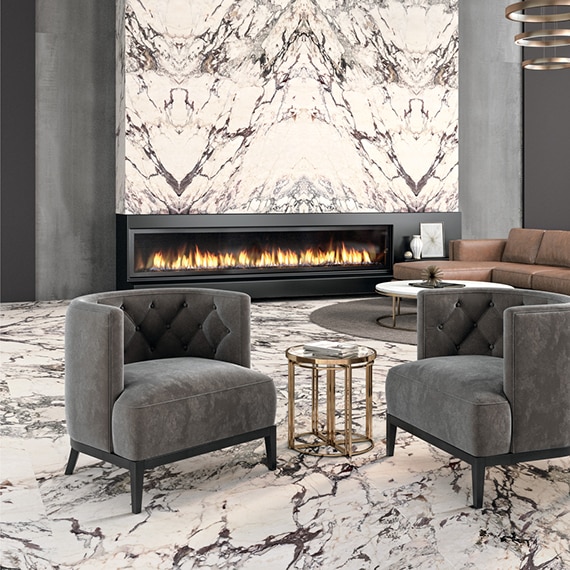 Hot Trends
Learn what's trending in tile and spark creative ideas for amazing, stand-out design.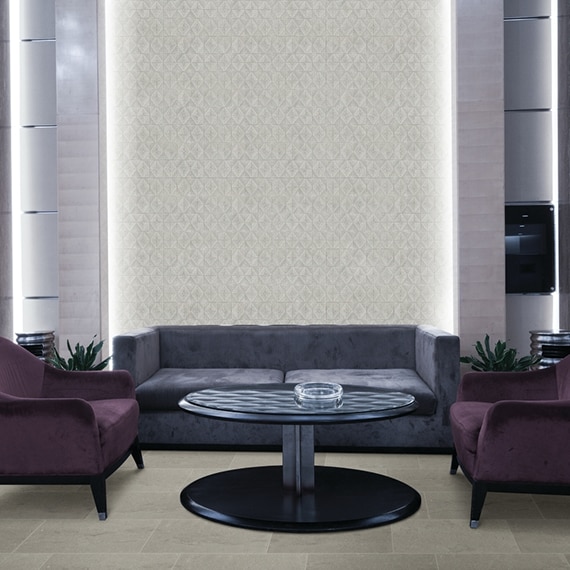 Designer Focus
From style spotlight to look of the month to social media buzz, see what's trending now.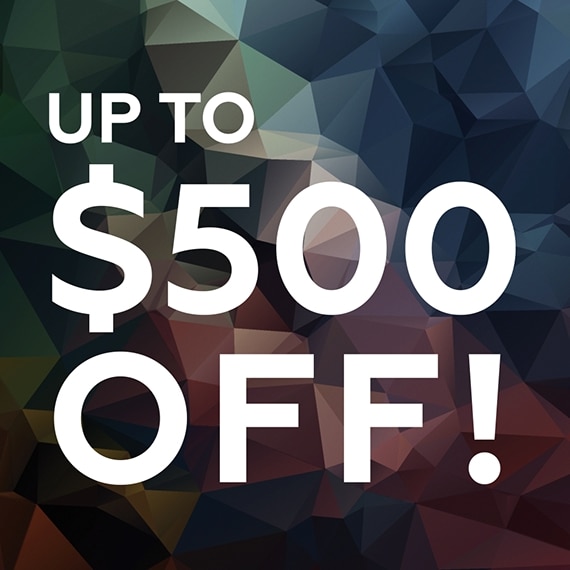 Get Your
Coupon!
Don't miss this exclusive discount with Elite Statements Dealers. Expires December 31.