HOW TO CARE FOR & MAINTAIN TILE
With proper cleaning and maintenance, you'll enjoy years of inherent beauty and optimum performance from your floor, wall, and countertop tile or stone.
Take a closer look at the care and maintenance of your specific tile type below.
ONE Quartz Surfaces
ONE Quartz Surfaces are virtually maintenance-free and can be cleaned easily.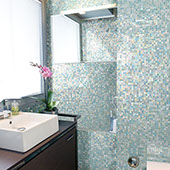 Glass & Metal tile
A non-abrasive cleaning compound is recommended for either glass or metal tile.
Quarry tile
Avoid using no-rinse enzymatic and organic acid-based cleaners on quarry tile.
How To Choose
Tile
Finding the right tile shouldn't be hard. We've outlined tips to help.
pick a tile
pattern
Think outside the box and pick a tile pattern that will make your design unique.