Pairing a Claw-Foot Tub with the Right Tile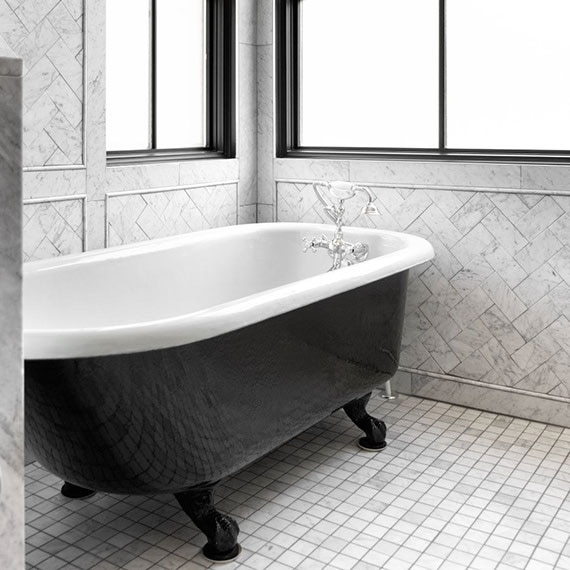 The charm of a vintage or retro reproduction claw-foot tub can help enhance today's bathroom designs. This tub style is romantic, with ornate enameled porcelain knobs and faucets that are evocative of another time.
With modern bathroom styles, a claw-foot tub can bring a nostalgic flair and softer lines to balance your design.
More homeowners are rediscovering this type of tub, and whether you retrofit and refinish an older version, or install a new one, it will serve as a practical conversation piece in either your guest or master bathroom. What's more, you can use tile to showcase this classic style.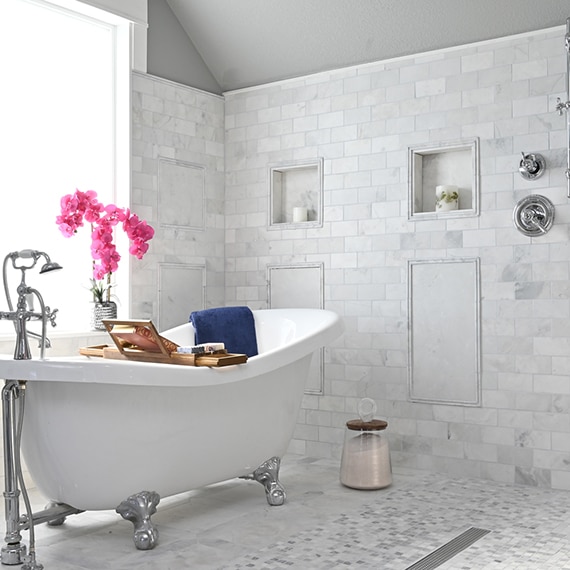 Go with Natural stone
You might gravitate toward traditional ceramic subway tile to showcase your vintage or reproduction tub. And while this style is certainly compatible with a vintage tub, you might want to consider natural stone instead. For example, imagine surrounding your tub with marble, limestone, or travertine tile. The natural veining will add texture and interest to the space.

If you want your tub to be the star of your bathroom, consider going with a softer finish, such as matte or semi-gloss, rather than a conventional high-gloss finish.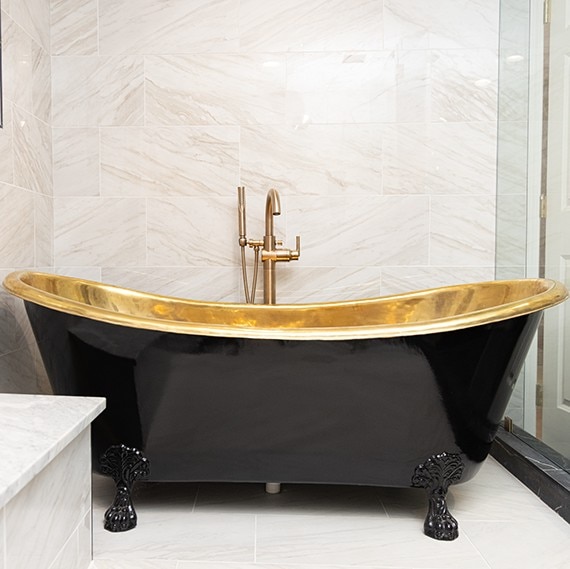 Choose Your Primary Color
When choosing a background for your tub, consider the mood you would like to create. Pure white works well in a bright, cheery space, and a muted hue offers a softer, more calming look. Tile with a hint of beige, gray, or yellow can warm up or cool down the look of your bathroom space.
Because most claw-foot tubs, new or old, have a shabby-chic look, consider using tile that resemble time-honored natural stone. Whether real marble or marble look porcelain tile, the result will be stunning.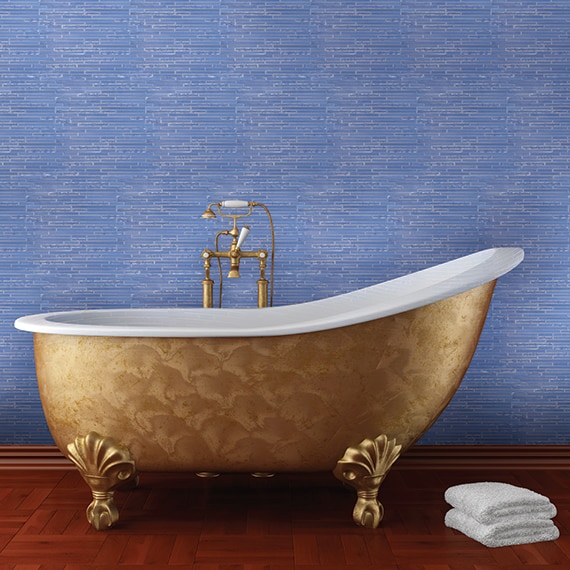 Consider Wood Look Tile
Wood-look tile is a great companion to an old-fashioned tub because it has a quaint look and easy upkeep. The type of wood look tile you choose to highlight your vintage or retro tub will depend on the mood you're creating. If you have beadboard trim, wainscoting, and vintage black-and-white pictures on a wall, you might want to create a rustic look behind or around your tub. This can easily be accomplished with
Saddle Brook XT
in Walnut Creek.
On the other hand, if your bathroom has a more natural theme,
Acacia Valley
in Ash might be a good fit. This high-grain, white-washed shade of wood offers an exotic look, and the light shade will make a small bathroom seem larger. And if you live in stately old Georgian or Victorian home,
Trellis Oak
might be your best bet.
Today's
wood look tile
options resemble old, salvaged wood and even feature scarring, cracked paint, and realistic water stains. These effects, along with the color of your wood, will enhance your old or retro style tub. Tile that looks like wood also offers easy maintenance. You can sweep it, mop it, or wipe it down with water and a cloth, making it a great option for the bathroom. It's also an ideal material for heated floors, which would make your bathroom and claw-foot tub even more inviting.
The growing popularity of claw-foot tubs is enhancing today's bathroom designs. And whether you choose natural stone tile, subway tile, or wood-look tile, it is a great material to pair with your tub. Stay true to your design style, and you'll design a beautiful bathroom space that's attractive and easy to take care of for years to come.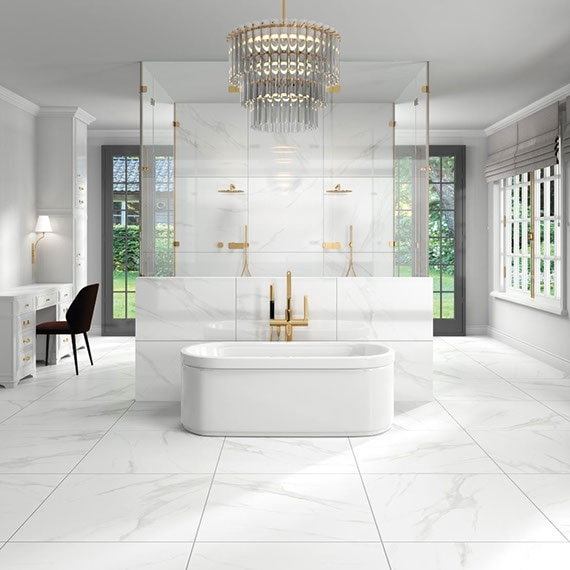 Shower Tile Do's & Don'ts
Avoid these common mistakes for a long-lasting, waterproof shower tile installation.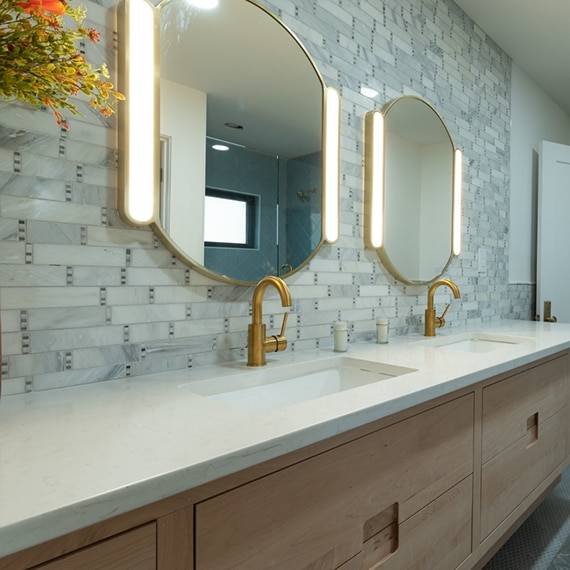 Best Bathroom
Vanities
What's the best bathroom vanity countertop? Chip Wade answers this common question.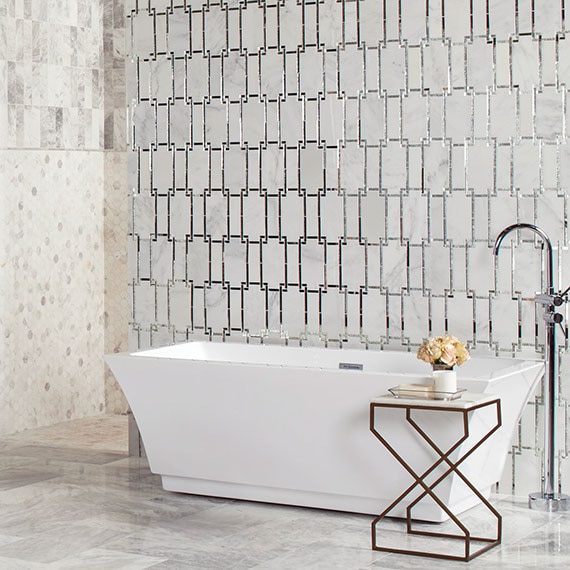 Bathroom Renovations
Chip gives his top 3 tips for maximizing your return on investment.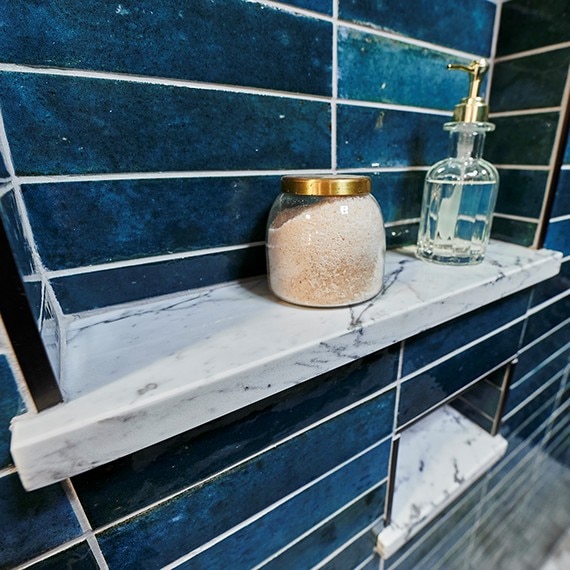 Shower
Shelves
Chip Wade shares his insight for built-in shower shelves - functional style at its best.