Wood Look Tile in the Shower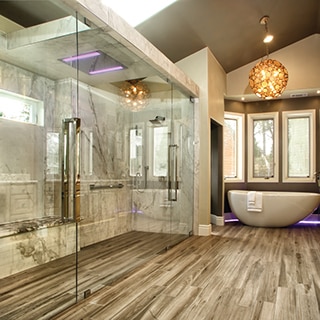 Wood Grain Look in Unexpected places
Want something really unique? Something rustic, yet contemporary? Consider wood in the shower.
Real wood presents some major difficulties in the bathroom let alone the shower. In fact, wood in the shower is pretty much unheard of -until now.

We're talking about wood look tile in the shower. It gives you a realistic wood grain and a durability and easy maintenance you simply can't get with anything but tile.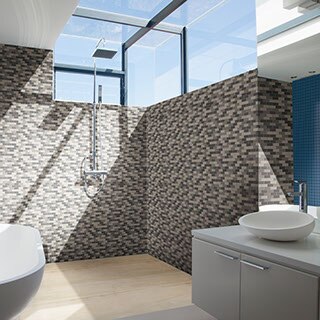 High-Design Look
Daltile's Emerson Wood offers many choices when it comes to wood look tile for the shower. You can create an unexpected look that you'll enjoy using every day.
The latest technology captures the natural graining and variation of real woods, both classic favorites and exotics from around the world. Emerson Wood offers TruEdge™, tile that has been cut to have exact edges so you can have a narrower grout joint. Other features include Reveal Imaging™, technology that takes a detailed photo of real wood and replicates it on quality tiles. Last but far from least, Emerson Wood is made in the USA!
Tile sizes offer some flexibility in design as well. A traditional plank looks stunning either placed horizontally or vertically. Add an accent tile to dress it up. 12 x 24 inch tiles have become a staple on the floor, but have made their way to the wall so why not put them to work in the shower? As an alternative to the large plank, try a smaller, linear wood look tile. Playing with the size can transform your shower into a unique, luxury retreat.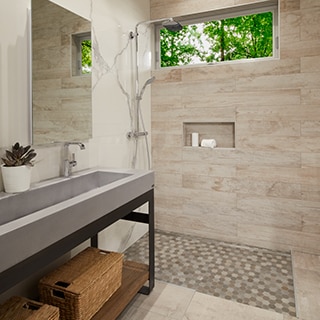 Functional Shower
Your shower has a job to do. Take some time to consider functionality along with design.
You must consider your shower wall and shower floor as two separate things. Any wood look tile that can withstand a moist environment will perform well on the shower wall, but the floor is a different story.
Because of the requirements of the shower floor, mosaics four inches or smaller is best on the floor. You have to make sure you have the right slope to the drain and larger tiles make that difficult to achieve. The extra grout lines you get when installing a shower floor also give you more slip-resistance—which you need plenty of on the shower floor.
If you want to continue the wood look on the shower floor, try a wood look mosaic tile. It mirrors the rectangular shape of a plank or linear tile and gives you the functionality you need.
Consider a natural-look mosaic tile on the shower floor and use it as an accent on the wall to tie the scheme together. A great combination for wood look tile is a stone-look mosaic.
MIX MATERIALS
Wood look tile blends beautifully with virtually every material. From concrete to mosaic, natural stone to glass tile, wood look tile brings a warm yet sophisticated appeal to any bathroom design. The combinations are plentiful, let your imagination run wild!
Always check manufacturer recommendations to ensure you select an appropriate tile for your shower.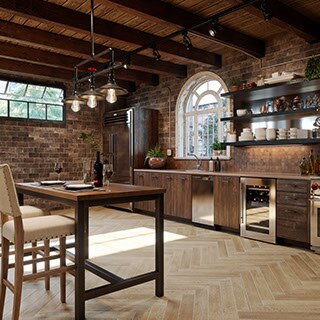 Browse Wood Look Tile
Design a far-from-ordinary shower with unexpected materials like wood look tile.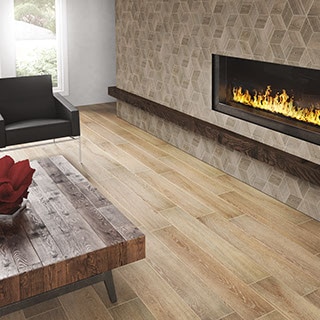 Grout for Wood Look Tile

Our experts provide these 5 things you need to know about grout for wood look tile.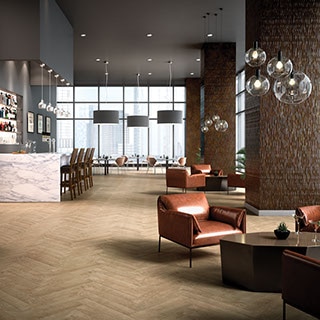 Wood Look Tile vs. Real Wood
Wood look tile is more realistic looking than ever and offers perks wood doesn't.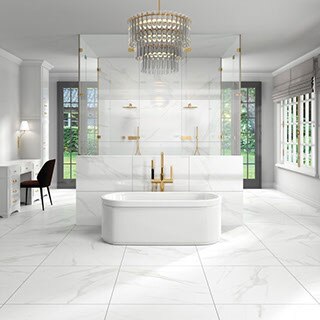 Shower Tile Do's & Don'ts
Avoid these common mistakes for a long-lasting, waterproof shower tile installation.