Extra-Large Format Porcelain Surfaces
A NEW WORLD FOR SLAB COUNTERTOPS
Just when you think large-format porcelain tile couldn't get any bigger, porcelain slabs appear. Introducing Panoramic Porcelain Surfaces™ - huge porcelain tile that can go nearly anywhere.
Think of everything you know about porcelain floor tiles. Now imagine having all those benefits on the countertop, the wall, or fireplace with very few joints and lots less grout. That's Panoramic.
Roy Viana, director of Natural Stone and Slab at Daltile explains it like this, "We all know what a great performer porcelain is; just translate all those capabilities to a slab and you'll understand the value of these large porcelain surfaces."
Europe has been designing with these extra-large format surfaces for a few years. Now they have hit the American market and are making a huge impact. Large format porcelain slabs increase the scale and style of porcelain tile on par with natural stone slab. This is opening up a whole new world.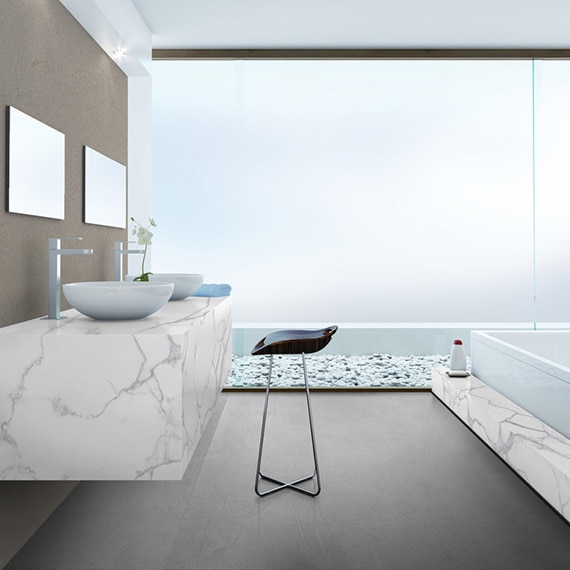 THE SPECS
-Two giant sizes: 63 x 126 inches, 64 x 127 inches
-6 mm and 12 mm thicknesses
-Can be cut to customize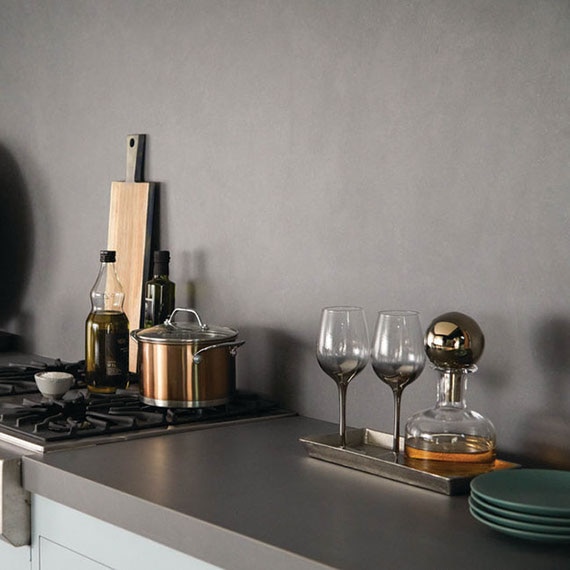 WHAT IT LOOKS LIKE
-Marble-looks in matte and polished finishes
-Monochromatic colors in hot urban neutrals
-Metallic sheen with the essence of concrete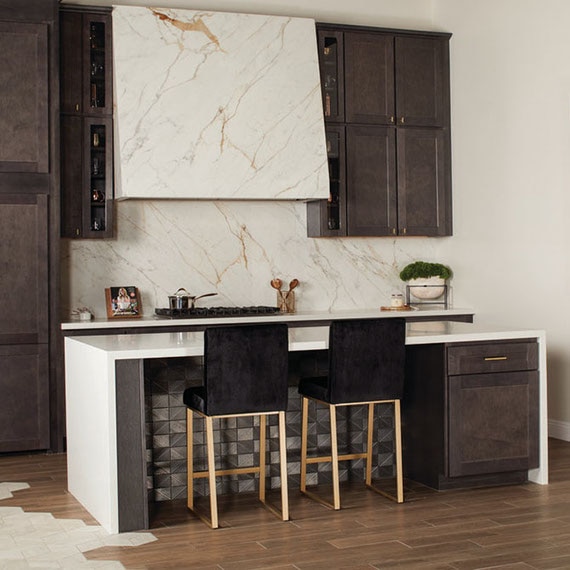 CLEANABILITY
-Easily cleaned with multi-purpose cleaners
-Fewer grout joints to keep clean
-Low porosity of porcelain makes it stain resistant
-Panoramic in Statuario on the walls and vanity
OTHER PERKS
-Withstands heat
-Scratch and chip resistant
-Stain resistant
-Can be installed over existing solid surfaces (with the right preparation)
WHERE YOU CAN USE IT
-Floors
-Countertops
-Vanities
-Shower walls
-Tub surrounds
-Kitchen backsplashes
-Bathroom backsplashes
-Fireplaces
-Large feature walls
-Exterior cladding
-Outdoor patios
-Outdoor countertops