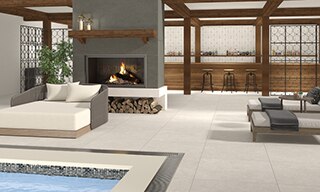 There are many choices when it comes to your pool tile. Porcelain, ceramic, stone, and glass tiles all look great in and around the pool, but which is the best tile for your pool? That's easy!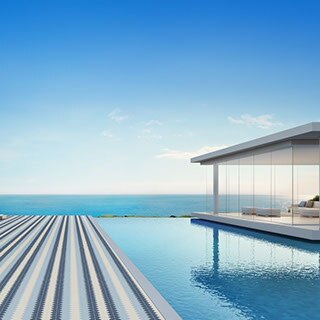 porcelain & Ceramic
Porcelain and ceramic tiles are tough contenders in the pool and at the pool side. With proper installation and care, they withstand the moisture and chemicals of the pool for many years. And they look great! You'd be surprised how many options you have with porcelain and ceramic pool tile.
Daltile has a large selection of classic 1 x 1 or 2 x 2 mosaics for the pool. But if you're looking for something different, Daltile has that too. Get creative with your pool by adding a stone look tile on the waterline to complement your patio. Large-format tile or porcelain pavers are ideal for your backyard oasis and offer a different aesthetic.
Or, consider a decorative tile application on the bottom of the pool. Basic ceramic tile comes in all colors and is customizable so your pool is only limited by your imagination (and if the tile is appropriate for pool applications).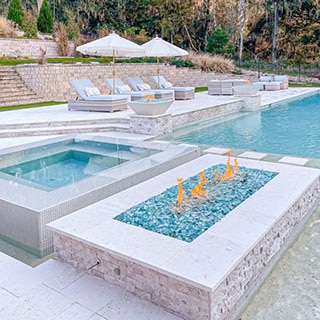 Glass
Glass is the most popular tile for the pool. It doesn't fade, warp, or need much maintenance. It reflects light to make your pool glisten invitingly. It's smooth to the touch, which makes it one of the most comfortable pool tiles. Glass tile mosaic can only be used on the pool liner and on walls outside the pool. Unfortunately, it won't work for an under-foot patio or pool deck tile.
One benefit of glass tile is the varied selection of mosaic available. You can go with a simple, classic blue 1 x 1 mosaic. Or you can go with an unexpected color or shape. You might also be interested in an intricate mosaic more in the style of the Grecian baths like flowers or patterns.
Treat Your Tile Right - Installation and Maintenance Matter
Excellent installation and care will make your pool tile look great and last a long time. Improperly installed tile will let water behind the tile and cause problems that you can't see until it's too late. If the grout and caulk is neglected, it allows for water leakage and breakage that will ultimately shorten the life of your tile.
Don't forget that pool tile should properly cure before water is added to the pool. This might be as much as a month. Filling the pool too quickly can also cause problems. Aim for about one inch per hour. Seal the tile and grout and allow for curing before filling the pool and plan to repeat sealing regularly.
Take your expansion joints seriously. They let your tile move a bit without posing a risk of warping and breakage. Expansion joints should be caulked generously and checked regularly. Your entire pool should be kept clean and should be inspected often so you can catch problems before they become major issues.