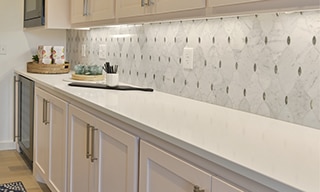 Arabesque tile winks to ancient times, but fits easily into modern design when you know how to decorate with it. The tile's ornate intertwining lines can crisscross over a feature wall, backsplash, or fireplace surround to balance popular streamlined designs. If you're planning to weave this elegant tile into your home, here are some inspirational tips to help you choose the perfect tile color, pattern, and size, plus the right decor to pair with it.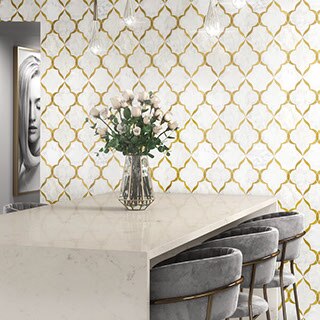 Add a Curvy Touch
In a contemporary, minimalist, or masculine design, too many straight lines can result in visual coldness. Counter square or rectangular floor tiles or planks and streamlined furniture by bringing a warm, curvy element or two into play.
Shapely arabesque tile offers a touch of femininity for balance in this type of design. It doesn't take much to provides elegant movement without interrupting the home's modern edge.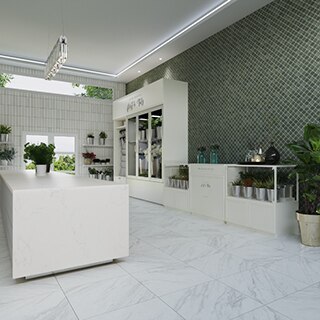 Think about Color
You can use a colored arabesque tile pattern to develop a room's persona and style. For instance, spicy, bright hues can energize a kitchen, moody, dark hues can add a mysterious feel to a vogue living room, and soft-gray, almond, icy-blue, or sandy neutral tones can expand a bathroom's relaxing atmosphere. In the appropriate setting, a warm or cool tile with a savvy, feminine arabesque pattern results in a room that's warmly welcoming and trendy. Let Lavaliere's extraordinary mixtures or Memerist's color lineup inspire your next project.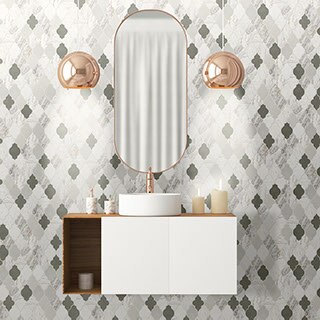 Pair the Right Patterns
The arabesque pattern carries quite a bit of visual movement, so pair it wisely with simpler and less curvy patterns. For instance, modest stripes, basic dots, or an organic marbled design help balance ornate patterns. Just imagine how defined a striped statement chair would appear backed onto an arabesque feature wall or fireplace surround.
This would even work well in a monochromatic color scheme. Print size matters, too—a small pattern doesn't compete for attention with a large one, so create definition by pairing small, dainty shapes with large, distinguished ones. For easy flow and to avoid any clashing, try partnering a showstopping arabesque tile backsplash with the free-flowing look of marble across the floor.
Consider Arabesque Medallions
Arabesque tile medallions can give a design a vintage or cultural vibe. To achieve such a classic, desirable look, don't go overboard—pepper the backsplash, floor tile, or outdoor walkway and patio with a fitting artistic mosaic stone medallion. Earthy colors and consistency are key to developing—or nodding to—old-world designs, while crisp whites or more bold hues appear more modern.
Which arabesque pattern or decorative accent works best with your design? When you're ready to add some ornate details to your living space, visit a nearby Daltile showroom for a world of inspiration and helpful advice.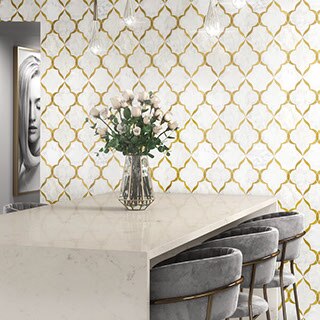 Arabesque Tile
Arabesque tile from our broad selection of beautiful tile for the floor, wall & backsplash.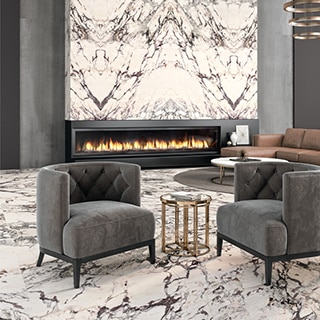 Hot Trends
Learn what's trending in tile and spark creative ideas for amazing, stand-out design.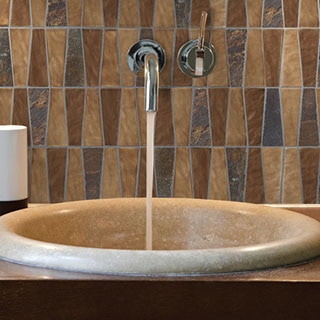 THINK OUTSIDE THE BOX
Arabesque, hexagon, geometric & more, explore our favorite uniquely shaped tile.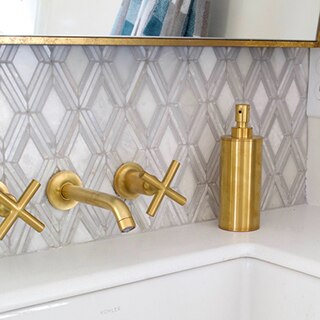 Browse Decorative Tile
Add a stunning wall or finish any surface with flair with our decorative tile.