Beveled Subway TIle: a New Twist on a Classic Style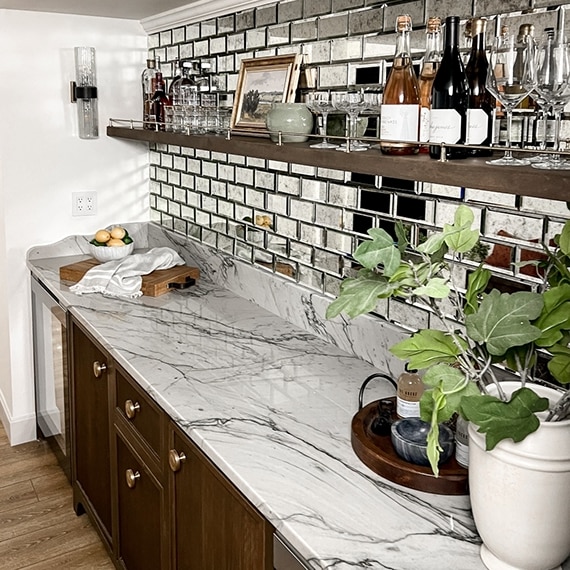 Subway tile derives its name from the white brick tiles placed in New York City subway stations during the early 1900s. This clean, easy-to-maintain, classic style has since become popular in homes and restaurants. Today, a variety of subway tile designs, including beveled subway tile, can be used to lend a retro feel to any room. The white brick shapes are also versatile enough for transitional and contemporary kitchens and baths where clean, simple lines are preferred.

Modern takes on subway tiles have further extended their popularity. Expanded options have taken the basic 3 x 6 pattern and opened up a whole new level of design compatibility. If you love this classic look, but prefer to add a little something extra to the timeless white brick design, you may want to consider one of the latest beveled subway tile styles. Here are some inspirational ideas to help you get started on your design.
USE BEVELED SUBWAY TILE FOR WALL TEXTURE
Beveled tiles can be incorporated in both kitchen and bathroom designs, primarily serving as backsplash, shower, and wall décor. The difference between a beveled subway tile and the original, flat, brick shape is a gentle slope down to the edges. Often, this slope adds just enough enhancement to increase the depth of the design. The texture also makes the tile pop to make it more noticeable.
Like classic subway tiles, beveled tiles are available in a variety of color options. You may find yourself selecting a beveled-edge design to simply project a slight differentiation from the classic white style. Or you may prefer to use a beveled tile to create an entirely new pattern or color arrangement with only a slight hint of the original subway tile design. The options are nearly limitless.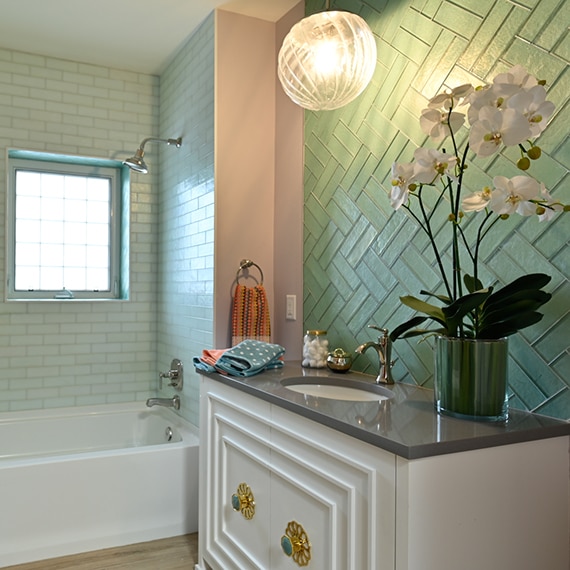 COLORED BEVELED TILE CREATES A MODERN LOOK
Although white is the most conventional subway tile color, it's possible to purchase beveled tiles in a range of neutrals and bright solids. Color can add a modern touch to the original subway tile design concept. Even a slight color variation, such as replacing the white tiles with a biscuit or gray color, is often enough of a change to create an updated, more modern look. Brighter, bolder shades are another contemporary option.
You can also add sophistication and drama to your kitchen or bath with modern color schemes. In addition to tile color, you can also utilize the grout color you choose to create a different and trendy look. For example, rather than matching white grout with white tile, break up the flow of a brick-joint pattern by opting for a darker grout color. This will outline the individual tiles, help them pop, and give you a design that's slightly different from the classic subway tile look.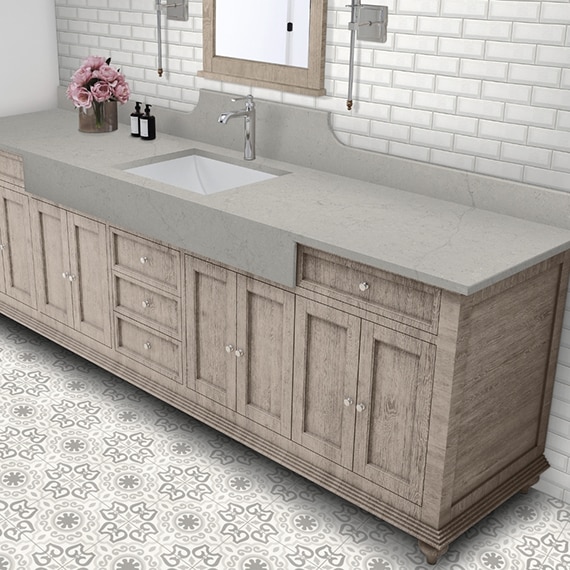 ADD BEVELED SUBWAY TILES TO YOUR BATHROOM
If you love a bathroom with clean, simple lines, subway tiles are an excellent choice to help protect your walls from dampness and humidity. Beveled subway tiles can be used to frame out your shower or differentiate sections of your bathroom. Incorporating it on the wall, from the floor to the ceiling, can also brighten up a small area. If you're going for a modern, but classic, look, try opting for contrasting encaustic tile flooring with beveled subway tile backsplash around the vanity area.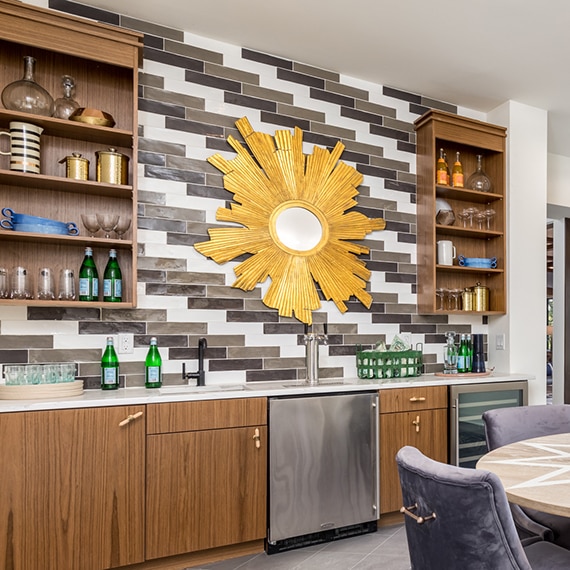 MIX AND MATCH MULTIPLE DIFFERENT COLORS
Mixing colors may seem like a challenge, but with some advanced planning you can design a multicolored layout that works in almost any setting. Strategically placing a row of black beveled tiles within a white wall, for example, may add enough drama to a small, simple bathroom. For larger rooms, showers, and extended kitchen backsplashes, horizontal or vertical stripes of contrasting neutrals (such as darker beige and almond colors) can add depth without overwhelming a room. Another option is to place a colored border of beveled subway tiles at the height of a chair rail.
SELECT THE RIGHT BEVELED SUBWAY TILE FINISH
Another characteristic to consider when working with beveled subway tiles is the finish. Traditional subway tiles tend to have a glossy, shiny finish, which will reflect light. However, recently, matte finishes have also become popular. Matte-finished subway tile can present a beautiful look if you desire a more understated backsplash or accent wall. The flatter finish creates a more casual yet contemporary look, which may be a better fit for the design you're going for.
DESIGN A KITCHEN BACKSPLASH USING BEVELED SUBWAY TILES
Beveled subway tiles look great when they're used to update your kitchen backsplash. Paired with white cabinets, a white beveled tile creates a seamless flow down to the countertops. In this case, the beveled edge adds just enough movement to help you avoid a monochromatic look that may appear too flat or stark for your space. Colored beveled subway tile can also be used to add a pop of effortless color to an all-white kitchen.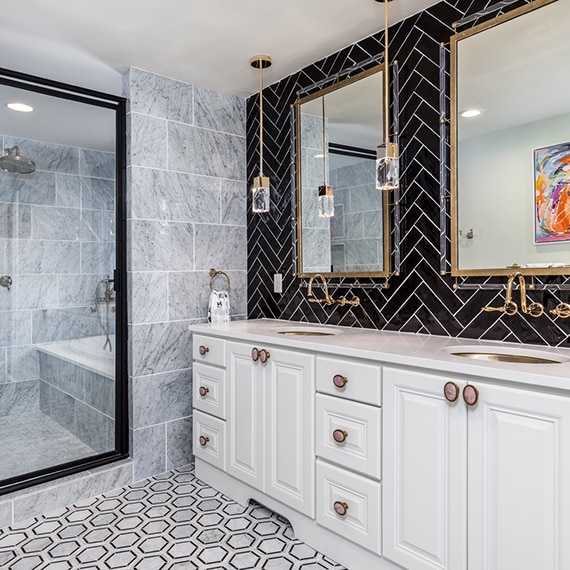 PLAY WITH BEVELED SUBWAY TILE PATTERNS
Rather than placing beveled tile in the most common brick-joint pattern, a unique arrangement can produce a variety of interesting new patterns. For example, a vertical brick pattern looks spectacular when used as a sink-to-ceiling backsplash in the bathroom, and will give you the added benefit of opening up the space by making the walls appear taller. You can also arrange 3 x 6 brick-shaped tiles into a chevron or herringbone pattern for a more dramatic look.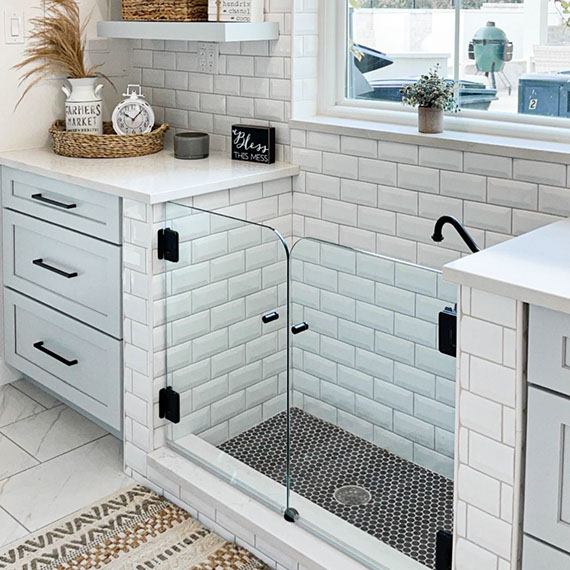 COVER WALLS WITH BEVELED SUBWAY TILES
If you're looking for added texture on your walls, but still want to maintain a classic, streamlined look, consider using beveled subway tiles on the walls. Wall tile works well in high-moisture areas, and is a great way to add an unexpected element to a space. Colorful beveled tiles can turn an empty wall space into a dramatic-looking focal point while white subway tiles create a serene & clean atmosphere.
Shop Subway TIle
From colors to an array of sizes, we offer the country's largest selection of subway tile.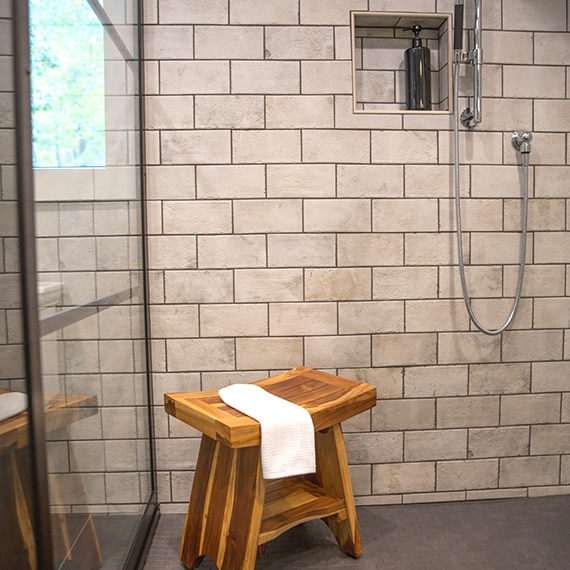 Grout for Subway Tile
Subway tile grout might seem simple, but there is more to consider than you may know.
timeless Subway Tile
100 years and going strong, explore subway tile - the design that defined an era.
Up to 40% off!
Take advantage of this offer exclusively through Elite Statements Dealers!