Shower Designs Featuring Large-Format Tiles
Shower designs that feature impressive large-format tiles make envied focal points. In fact, these bigger tiles have raised bathroom décor standards higher than ever. Before getting started, a few questions should be answered: What size tile works best for your design? Which pattern should you use? What should be installed on the shower floor and in the rest of the room to pull the space together? We address each of these questions, and more.
Picking the Right Tile Size
Luxurious shower designs often evolve from tiles that are at least 12 x 12. However, a linear 12 x 24 or 24 x 48 tile can make any wall look like a modern design. Play around with ideas for tile layouts, including staggering in a classic jumbo subway tile pattern, in vertical rows to make the ceiling seem higher, or in horizontal rows of light and dark shades to create over-sized stripes. Finish the look by adding accent tiles for definition.

Bigger tile requires fewer grout lines. However, if your prefer an extremely streamlined look, consider large-format natural stone or stone look tile. By choosing a tile that matches the grout, the end result is a design with seamless definition and uninterrupted grain patterns or mottling. This bold look offers sensational style, but like any large-format tile design, it requires a particular installation and a professional hand for utmost accuracy and safety.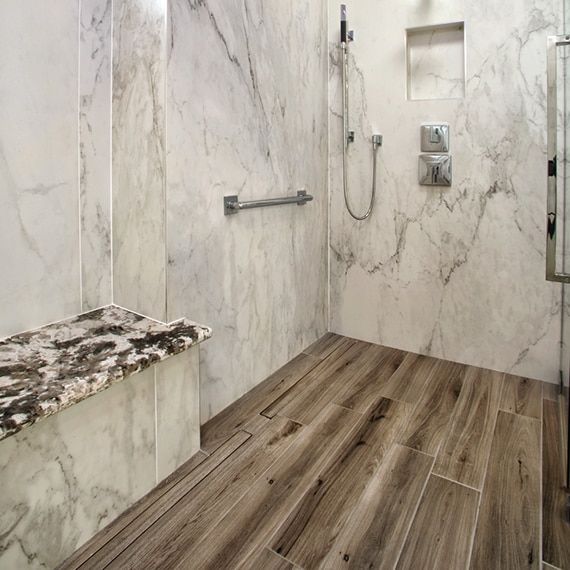 Finishing the floor and More
It is best to balance extra-large tile on shower walls by incorporating small and midsize tile into the design. A popular small tile option is glass mosaic tile, and it can be used behind the tub, as the vanity backsplash, or as shelving in the shower.

If midsize tile fits better with your design, consider plank size, or a 4 x 4 or smaller wet-application tile as the bathroom and shower floor. This will help to visually stretch every inch of the room. And as long as the tile featured in your bathroom design is suitable for the area, and the colors blend or coordinate well, you are likely to love the results.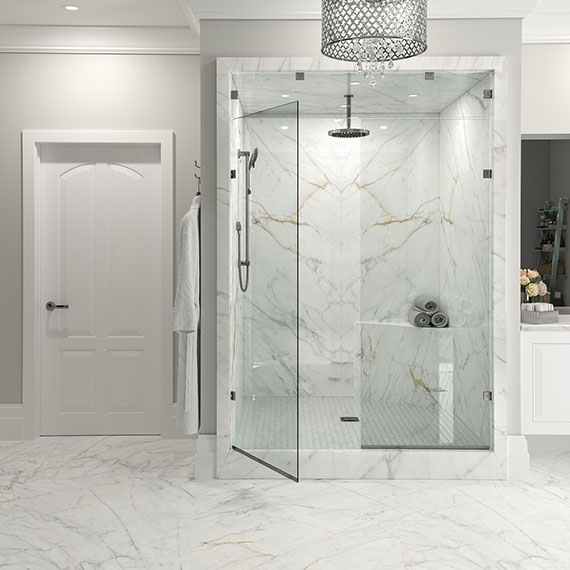 Working with a glass door
Clear glass shower doors can capitalize on your shower's beauty. An open sight line of the shower will help to make the bathroom appear larger and shows off tile designs featured in the shower. This is a perfect opportunity to design an artistic feature wall. If your shower is equipped with the latest body jets, transparent doors let you show them off, too.
Large-format tile is currently trending because of its versatility and extraordinary design. Natural stone slab is the archetype of this trend and will always be the pinnacle of opulence. For applications where natural stone is not feasible or cost is prohibitive, Panoramic Porcelain Surfaces™ provide stone look slabs so realistic-looking, they are difficult to distinguish from genuine stone.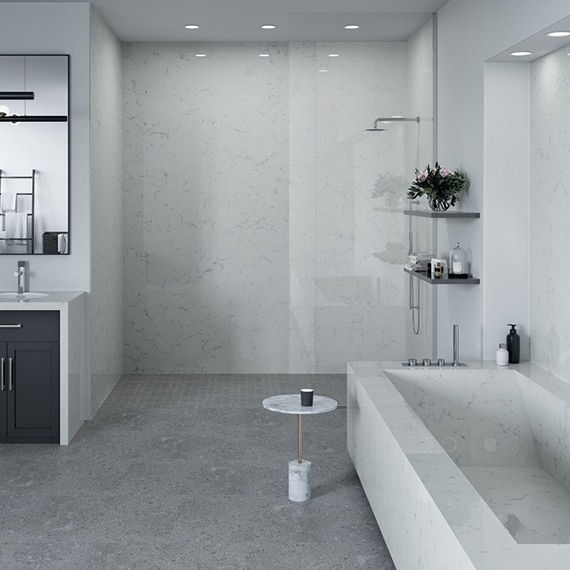 Extra-Large Slab Surfaces
For seamless design, browse America's largest collection of extra-large slab surfaces.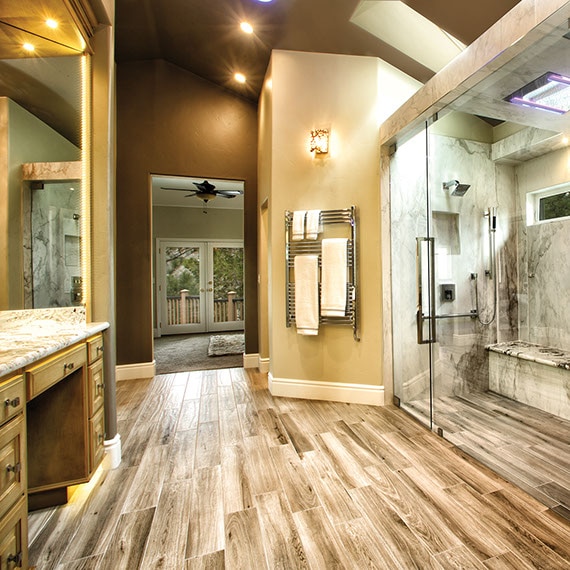 Wood Look
Shower
Real wood in a shower is crazy. But slip-resistant wood look tile is perfect for the shower.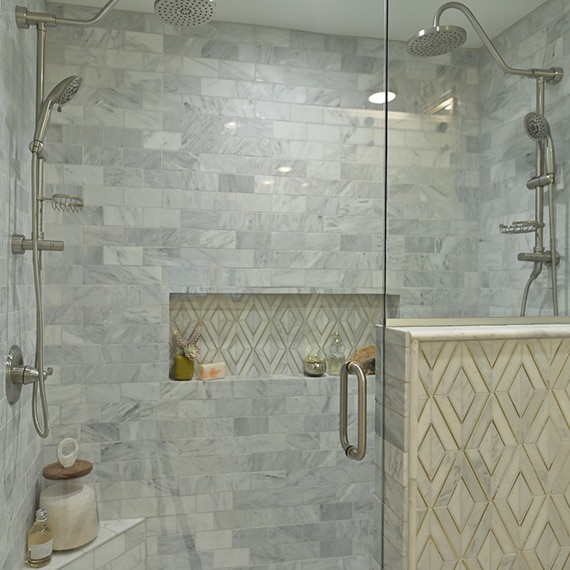 Natural stone Shower
Our award-winning designers offer expert advice for luxurious natural stone in the shower.