Shower Designs Featuring Large-Format Tiles
Shower designs that feature impressive large-format tiles make envied focal points. In fact, these bigger tiles have set the standard for bathroom decor higher than ever. However, when you start to think about using oversized tile on your shower walls, you may also start to ask yourself a few questions: How big should the tile be? Which pattern should you use? What do you install on the shower floor and in the rest of the room to pull the space together? Here are the answers to your inquiries and more.

Picking the Right Tile Size

The showiest shower designs often evolve from tiles that are at least 12 x 12. However, a linear 12 x 24 or 24 x 48 tile, such as one from the Consulate line, can make any wall look like a modern design. Play around with ideas for tile layouts, including staggering these big, rectangular beauties in a classic jumbo subway tile pattern, in vertical rows to make the ceiling seem higher, or in horizontal rows of light and dark shades to create oversized stripes. Then finish off the look by adding accent tiles for definition.

Bigger tile requires fewer grout lines. However, if you're after an extremely streamlined look, try going with large-format stone-look tile. By choosing a tile that matches the grout used, you'll end up with a design that has seamless definition and uninterrupted grain patterns or mottling. This bold look offers top-notch style, but like any large-format tile design, it requires a particular installation and a professional hand for utmost accuracy and safety.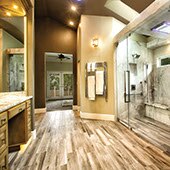 Finishing the floor and More
It's best to balance extra-large tiles on the shower walls by incorporating small and midsize tiles into the design, as well. A popular small tile option is glass mosaic tile, and it can be used to back the toilet or tub, as the vanity backsplash, or as shelving in the shower.

If midsize tile fits better with your design, use a 4 x 4 or smaller wet-application tile as the bathroom and shower floor. This will help to visually stretch every inch of the room. And as long as the tile featured in your bathroom design is suitable for the areas it's used, and the colors blend or coordinate well, you're bound to achieve winning results.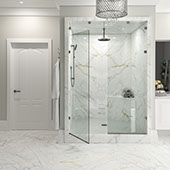 Working with a glass door
Clear glass shower doors don't stand in the way of impressive shower designs, and using one can actually help to maximize your tile's good looks. An open sight line that reaches every nook and cranny of the shower will help to make the bathroom seem larger than it is. It will also let you show off any tile designs that are featured in the shower. This is a perfect opportunity to design an artistic feature wall that stands out. And if you've outfitted your shower with the latest body jets, transparent doors let you show them off, too.
Large-format tile is currently trending because of its versatility and ability to add to the design of a bathroom. Get inspired by these tips and tricks, and consider using bigger tile within your next bathroom renovation project.