7 Ideas for Your Redesign
This is the time you've been waiting for-it's finally time to redesign your kitchen. Whether you know exactly what you want or you're just beginning, these fresh designs will help you get and stay on track. Add to that the expertise of Daltile's tile tastemakers and you'll get a gorgeous kitchen this year.
Read on to hear about up-and-coming trends in kitchen design.
Organization
There a new rule in the kitchen: a place for everything and everything in its place. Designers are bringing in streamlined, clean elements and plenty of specific storage so your kitchen can be the most organized it's ever been-and stay that way.
Concepts of the Look
Canisters in a drawer for long tools like tongs, pantries, closets for cleaning supplies, deep divided drawers for easy access to baking sheets or cooling racks are just the beginning of getting organized in the kitchen. Another way you'll see this trend play out is appliances going into hiding. Toasters and blenders, mixers and crockpots will all have their own spaces-behind closed doors. Larger appliances will also become less obvious, out with stainless steel!
Tile for Organization
With less stuff cluttering up the visual aspect of the kitchen, the backsplash can take center stage. Look for geometric patterns, colors, and interesting textures that go all the way up the wall.
details
Details matter. Sometimes they matter more than the big stuff. The little details can set the mood for your kitchen and make it a place that is uniquely yours.
Concepts of the Look
Everything from farmhouse sinks and Edison bulbs to bold color splashes and painted wood all allow you to customize your look without being eclectic.
Tile for Details
Detail doesn't have to be big and loud to make an impact. In a white kitchen, select a tile with a beveled edge or wave pattern for subtle detail. Many wood look tiles have interesting details like saw marks, reclaimed looks, or hand-scraped textures. Check out Season Wood or Willow Bend. If you are into more attention-grabbing details, try a flashy mosaic or an elegant stone mosaic from the Marble Collection.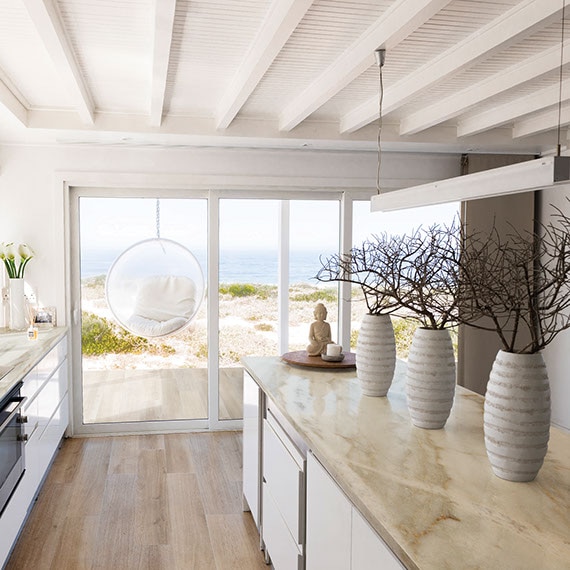 A view
A ton of natural light and a great view is an indispensable asset in the kitchen. Look for bigger windows and skylights that transform the kitchen into a haven you'll want to spend your weekends in.
Concepts of the Look
Emphasis is on natural light when designing for the view. It's an extension of the outdoor living trend. The more of the outdoors you can bring inside, the better. In the kitchen you'll see far less stuff like cupboards and shelves in the top half of the room to make way for more windows.
Tile for the View
Fewer cabinets and more windows make room for a brilliant feature wall that accents the space without stealing the thunder of the view. An understated mosaic like a patterned marble from the Stone a' la Mod series would be a great place to start.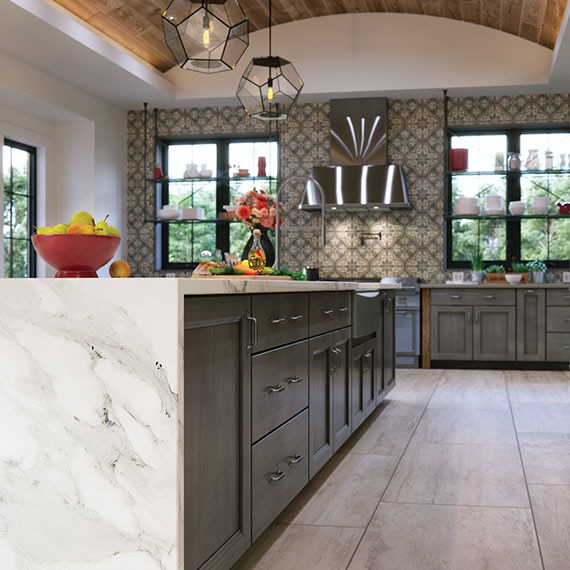 Colors
Grey is still the color of choice. It comes in every shade imaginable and goes with everything. Greige and other warmer greys will be hot in home décor. Black and white and white on white will still be go-tos. Accents of color here and there add some bright and bold color for a fresh kitchen design.
Neutrals as the basis of the kitchen allow you to accent with color. Since color trends cycle so quickly, you can easily update pops of color to stay relevant. Pantone's Color of the Year will lead color choices each year and in the next several years. Designers will start to spring for pops of color in more permanent ways too, like green or blue cabinets on the island.
Tile in Color
Daltile will continue to offer fun colors so you can get your colored accents in. Try Color Wheel - Linear or some of the bright mosaics like City Lights to brighten things up. With the huge demand for grey, you can find most any tile you want in grey from stone to glass. Take a look at Daltile's selection of stone slab for countertops (or walls). You might find a contrast-y or colorful stone that just suits your kitchen.
Open Shelving & Cabinets
Open kitchens are trending. The kitchen is a center of family life and entertaining so its design is evolving to be a beautiful area to display more than just food or cupboards.
Concepts of the Look
Look for open shelving instead of cupboards on the upper half of the kitchen. You might also start to see art on the walls and specialty lighting that sets the mood for evening entertaining.
Tile for Functionality
Once again, the focus on a beautiful space allows you to take the backsplash up to the ceiling to create a feature wall instead of having a limited backsplash reined in by the cupboards. Large format tile is the perfect application for a wall like this. You have the space and it won't get covered up by bulky kitchen pieces.
Low Maintenance
Low maintenance is the name of the game. Less work makes more space for family and doing the things you love best. Materials and surfaces in the kitchen that need little care make sure you have time for things in your life that need lots of care.
Concepts of the Look
The trick to this trend is that materials still look high-end and luxurious but don't require the work they once did. Quartz is at the top of the list. It's a natural stone composite that gives you the look of marble or granite but requires almost no maintenance.

Tile for Low Maintenance
Daltile offers a wide variety of looks in quartz. A classic white marble look, Jasmine White, is stunning and many more high-end looks are upcoming so check it out.
TEXTURES & FINISHES

Designs are clean, streamlined, and spare. That leaves plenty of room for interesting textures and finishes to give some character to the room. Even a light texture like a slight wave or a combed surface is a great addition.

Concepts of the Look
Feature walls with textured tile or a floor with more than one finish goes a long way to making a space feel welcoming and warm. An island countertop with a leathered finish contrasts with the classic polished look to add some interest. Décor can also be the texture in the room. Fluffy, fuzzy, and feathery are all right at home in the latest designs.

Tile for Texture
Check out Daltile's Multitude, available in pinstripe, wave, or geometic hexagons in raised patterns. Natural stone in honed, tumbled, or split face finishes are an excellent addition to a well-appointed kitchen design. High-low mosaics are also a great option.

Daltile offers the largest selection of floor tile, mosaics and wall tile, and countertops to help you bring the hottest trends to your kitchen.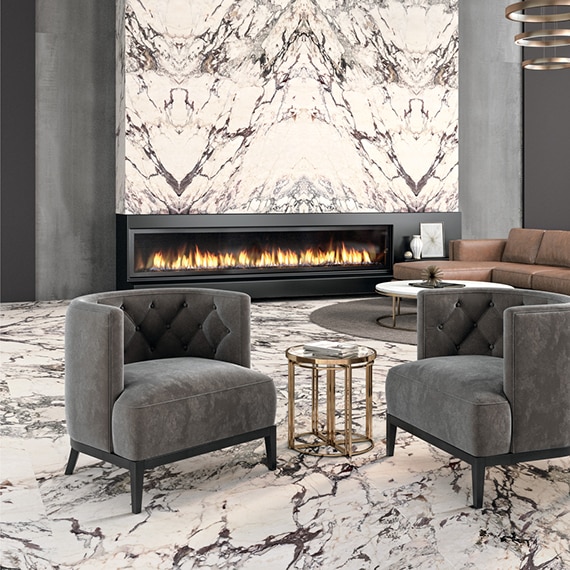 Hot Trends
Learn what's trending in tile and spark creative ideas for amazing, stand-out design.
Shopping for Countertops
Selecting a countertop can be daunting. Chip Wade offers his top 3 things to consider.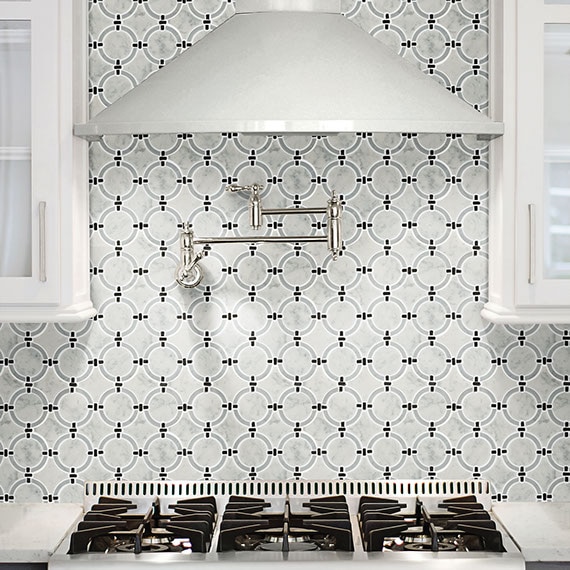 Natural Stone Backsplash
Our designers provide inspiration for natural stone kitchen backsplashes.