Using Mosaic Tiles to Liven up a Dated Kitchen
Mosaic tiles can breathe life back into an outdated kitchen. Installing mosaics is a relatively minor project, yet it packs tremendous visual punch.
With seemingly limitless options from glass and stone to porcelain and even metallic mosaics, how do you choose a backsplash design that ties into a dated kitchen. Luckily, even if you have retro finishes or an all-brown scheme, today's tile hues venture into vivid territory, can set a serene scene, or land somewhere in between. If you are not quite ready to rip out cabinets or install new flooring, here are some decor tips and mosaic tiles to introduce to your kitchen without upsetting its balance.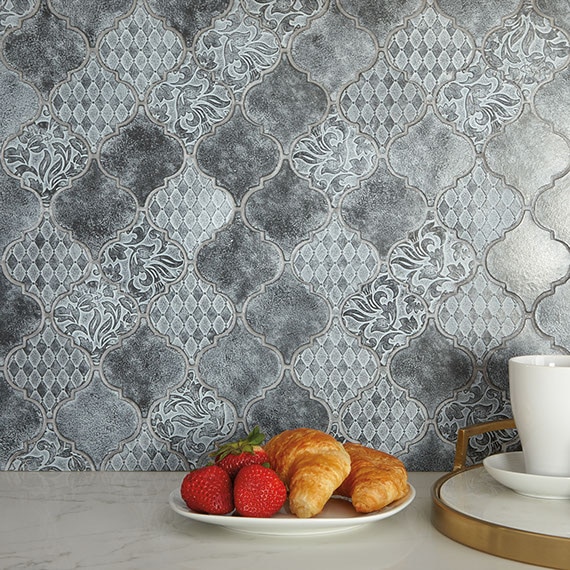 Go Retro with Unique Shapes
When you are inviting a glorious new feature, such as a backsplash, into a dated kitchen, avoid clashing decor from different periods. Rather than tile materials that are contemporary or overtly modern, select an updated interpretation of a bygone era, like arabesque tile. The tile's retro-chic design gives a tired kitchen a classic lift.
Update a Brown Space
Are you working with a mostly brown kitchen? If you are only able to add a new backsplash for now, transition the space by adding a mosaic pattern that features warm, contemporary browns or contrast with cool blues and trendy grays.
Emphasize the contrast by adding smoky accessories, such as stainless containers, light gray dishtowels and rugs.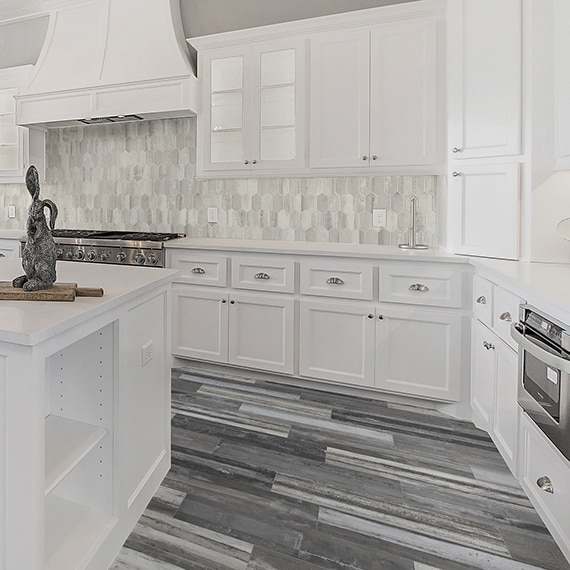 Add Movement
A kitchen that features bland fixtures and finishes often just needs a little color or pattern thrown into the mix. A backsplash with visual movement is ideal in this scenario. Look to these assorted color schemes and choose one that not only adds to the space but can be paired easily with other accents.
Warm up a White Space
If your all-white kitchen feels boring, warm it up with the right backsplash. The neutral surroundings mean that almost any backsplash style and color will work—as long as it includes at least a little white for consistency. So, where do you start? Begin by looking at color favorites, such as the ones you used in adjoining rooms. You can also take style cues from your home's overall design, factoring in it's streamlined appeal, architectural curves, or craftsman charm.
If you have an outdated kitchen, a new backsplash can help to easily modernize the space. When you're ready to check out your options, head to a Daltile showroom or dealer near you.