Water and wood do not mix. But that does not mean you can't have the beauty of wood floors in the bathroom, or kitchen, or outdoors... or really anywhere. With wood look tile flooring, you can add the look of wood to any room of your home. Whether you want to add warmth to your bathroom or give your kitchen a rustic look, wood look tile is a fantastic choice.

Transform The Basement
The basement is probably where items are stored and the location of your utility controls. However, if you have a finished basement used as a bedroom or family room, take advantage of this flooring design opportunity.
By using gorgeous flooring, such as Saddle Brook glazed porcelain tiles, you can make your basement space look bold and beautiful. These tiles have the dramatic shading of natural wood and feature patterns that resemble realistic wood grain, with the strength and versatility of porcelain. This is an outstanding way to transform the basement into a stylish space. A light-colored wood floor will also reflect light and brighten up the room.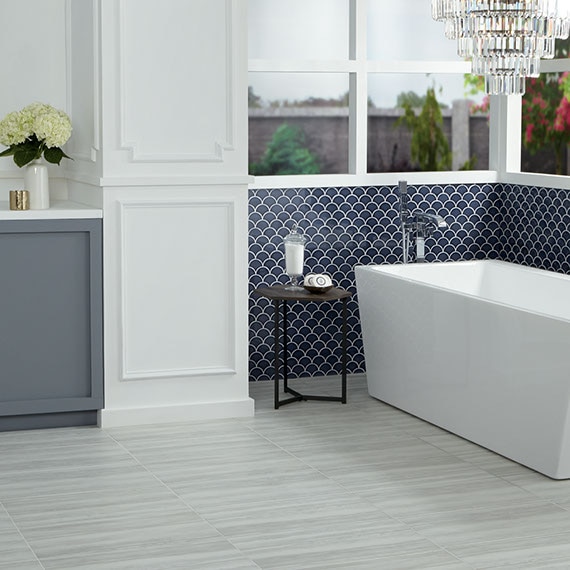 Create Your Own Personal Spa
The look of wood adds elegance to any room, whether you want to give your space a touch of rustic charm or bathe it in glamorous luxury. Our extensive collection of wood look porcelain tile offers the best of both worlds. Ranging from weathered wood to snow pine in a variety of color, you can create the style you want.
Porcelain tiles are perfect for wet environments because they resist moisture. That means that your faux wood flooring will stand up well to heavy use. For bathroom and spa areas with white fixtures, use dark wood flooring to create dramatic contrast.
Emphasize the Beauty of LIving Areas
Wood look tile floor in your kitchen and living room create a seamless, gorgeous style. Wood look tile is easy to clean, which makes it perfect for the kitchen, and elegant, an ideal option for living spaces.
Emerson Wood ColorBody porcelain floor and wall tile is made to go anywhere. For a wood look tile that works in the kitchen and can transition into the living room, go with neutral shade such as Ash White, Balsam Fir, or rich Brazilian Walnut.
The look of wood pairs beautifully with natural stone countertops in the kitchen and bold, colorful fabrics in the living room. Play with different design elements and use them to create contrast against your wood floors, which will make each individual element more distinct.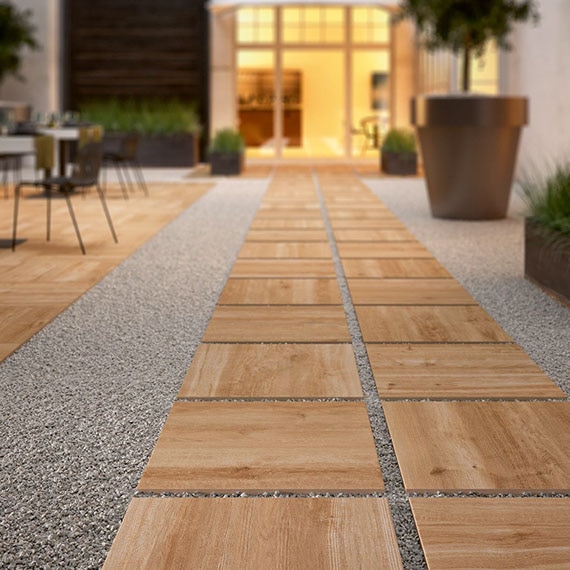 Take Advantage of Porcelain Tile's Durability Indoors & Out
Fill your home inside and out with faux wood flooring, and you will not ever miss the high maintenance of real wood. Wood look tile can be utilized in any space to add elegance, old-world charm, modern trendiness, or just about any other design aesthetic you want to achieve. It's versatile, easy to clean, and comes in a variety of colors and styles that look just as gorgeous as real wood flooring.
Xteriors™ offers wood look pavers and other outdoor flooring that is built to withstand even the most extreme climates.
Explore your options, and then consider using tile that looks like wood throughout your property.