Simple Bathroom Design Ideas to Refresh Your Space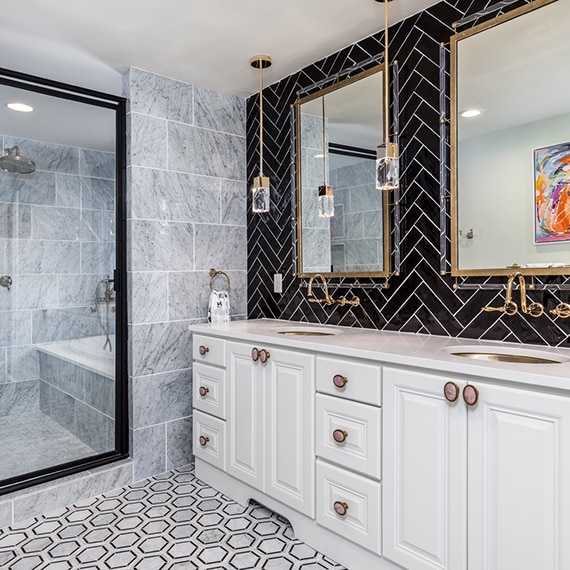 Out with the old and in with the innovative. Some simple bathroom design ideas can transform your space in a big way, and who doesn't love a little positive change? Here are some easy-to-follow tips to help you maximize your bathroom's elegance and functionality.
These bathroom design ideas can lead to incredible transformations. If you're ready to choose new tile, head to your local
Daltile dealer
to check out your options in person.
GOING GREige
Just like white, neutral tones can freshen any bathroom space. Use greige (grey/beige) as the base color of your bathroom design ideas and let your creativity soar. Both silver and gold fixtures beautifully accessorize greige. Remodel your floors with marble look tile for a smooth style that can be accessorized with a number of different colors to complement the theme. For a modern feel, use the Perpetuo in Timeless White for the shower or bathroom walls, and don't forget to add a shower niche or bench (if you have space) for creative punch.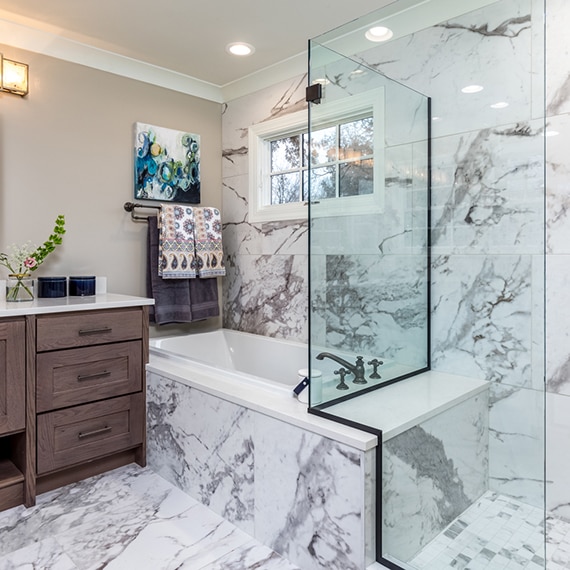 Maximizing Space
Big or small, your bathroom space should be a place of relaxation. Starting with the shower, trade out your curtain for glass doors, which will allow you to enjoy the marbled walls and accents through the glass. The absence of curtains allows for clean-cut lines, and natural lighting will also help to optimize space in your bathroom. A good way to add more natural light would be to add a skylight or a small window to the space.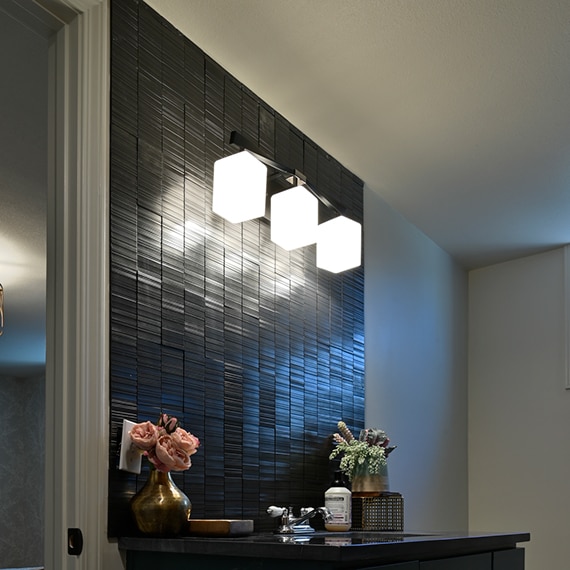 Designing with an Accent
You can create an interesting, stand-out bathroom space by having an accent wall of unique and stylish tiles. Your accent wall can also serve as a backsplash that can easily complete the look of the room. The rest of the walls should be painted with a solid color or covered with a simple tile that complements the accent tile and draws attention to that wall.
Choosing Flooring
Some of the best details can be added right to the ground that you stand on. Bathroom flooring is not only pleasing to the eye as far as the room's aesthetic, but it also has purpose and functionality. Choose versatile tile that allows you both durability and beauty.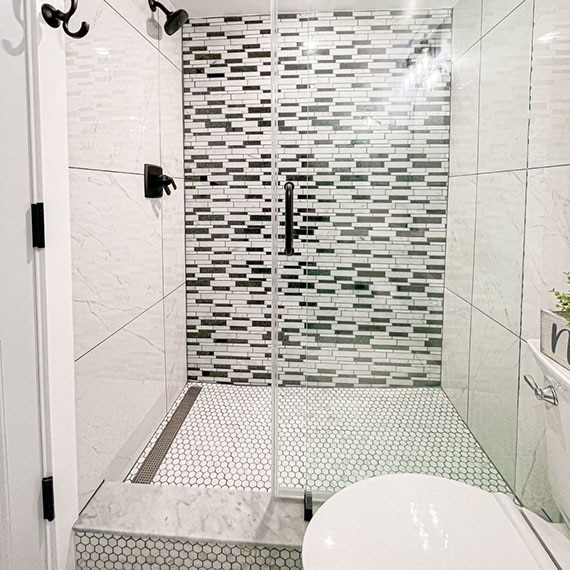 going with a mosaic motif
Mosaic patterns bring a trendy and stylish feel to any bathroom space through unique shapes and designs. Whether you opt for bright colors or neutral tones, mosaics can be added in big or small applications. Renovate your shower with mosaic tiles to offset the solid color of the walls in the bathroom, which will give your shower a more modern look while freshening up the space as a whole.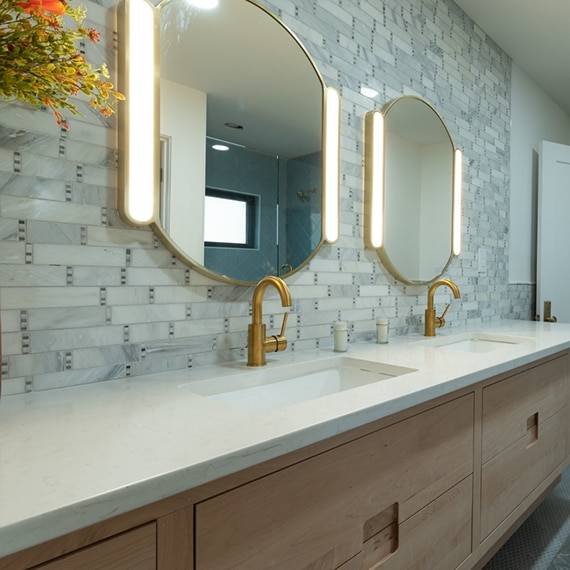 Best Bathroom
Vanities
What's the best bathroom vanity countertop? Chip Wade answers this common question.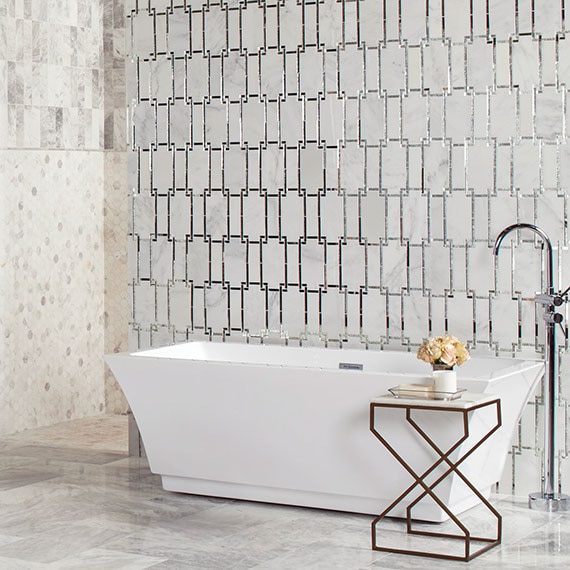 Bathroom Renovations
Chip gives his top 3 tips for maximizing your return on investment.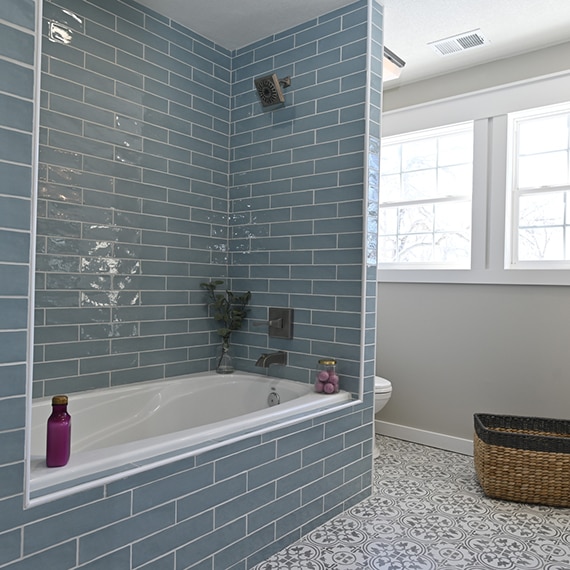 Bathroom Trends
When the bathroom needs an update, look to bathroom trends to define your style.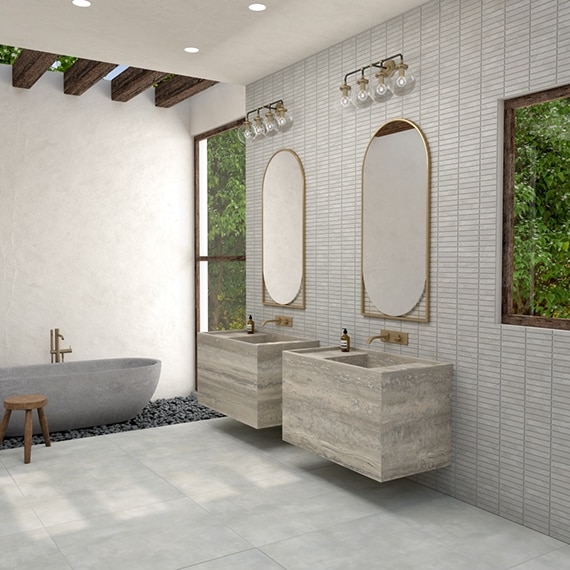 Choosing
the Right Tile
Picking the right tile should not be difficult. We have outlined key information to help.