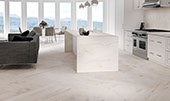 COUNTERTOPS
What's the perfect kitchen countertop? What makes the best bathroom vanity? Can't decide between quartzite vs. granite or marble vs. quartz countertop? Shopping for a countertop comes with a lot of questions.
Panoramic Porcelain Surfaces™ increases the scale and style of porcelain tile on par with natural stone slab. It's a whole new world for countertops and seamless floors and walls.
American Reserve
Proudly Made in the USA, American Reserve ONE Quartz incorporates the highest quality materials with exceptional design.
ONE Quartz Countertop
ONE Quartz is 90% quartz – one of earth's hardest minerals – combined with 10% resin. Resin makes it non-porous and even more durable.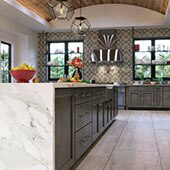 Panoramic Porcelain Countertop
Inspired by limestone and marble, Panoramic Porcelain is strong enough to go where some natural stone cannot.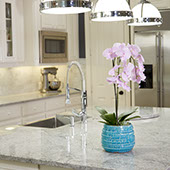 Granite Countertop
Exceptional color, distinctive movement, and outstanding durability make granite countertops the consistent leader.


Marble Countertop
Characterized by color swirls and veining details, few things are as striking as marble countertops, bathroom vanities, and feature walls.
Limestone Countertop
While limestone countertops look delicate and feel soft to the touch, even heavy use is no match for its strength and durability.


Natural Quartzite Countertop
For kitchen islands that remain free of scratches & etching, quartzite is a superb choice.
Travertine Countertop
Well-loved throughout the ages, travertine's rustic charm truly embodies the classic stone look.


Soapstone Countertop
Dark granite-look with marble-like veining make soapstone countertops spectacular additions to your design.