TOP 3 BATHROOM REMODELING PROJECTS FOR THE ULTIMATE RETURN ON INVESTMENT
It's a well-established fact that improvements to the bathroom are one of the best things you can do to increase the value of your home. The average return on bathroom renovation averages about 70%. And you don't need a full renovation to get the benefits of a good investment.
Bathrooms are one of the main talking points for home buyers today. A dreary, outdated bathroom (especially the master bath) drives potential buyers away. On the other hand, a functional, stylish, modern bathroom can be a huge selling point.
Whether you're getting ready to sell your home or are making improvements for the future, bathroom remodeling is a great investment. Here are three of the most profitable projects to increase the value of your home.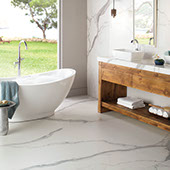 Redesign the Backsplash or Floor
Redesigning the backsplash can be as simple or complex as your budget allows and it can redefine the room to give you that new look you're going for. Select classic and versatile tile that can fit several styles and look good no matter what trends come and go.
Likewise, select floor tile that fits the space and doesn't date the room. Standard 12 x 12 or 12 x 24-inch size tile on the floor looks great in any era and come in many neutral styles.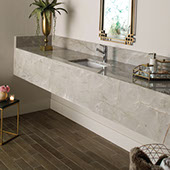 GET SLAB COUNTERTOPS
Slab countertop is all the rage for several reasons. It is durable and gives your vanity a continuous look that makes your bathroom look high-end. Nothing can quite match the elegance of natural stone countertops. They retain a like-new appearance while dealing with every day wear and tear like a champion.
Consider porcelain slab, which gives you the authentic look of stone or monochromatic neutral colors with all the benefits of porcelain.
UNIVERSAL DESIGN
Adding some modifications for accessibility can make a big difference for many buyers. The whole idea of universal design is not just for handicap accessibility, but are changes that anyone can appreciate. A zero-entry shower (no curb to get into the shower) can be a benefit for the elderly or someone with an injury, or even kids.
A section of lower countertop is not only wheelchair accessible, but can make a perfect vanity.