6 MISTAKES TO AVOID FOR a WATERPROOF Shower Floor
There's no cutting corners when it comes to installing shower tile. Even one small oversight can spell disaster. If you want waterproof bathroom tile in the shower, be aware of these common mistakes.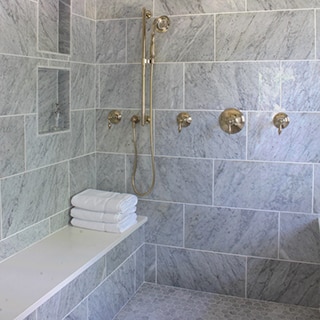 Mistake #1
Assuming Grout, Tile, and Sealers Alone Make a Waterproof Shower
Tile and sealed grout is water resistant, but without the proper preparation and installation, water will find its way around them in no time.

- Take time to correctly install the tile. The Tile Council of North America Handbook has detailed instructions on how to prepare shower floor for tile and how to install for waterproof bathroom tile, including shower pans, waterproofing membranes, and backer board for the shower walls.

- Stick to the same manufacturer for as many components as you can. If you use a shower pan from one manufacturer and waterproofing from another, they may not be compatible.

- Double check how much waterproofing or sealing is needed. One coat may not be enough.
Mistake #2
Forgetting to Calculate the Proper Amount of Slope for the Drain
Without the right slope on the floor of your shower, the water will not drain properly. Standing water is a recipe for growing bacteria and developing leaks.

- Ensure the shower floor has a ¼" per foot pre-slope (slope before application of any materials).

- Hire a contractor if you have any doubts about your abilities.

- Install pea gravel or spacers around the drain and weep holes to enable drainage.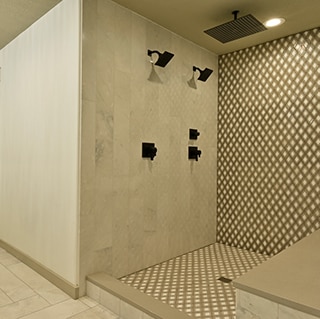 Mistake #3
Forgetting to do a Flood Test before installing tile
Once you have finished preparing the shower space and before you start installing tile, test out the water tightness. It only takes a hole the size of a pin about 20 minutes to start seeping. It's much easier to address leaks in your shower pan before the tile goes down.

- Test for a full 24 hours.

- Plug the drain with a test plug, which plugs weep holes and the drain, fill the shower pan and check periodically.

- Establish that the drain is tight by filling the shower pan up to the top. Any drop in the water level may indicate a leak.

- Pull the plug and watch to see that the slope is sufficient and weep holes are clear.
Mistake #4
Breaching the Waterproof Membrane
Once you've created a waterproof zone, be careful to protect it from any breach while you are tiling a shower.

- Never use nails or screws to attach cement boards to shower walls.

- Avoid using nails or screws to attach curbs or benches.
Mistake #5
Selecting improper Tile for the Shower
All tiles are rated for different purposes so be sure you've picked tile that is appropriate for the shower. Note that tile for the shower floor is a separate rating from tile for the shower wall.

- Check the specs on your tile to make sure it is rated for wet applications.

- Select different tiles for the floor and walls of your shower or a single tile for both that is appropriate for the shower floor.

- Apply sealers to your tile and grout regularly to add to its water-resistance.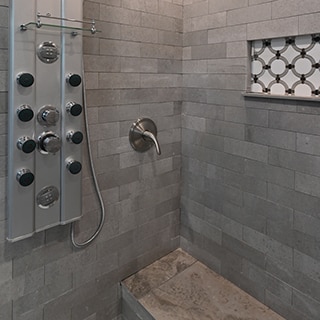 Mistake #6
Poor Mortar coverage
It may seem like it's extra work to get full and even coverage with the mortar, but never take shortcuts when tiling a shower. Any empty spaces behind the tile are opportunities for bacteria growth should any water get through.

- Avoid using "dot" or "back buttering" methods of applying mortar.

- Tile requires a minimum of 95% mortar coverage to work efficiently in wet applications.

- Large format tiles especially need good mortar coverage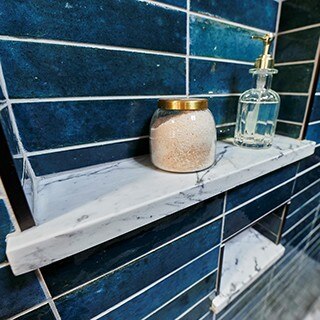 Shower
Shelves
Chip Wade shares his insight for built-in shower shelves - functional style at its best.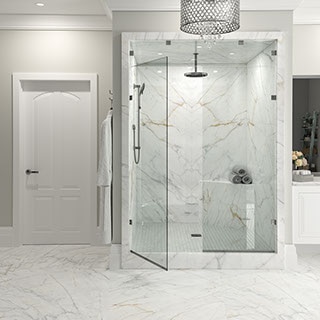 Large Format tile Showers
Shower designs that feature impressive large-format tiles make envied focal points.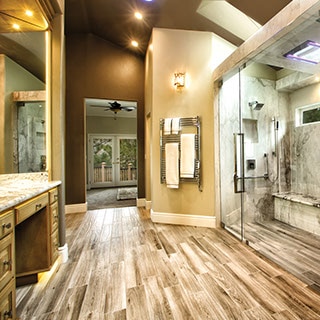 Wood Look
Shower
Real wood in a shower is crazy. But slip-resistant wood look tile is perfect for the shower.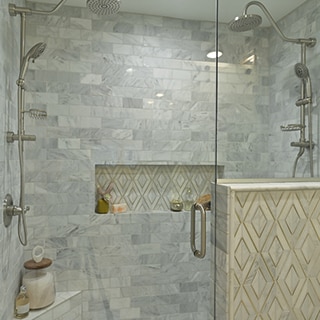 Natural stone Shower
Our award-winning designers offer expert advice for luxurious natural stone in the shower.