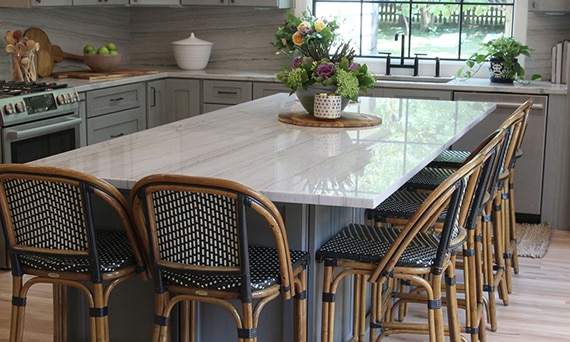 There are so many questions to consider when you are remodeling a kitchen. Which countertops are best for a kitchen? How do I choose a countertop color? Should I choose the countertops first, or the cabinets and floors?


Before looking at options at a stone center, here are a few things to consider.
WHICH COUNTERTOPS ARE BEST FOR A KITCHEN?
The kitchen is one of the most used rooms of the house. It's a place where running water, a hot stove, grease, wine, acidic foods, and more all converge in one giant mess. And it happens more than once a day. That means your top priority should be learning which countertops are best for a kitchen. Below are my top 4 suggestions.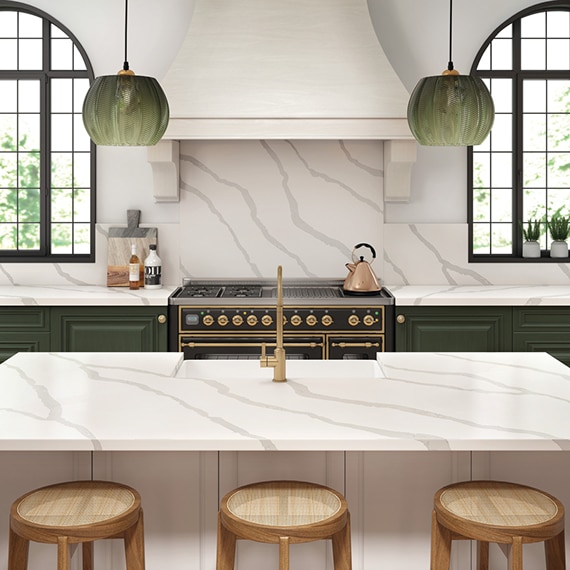 QUARTZ
This manufactured stone countertop is over 90% natural quartz and the rest is resins and coloring. It is the least porous of the stone slab countertops—that means that it's super tough. It can handle acidic foods, coffee spills, warm pans, and trauma with ease. It also requires the least amount of maintenance of the stone slab countertops—no sealing required!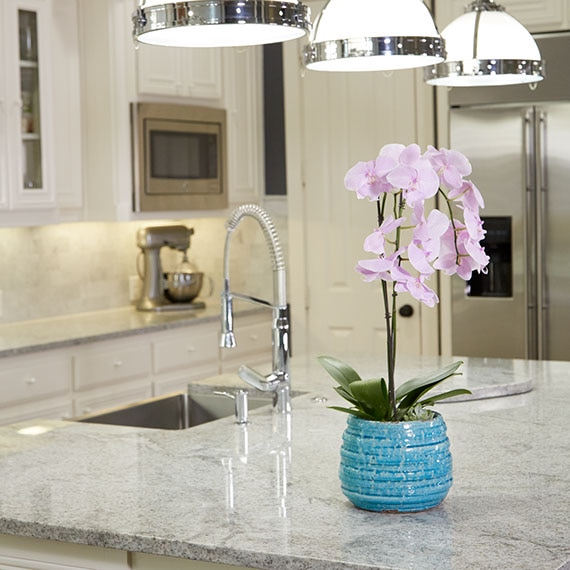 GRANITE
There's a reason this has been the countertop of choice for so many decades. It's a durable, tried and tested countertop that looks great for years. It does require sealing and spills should be cleaned up promptly.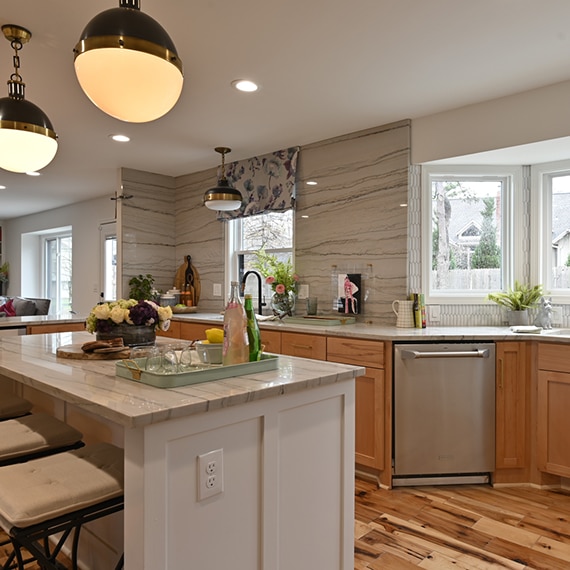 QUARTZITE
This naturally occurring stone looks more like marble but is as durable as granite. It too should be sealed and cared for like granite. It offers an exotic look and is one of the most popular choices for countertops for kitchens in recent years.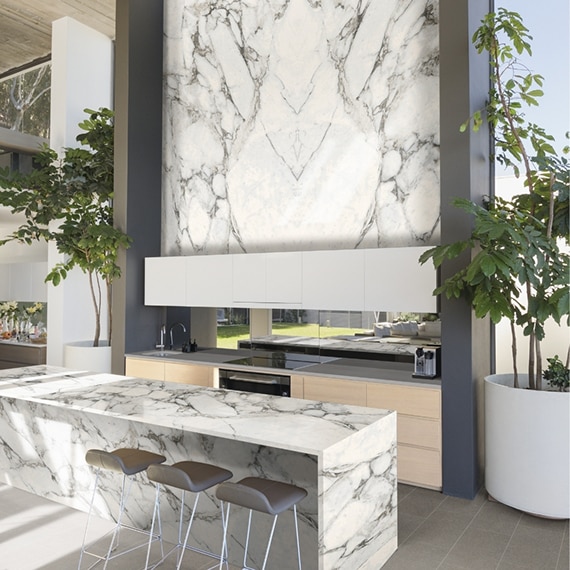 PORCELAIN
Porcelain slabs on kitchen countertops are quickly becoming the new favorite. They are less porous than stone, come in several thicknesses, and are carefully crafted to look like some of your favorite stone countertops, like marble.
How do I choose countertop color?
Countertops in the kitchen are a permanent element so it's natural to want to get it right and color is a big factor in that. How do you choose countertop color? There are two ways to go.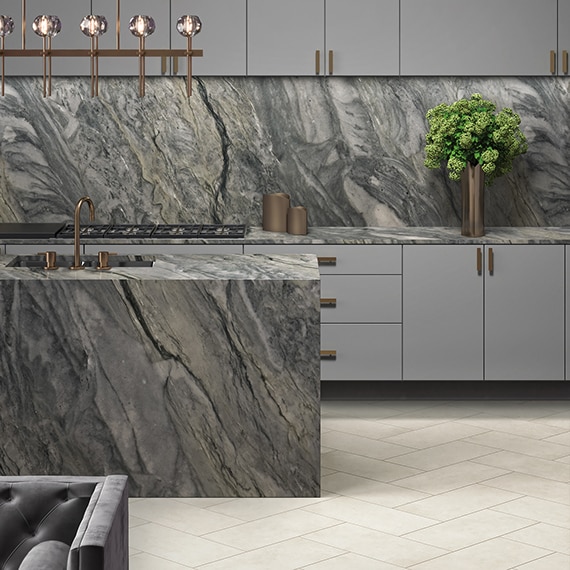 DRAMATIC
Countertops with high variation or intense color make a big impact in the design of your kitchen. If you want to go dramatic with your countertops, it's best to make most of the other elements in your kitchen a bit more neutral so you don't have too many features competing for attention. Drama requires planning. Think through your choices before you start on your kitchen to ensure you'll have a design you love.

Natural stone countertops are often dramatic with heavy veins or grains in a variety of natural colors. They can be eye-catching and the visual center of your space.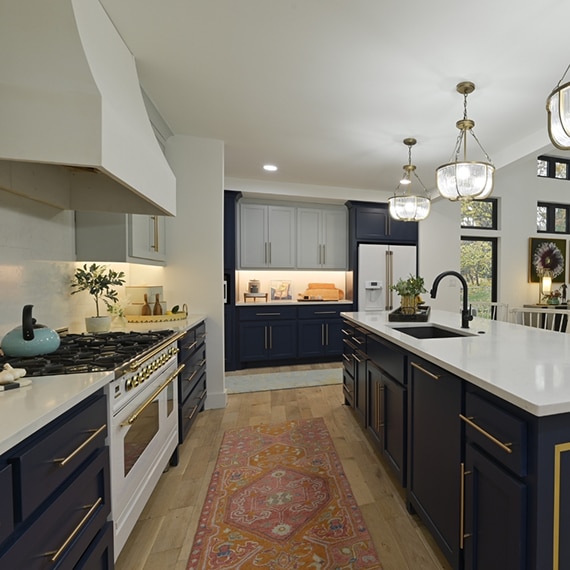 MONOCHROMATIC
A more neutral and single colored countertop doesn't necessarily have to be the center of attention but looks stunning nonetheless. With monochrome countertops, you are free to be more creative with other elements like a colored cabinet, bright and busy backsplash, or unique lighting fixtures.
Quartz is an excellent choice for monochromatic style countertops. It is even-grained and smooth colored—usually in a neutral color.
Should I choose countertops first?
Whether you want your countertops to stand out or blend in, we think choosing your countertops early in the process is a must.
At the very least, you should be considering your countertops alongside your flooring and cabinetry. You should choose countertops, floors, and cabinets first because they are the fixtures of the kitchen space that everything else is built upon. It has happened more than once that someone falls in love with a specific slab and redesigns the entire kitchen around that beautiful piece of stone.
There's only one way to find that perfect natural stone countertop . . . hunt for it yourself! Take a look around one of Daltile's stone centers—full to the brim with unique slabs of every conceivable stone, finish and color—and you'll quickly find which countertop is best for your kitchen.
Stunning Countertops
From quartz to natural stone to large-scale porcelain, see our massive variety of countertops.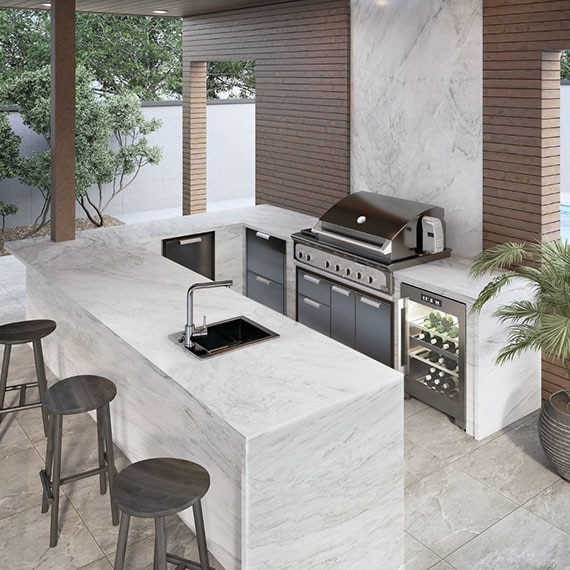 Browse Natural stone
For all of human history, natural stone has been the pinnacle of style and luxury.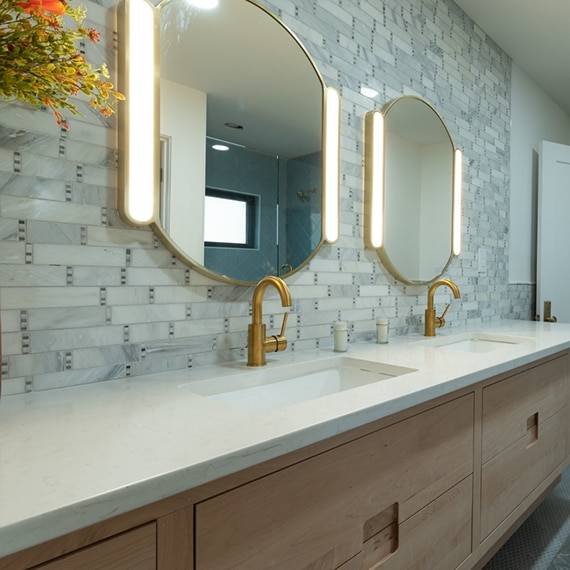 Best Bathroom
Vanities
What's the best bathroom vanity countertop? Chip Wade answers this common question.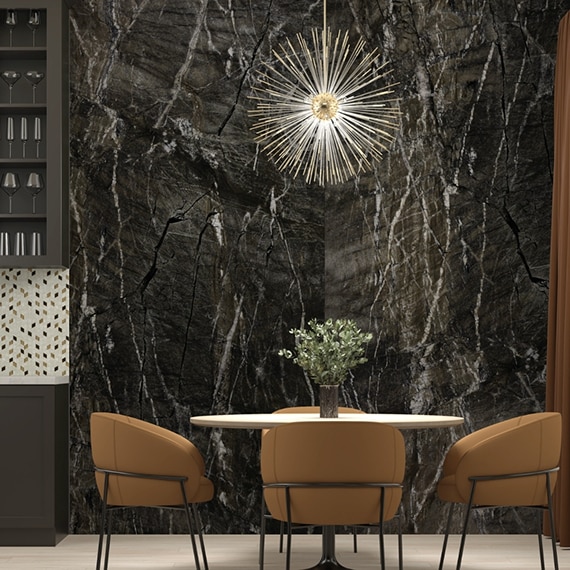 Your nearest stone center
Stop by a stone center to see beautiful natural stone in every type and style.