Breathtaking Views.
Endless Possibilities.
Panoramic Porcelain Surfaces® features porcelain that performs and design that delivers for your walls, floors and countertops. This collection offers breathtaking views, stunning visuals, and seamless design with no boundaries.
• Heat, stain, scratch resistant
• Virtually maintenance free
• No sealing required
• 6mm & 12mm thickness options
Panoramic Porcelain Surfaces® increases the scale and style of porcelain tile on par with natural stone slab. It's a whole new world for countertops and seamless floors and walls.
Elemental Selection
Create drama with striking vein patterns, or infuse tranquility with subtle marbling designs. These sophisticated marble looks are available in both glossy and matte finishes.
Industrial Selection
Add an urban chic feel with these large format slabs that closely mimic the essence of poured concrete, while the smooth matte finish adds a touch of sophistication.
Metallic Selection
The reflective, metallic sheen on these slabs takes fashion to new heights. This aged, unrefined character of concrete enhanced with mixed metals is offered in matte finish.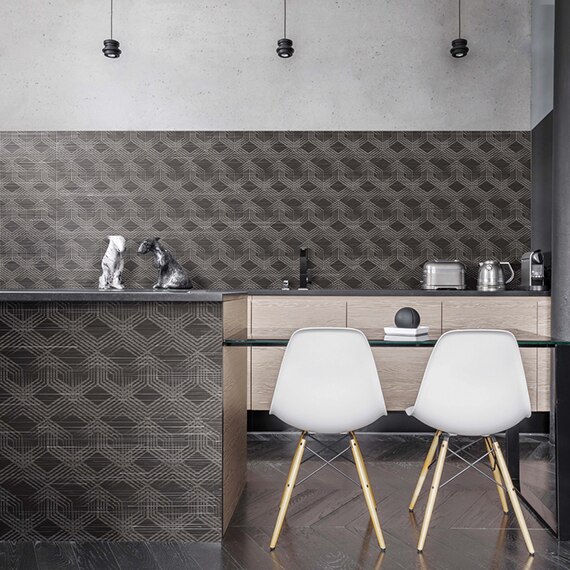 Couture Selection
With striking patterns and unlimited artistry, Couture Selection features fierce style straight off the runway. Offered in patchwork visuals in black or silver.
The Beauty of Stone:
The Strength of Porcelain
Inspired by European trends, large-format porcelain slabs are one of the most versatile products Daltile offers. They easily bring the scale and style of natural stone slab to projects where stone might be cost or installation prohibitive.
An outstanding match for commercial applications, Panoramic Porcelain is also ideal for a host of residential applications: countertops, vanities, shower walls, tub surrounds, fireplaces, floors, feature walls, exterior cladding and more. These spectacular porcelain slabs are an impressive addition to almost any application, excluding pool or shower floor.
FlexFit™ Size Solutions
Not only are Panoramic Porcelain Surfaces excellent for large spaces and countertops, but as part of our FlexFit Size Solutions program, a single slab can be cut into seven pieces in sizes ranging from 126" x 31.5" to 21" x 21". All colors are conveniently stocked in seven standard sizes for both 6mm and 12 mm thickness. Achieve the look you want and never have to worry about maintenance issues common with other materials.
There are no limits to the placement of the panels. They're suitable for floor, interior and exterior walls, counter, tub deck, appliance furniture – anywhere you want higher style while staying within the project budget.
FlexFit Size Solutions
Our custom cut-to-size program designed specifically for Panoramic Porcelain.
Panoramic Porcelain care
Learn how easy it is to protect and maintain the beauty of Panoramic Porcelain Surfaces.
Panoramic View
From specs to perks and much more, learn all the fine points of Panoramic Porcelain.
Your Best Resource

Visit our showroom for complimentary design consultations & free samples!