3 Reasons You Need Geometric Pattern in Your Design
Wouldn't you love to have a Pinterest-worthy home? A design that elegantly pulls off trendsetting design and classic style all at once?
There are lots of ways to do all that, but you will surely attract attention with a bold geometric pattern. If you think geometric patterns are the relic of a bygone era, you're wrong. Today's patterned wallpaper and geometric tiles come in the shapes and colors that breathe contemporary style into your design.
Here's why these patterns are a must-have.
#1 ADD VISUAL DEPTH TO YOUR DESIGN
There are few design elements that will make your design stand out: bright color, extravagant architecture, or a bold pattern. Patterns add visual interest. Whether you have a natural floral pattern or a geometric one, they draw the eye and give the room purpose. They ground the design.
Geometric patterns bring a sense of the now into your design. So unless you want to go ultra-traditional, they are a perfect fit for transitional designs and modern designs.
Choose a pattern that works with your color scheme. Even patterns in neutral colors pack a punch. Consider the size of the pattern. It should not be so large that it overwhelms the size of the space or too small that it is barely noticeable.
TIPS FOR USING GEOMETRIC TILE
The hexagon is, by its very nature, geometric. Consider hexagons or other clean-lined shapes like circles for your design. Look for geometric shapes in larger sizes, as well.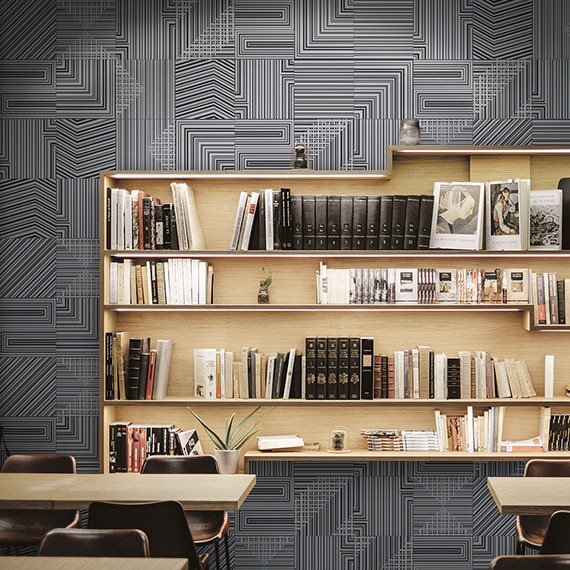 #2 BALANCE YOUR SPACE WITH PATTERN
It doesn't take much to make an impact on your design with a little geometric pattern. Patterns can be overwhelming if overused. On the other hand, a flat design can be underwhelming. It robs the room of a center and design elements can get lost. Use pattern as an accent, pop, or feature in the room to bring visual balance.

If you use a neutral-colored pattern, it will have a bit less of an impact than a colorful pattern so you can get away with using a little more than a boldly colored scheme.

TIPS FOR USING GEOMETRIC TILE

Patterned mosaics are a great choice for a backsplash because it limits a bold pattern to a smaller space. A deco tile in a pattern can have great effect, even in small amounts especially with a contrasting grout. Try linear or pencil tiles for a unique backsplash. A mosaic with varied square sizes makes a bold statement.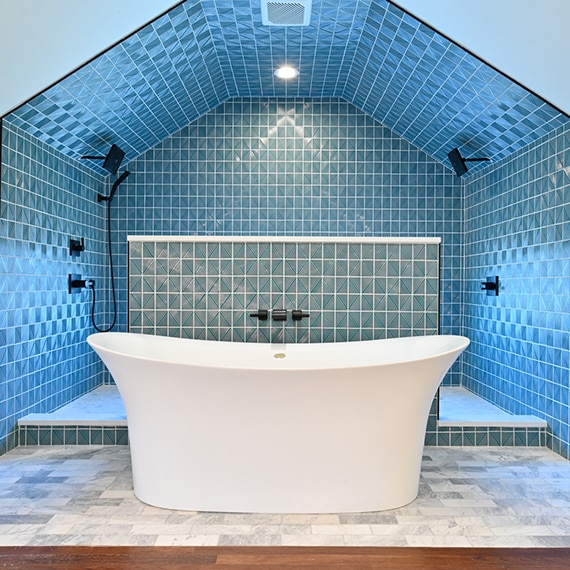 #3 IT WORKS JUST ABOUT ANYWHERE
Patterns go anywhere. They are just as at home in the bathroom as they are in the living room. And there are endless options for how you use them in your desired space.

Backsplashes, chair rails, feature walls, rugs, drapery, lamp shades, the list goes on and on. You can even use a simple pattern, like checks, for the floor. Whether you choose to use geometric pattern on a large scale, or as an incidental accent, every corner of the house offers options.

TIPS FOR USING GEOMETRIC TILES

Use different tones of an elegant stone tile to create an upscale and customized pattern on the floor. If you like some curves in your design, go for a feature wall with Eastern European-influenced arabesque tiles. Accents can be functional and bring some pattern to the party.