3 Popular Interior Design Styles: Midcentury Modern and Beyond
Deciding on your design style is an important first step toward a remodel. It determines the materials, furniture, and even colors you pick. On top of that, it's a permanent choice. Here are three big ones for you to consider.
WHAT IS MIDCENTURY MODERN STYLE?
A popular look in the 1950s and 60s, midcentury modern has made a comeback with added elements that make it an enduring look that joins the established lineup of styles to choose from. It is characterized by rich colors, clean lines, geometric design, and minimalism.
Midcentury modern design is not complete without some glazed tile. Whether it's white subway tile or colorful 4 x 4s, the line and polished look of ceramic tile is part of the definition of midcentury modern.
Geometric shapes are foundational in midcentury modern design. Furniture is squared off and straight-lined minimalism reigns supreme.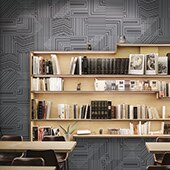 ART DECO DESIGN
Like midcentury modern design, art deco hails from a specific time: the American 1920s and 30s. It's sleek, high-contrast, reliant on shiny metal accents, and luxurious—think Roaring Twenties and Gatsby. It's sparing in design but has a flair for extravagance.
Black and gold were very popular accent colors and no design was complete without plenty of straight lines softened by luxurious, decorated fabrics and fringe.
Tile is a nice match for Art Deco design with its many straight lines and ability to create geometric shapes and patterns. Also like midcentury modern, Art Deco is making a comeback.
INDUSTRIAL DESIGN
Reserved for commercial spaces in the past, the residential designers have embraced industrial design, or elements of industrial design into interior style for several years. Exposed beams, bricks, ductwork, aged metallic and reclaimed wood are charming, and even homey in the right design.
Tile makes it easy to get the industrial look even if you don't have an industrial space to work with. Brick look tile, metallic tile, and reclaimed wood look tile can convert walls, floors, and other surfaces to the industrial look effortlessly.
The wonderful thing about midcentury modern style, industrial design, or Art Deco style is that they've evolved from what they once were. Add your own personality to the mix to create a look that will stand the test of time.
Incorporating Geometric Patterns
Geometric patterns are on-trend and can make a striking addition to any design.
5 TIPS FOR HIRING A TILE INSTALLER
In his many years working with pros, Chip has discovered some must do's for hiring a tile installer.
Grout for Subway Tile
Grout for subway tile might seem simple, but there is more to consider than you might imagine.