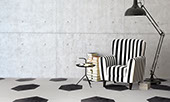 WHAT'S TRENDING
Tile is more than just a great surface for the bathroom floor. From bold colors to subtle texture, our newest tile brings you dynamic design.
Discover what you can do with tile.
Color
After years of warm and simple shades dominating the market, bold is back. Palettes include pastels and rich primary colors that have been waiting in the wings for their day in design.
Here are some of our favorites.
Geometrics, Patterns, Shapes
Geometric shapes and encaustic-look patterns have topped the trends list again this year. Subtle linear design or specialty shapes make your design stand out.
Take a closer look at these collections.
Hygge
Mosaic on the backsplash is a simple way to add a pop of color, interesting texture, or pattern that is enough to draw attention but not visually overwhelm a space.
Achieve comfortable design with these collections.