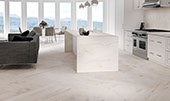 Countertops
What's the perfect kitchen countertop? What makes the best bathroom vanity? Can't decide between quartzite vs. granite or marble vs. quartz?
Our extensive selection includes every option, from the finest natural stone to enduring ONE Quartz to our award-winning Panoramic Porcelain.
Our stone center experts can help you make the perfect choice for your project.