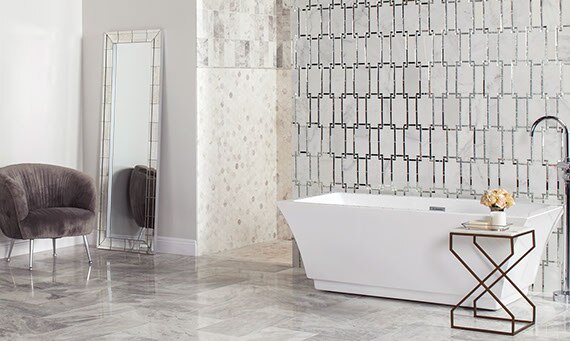 MOSAIC TILE
Mosaic tile is an excellent choice for walls,
shower floors
,
pools
, and even mosaic tile floors.
For an eye-catching kitchen backsplash or functional yet elegant shower floor, our wide variety of mosaics provide excellent options, even
peel & stick mosaics
and
no grout options
!
mosaic Designer Tool
Our mosaic design tool allows you to use Keystones or Color Wheel Mosaics to create unique patterns, color ratios and one-of-a-kind designs.
The custom designer also lets you save designs to your computer, print, or store in a "My Projects" account. Share completed designs via email or on social media. Create your own custom, random blends. Design your own patterns with unique color ratios
Daring Kitchen Backsplashes
HGTV Star Chip Wade offers suggestions for creating spectacular backsplashes.
Waterline Pool tile
Daltile's award-winning designers offer suggestions to create a backyard oasis.
Mosaic Tile to the Rescue
Mosaic tile packs a tremendous visual punch that breathes life back into any outdated kitchen.
Decorative Tile Inspiration
Our designers offer a selection of stone & encaustic mosaics to transcend your accent wall.