MOSAIC TILE
Mosaic tile is an excellent choice for walls, floors, and even pools.
For an eye-catching kitchen backsplash or functional yet elegant shower floor, our wide variety of mosaics gives you excellent options.
Shower
Tile
Did you know that shower floors should have tile is three inches or less? Our extensive selection of mosaics will leave you with no shortage of options.
Mosaic
Backsplash
Mosaic on the backsplash is a simple way to add a pop of color, interesting texture, or pattern that's enough to draw attention but not visually overwhelm a space.
Pool
Tile
There are as many pool tile options to choose from as there are types of tile. Our many options help you think outside the box for pool tile that truly wows.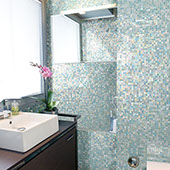 Glass
Tile
There's nothing like the sheen of glass whether it's in the pool or on the backsplash. Check out our glass tile and mosaics that blend glass with natural stone or metal.
Natural Stone
Tile
Natural stone mosaics add something special with their earth tones and rustic textures. We also offer them in specialty shapes that take timeless design up a notch.
Linear
Tile
One of the hottest mosaic styles today, linear tile can be variegated or monochromatic colors. Our collections include all materials, from natural stone & glass to ceramic & porcelain.
Factors to Consider
Find answers to some commonly asked questions about tile: how to care for it, install it, and design with it.
How To Choose
Tile
Finding the right tile shouldn't be hard. We've outlined tips to help.
Care and Maintenance
Our care & maintenance guides offer information to ensure your tile lasts for many years.