Helpful Tips for Tile Installation
Carefully measure tiles to be cut and mark with a pencil or felt-tip pen. Make straight or diagonal cuts with a wet tile cutter (dry cutting is not recommended - see FAQs), curved cuts with a nipper and full-length curved cuts with a rod saw.
When installing countertop tiles, begin with counter trim, then set full tiles from the first row working back – thus all cut tiles will be placed on the back row against wall.
It is critical that large format tile be installed on a level substrate. Additionally, there must be at least 90% mortar contact and a minimum grout joint of 3/16" depending on the tile.
Step-by-Step Instructions
Whether you're installing floor tiles, wall & countertop tiles or large format tiles, our helpful instructions will guide you through each process.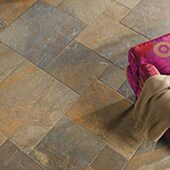 How To Install Floor Tile
Good planning is the key to successful installation. Prep your surface, plan the layout, cutting and set your new tiles.
How To Install Wall & Countertop Tile
Maintain the beauty of your large format tile for years to come with the proper installation methods.
How To Install Large Format Tile
Our do-it-yourself installation tips will help guide you, from planning to installation to the satisfaction of a job well done.