Display Programs
Daltile has the selling tools to help you adapt and stay current in the marketplace so you can provide the right mix of products in an efficient, stylish way.
The new contemporary designs are clean and streamlined to create a larger impact within a smaller footprint.
Designed to provide your customers with a premium shopping experience, these displays are meant to stand out in any showroom.
SELL WITH STYLE
Our DISPLAY OPTIONS deliver.
STUNNING REDESIGNED DISPLAYS with a clean, contemporary look streamlined for maximum visual impact.
DISPLAY SOLUTIONS for any showroom environment so you can provide the right mix of products.
PREMIUM SHOPPING EXPERIENCE with Daltile's Simplified Shopping Strategy designed to guide and educate consumers through the selection process.
Unique new graphics that help tell the sales story and INSPIRE YOUR CUSTOMERS to visualize our floors in their homes.
Flexible MERCHANDISE SOLUTIONS to fit any space.
The POWER of the Daltile brand.
The Design Studio
A complete sales and education tool that helps you guide customers through their selection process. The display, along with your expertise, ensures the customer not only leaves delighted with their product selection, but also an exceptional buying experience.
Easy-to-read wing handle labels organize product by look categories.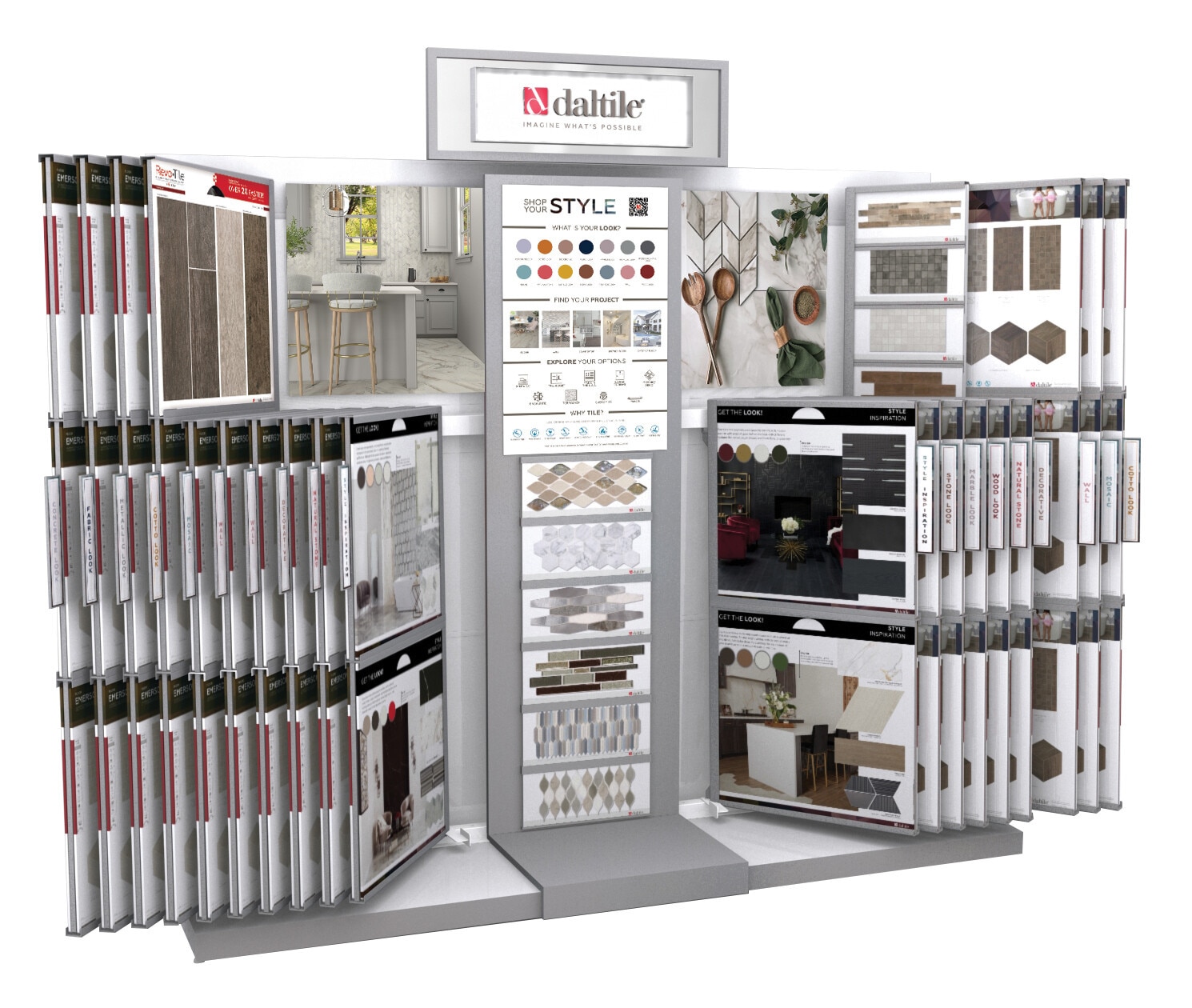 Included pack-out features:
Eight style inspiration boards
- Professionally curated for a full room design with floor, wall, and mosaic combinations along with coordinating countertop recommendations.
Eight-two selection boards
- Features large sized samples maximizing product reveal along with smaller sized samples to highlight color, texture, and finish.
- Key product features are highlighted in an easy-to-reference icon bar on the front and back of each selection board.
Twenty-one mosaic accent cards
- Mosaic Feature Area provides space to highlight six small mosaic accent cards.
- Mosaic wing hold eleven small and four large mosaic accent cards.
Planogram is available for suggested board layout.
120.7" W x 32.8" D x 92.8" H (with wings fully opened)
Part No. 0000DTDSPDSN19 (includes Pack Out and Professional Installation [required])
THE FLEXIBLE DESIGN STUDIO
Flexibility and style in a compact footprint.
Elevated design features contemporary, modern finishes combined with clean white sample boards and a beautiful frosted acrylic header. A visually stunning display!
Display graphic utilizes Daltile's NEW simplified Shipping Strategy to guide shoppers through the selection process.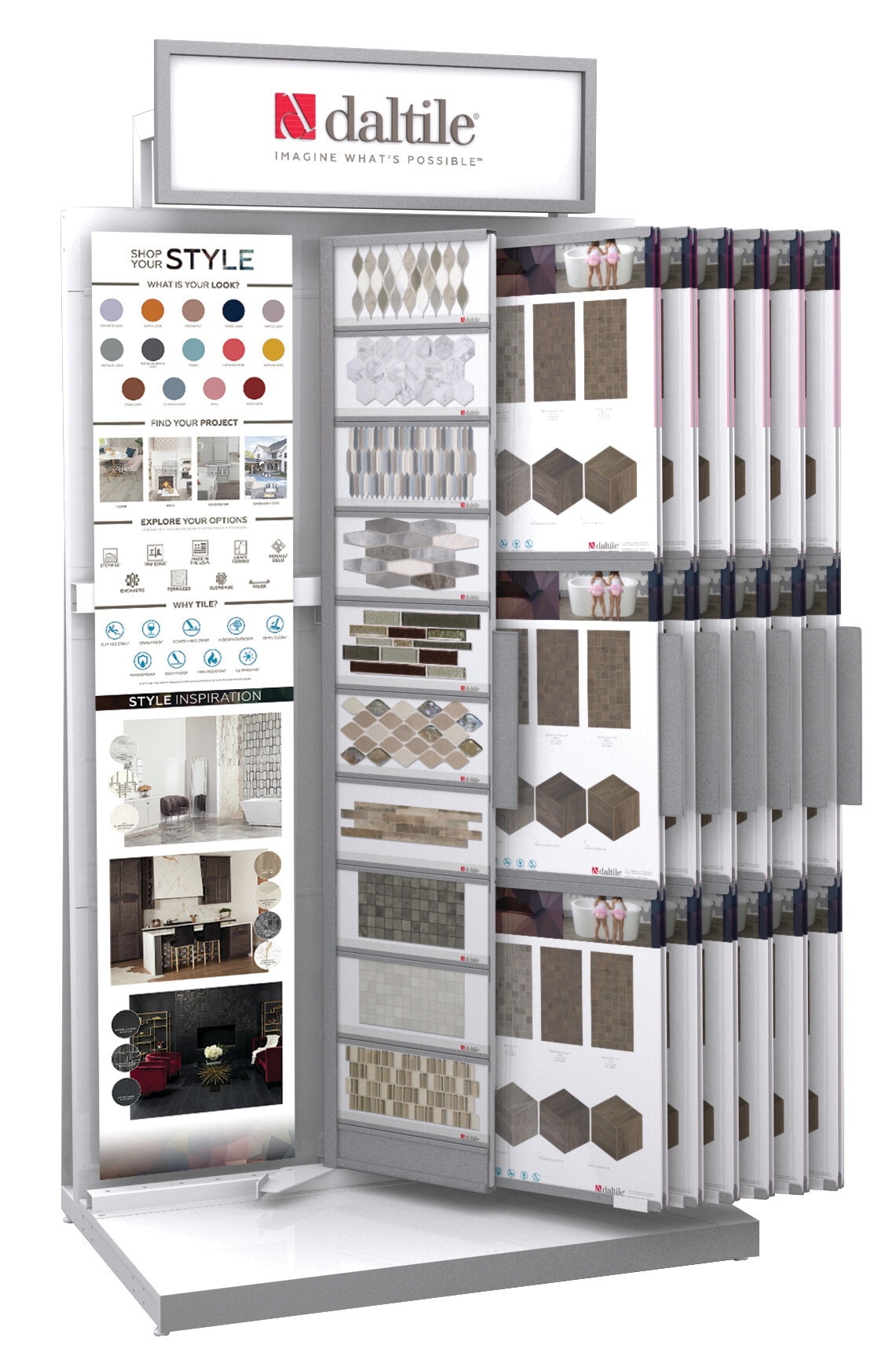 Six large wings and a mosaic wing maximizes space to hold thirty-six selection boards and fifteen mosaic accent cards.
- Holds thirty-six selection boards (must be ordered separately).
- Mosaic wing holds eleven small and four large mosaic accent cards.
- Mosaic accent card pack out included.
- Key product features are highlighted in an easy-to-reference icon bar on the front and back of each selection board.
Customizable product assortment.
- Selection board assortment is customizable and must be ordered separately at an additional cost.
47.75" W x 32.63" D x 92.78" H (with wings opened as shown)
Part No. 0000DTDSPFLEX20
MOSAIC SPOTLIGHT DISPLAY
Smart-design delivers versatility and functionality in a compact footprint.
A classic metal finish accented with silver tones and crisp white sample cards complement each other to create a visual impact in any showroom.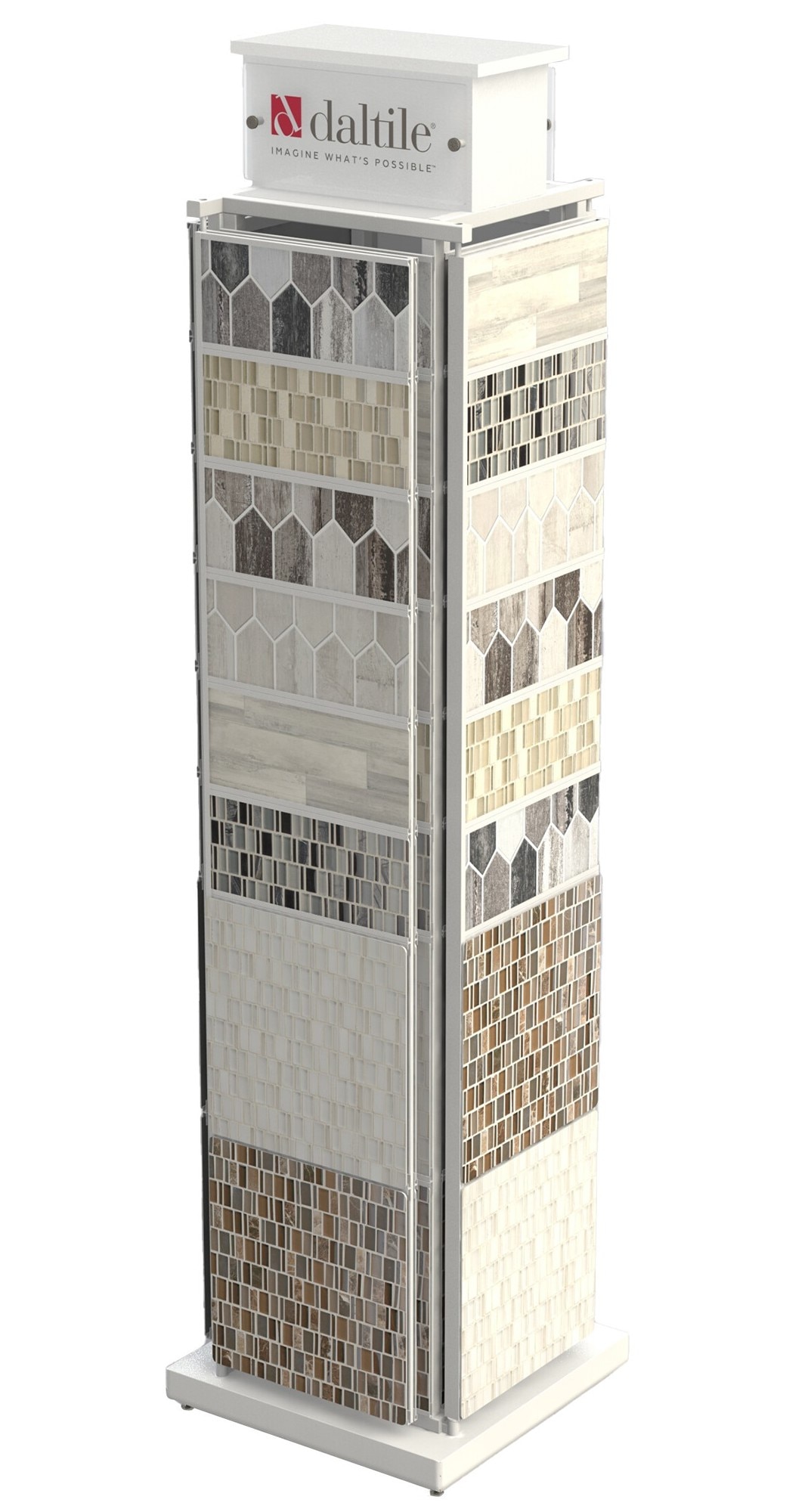 Premium shopping experience features include self-closing wings, large and small sample cards in a smart space layout designed to maximize product assortment.
Included pack out features:
- 72 small mosaic accent cards
- 24 large mosaic accent cards
- Back label on mosaic accent cards includes a QR Code for easy access to important product information.
Closed: 22.1" W x 22.1" D x 89.1" H
Open: 49.8" W x 53" D x 85.7" H
Part No. 0000DTDSPMSSPOT
(Includes Pack Out)
Mosaic Accent Cards:
72 Small Cards (15.5: x 6.75")
24 Large Cards (15.5" x 16")
STEPWISE™ FOCUS DISPLAY
A dynamic merchandising tool designed to engage customers with vivid features that reveal the story of StepWise™ Technology.
Each element informs and educates customers on the benefits of StepWise™ products to help them realize their dream design is within reach!
Classic finishes combined with Daltile's clean brand design creates a prominent, visually impactful display.
A compact footprint with a large impact. Large sample size provide optimal visualization of product in an easy-to-shop package.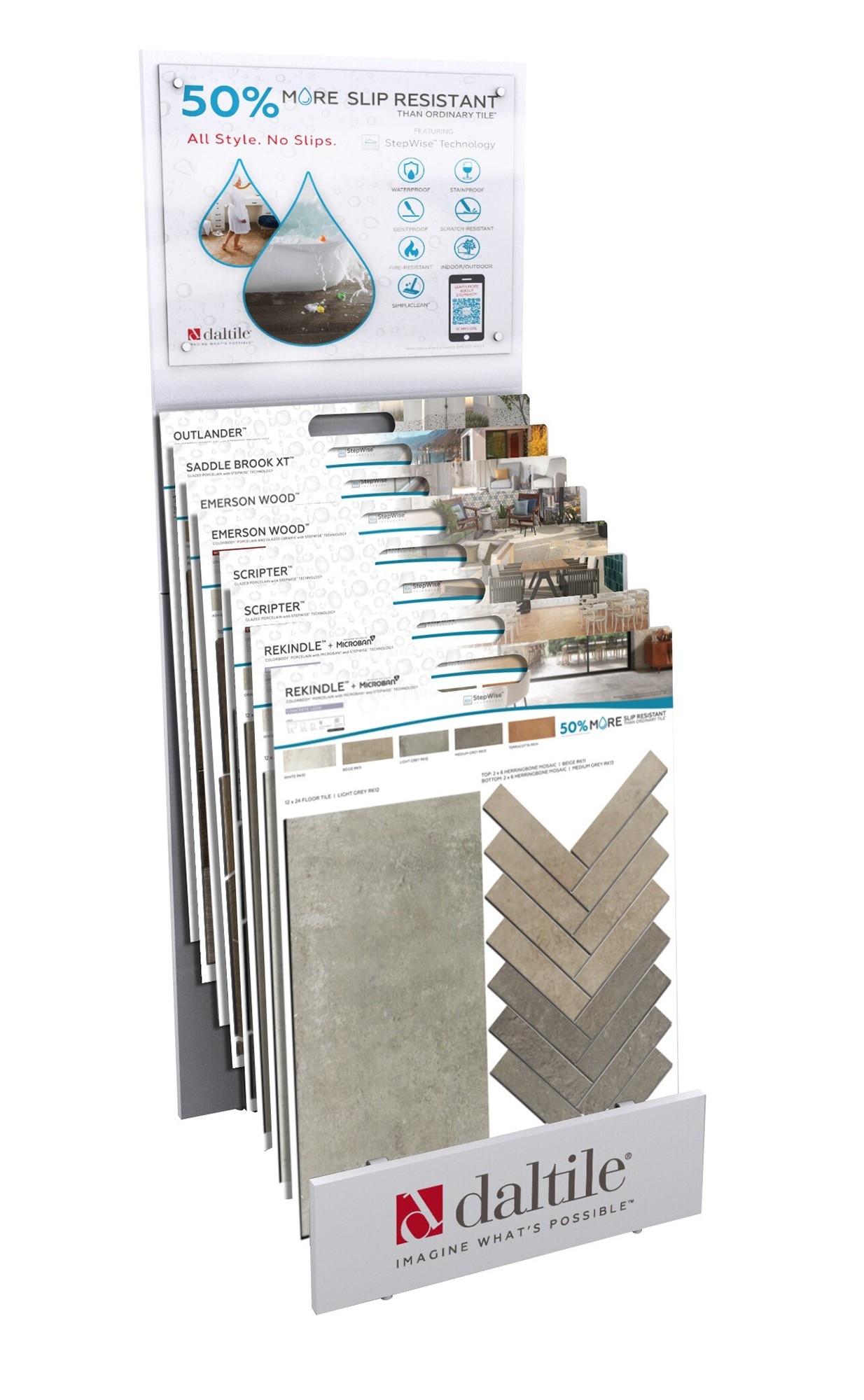 Header Graphic
- QR code provides quick access to StepWise™ videos for additional product information.
Merchandise Boards
- Graphics and messaging coordinate with display header to create a cohesive experience.
- Showcases an assortment of stunning stone, wood, and concrete looks.
Display Base
- Innovative design allows display to rotate in either left or right to allow for easy removal of sample boards.
Pack out includes:
Eight 32" H x 25" W boards
- Boards feature product selection from Emerson Wood ™, Saddle Brook XT™, Scripter™, Rekindle™ and Outlander™ series.
34" W x 34" D x 70.525" H
Part No. 0000DTDSPFCS19
The DEFEND Focus Display
The DEFEND™ Focus Display is a compact merchandising tool designed to feature and tell the story behind DEFEND™ Antimicrobial Technology, Powered by MICROBAN®.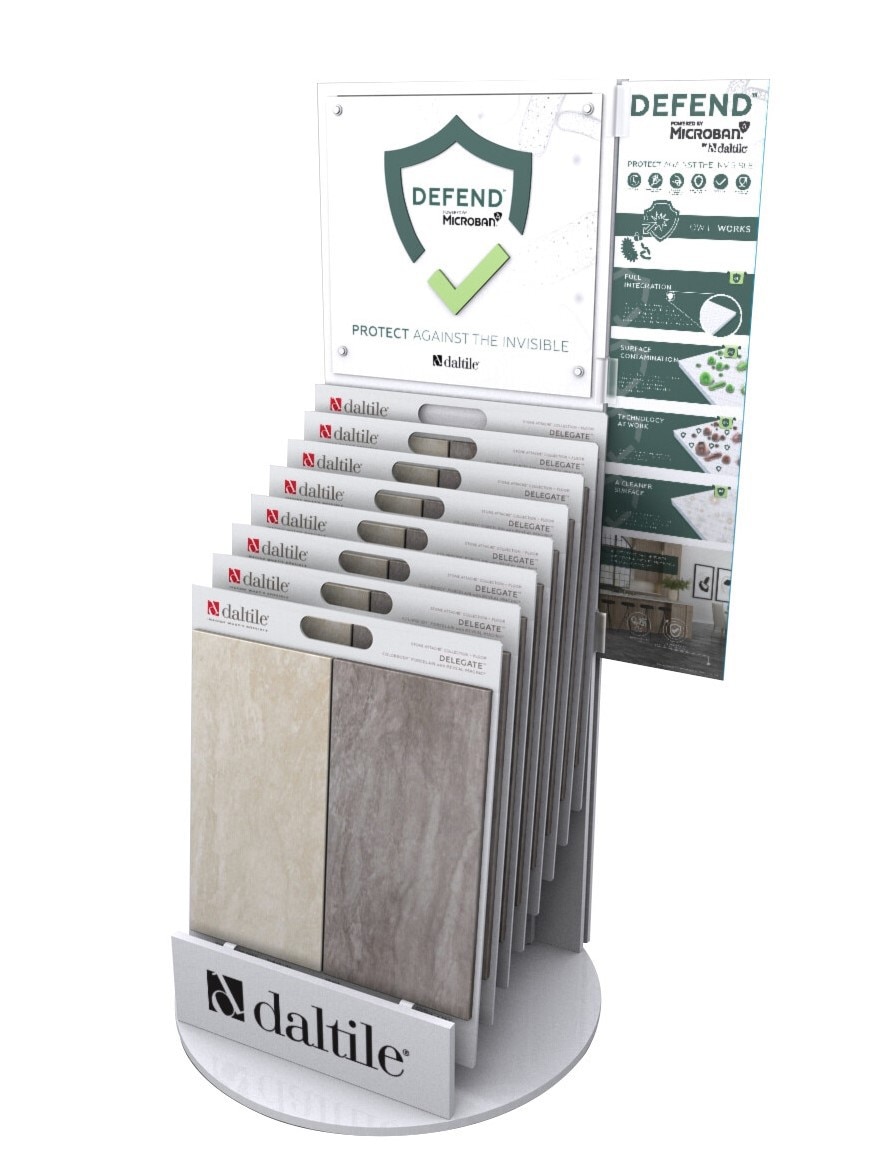 Features:
- Eye-catching graphics with detailed and meaningful descriptions that educate and demonstrate the effectiveness of the technology.
- Easy-to-follow breakdown of impactful technology, which draws customers in and easily informs about the key benefits of the program.
- Easy-to-remove boards, which allow for closer visualization.
- Pack Out includes six boards and can expand to eight boards.
34" W x 34" D x 70.53" H
Part No. 0000DTDSPDFND21 (Includes Pack Out)
24 x 48 LOOSE TILE DISPLAY
An innovative design to showcase large format products.
Rollers allow easy access to samples.
Slim design maximizes usage of product.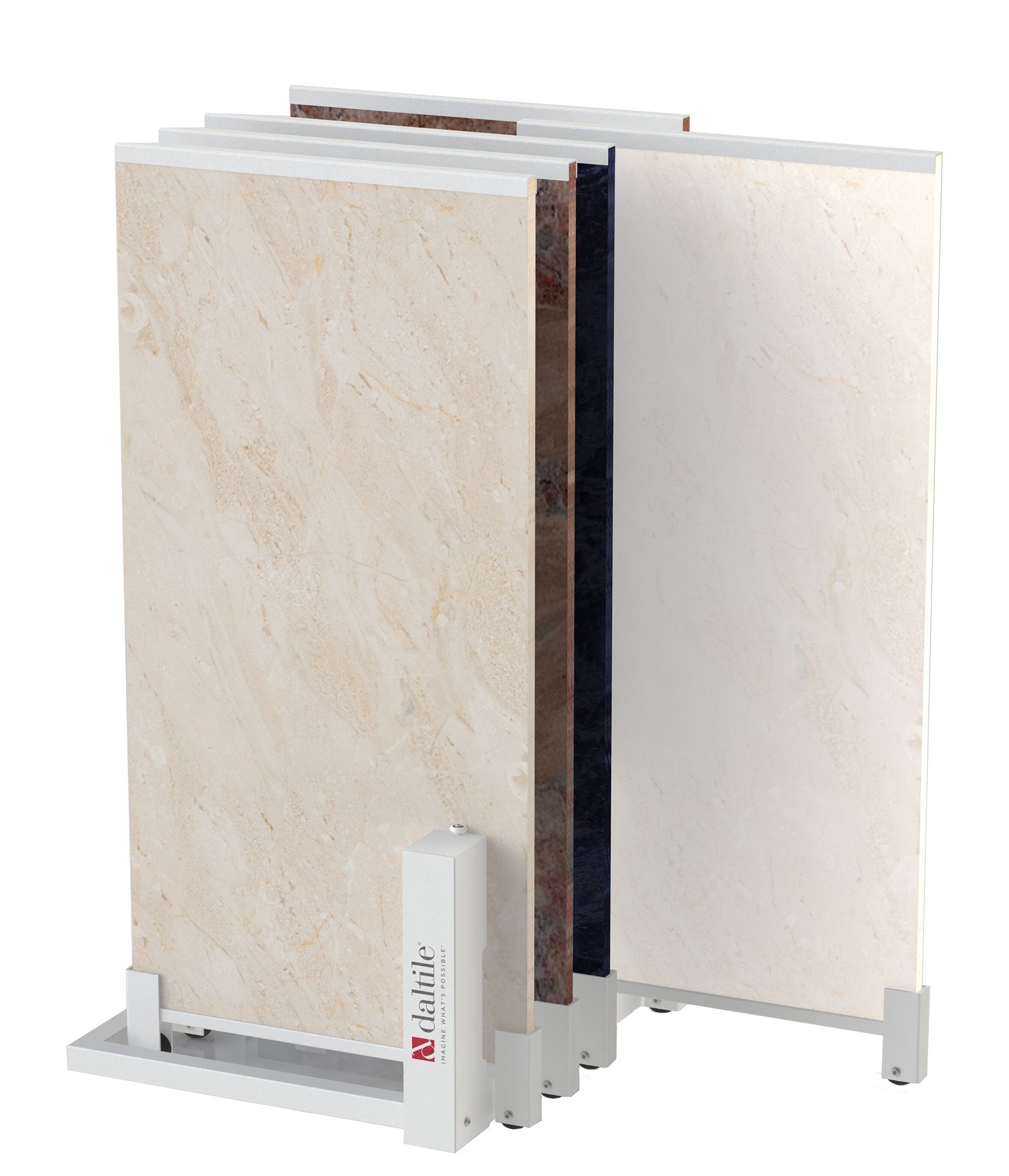 Holds ten pieces of 24x48 loose tile back-to-back.
Loose samples are ordered separately.
26" W (open) x 28.5" D x 51.5" H
Part No. 0000DTDSP2448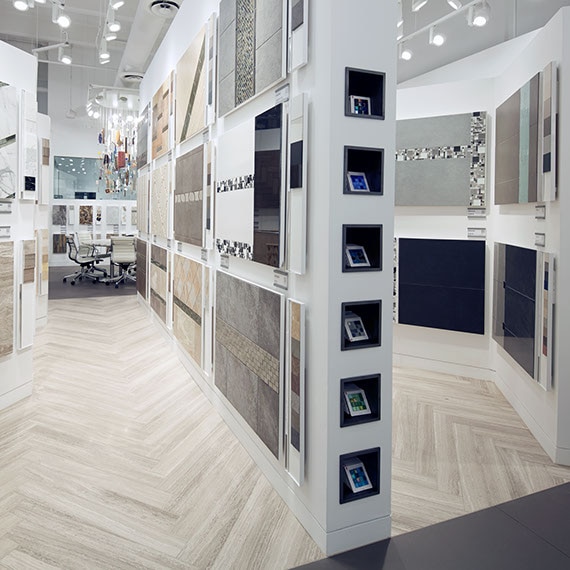 Exclusive Dealer Benefits
Discover the perks offered to our Statements Dealers, our premier dealer program, and no one else.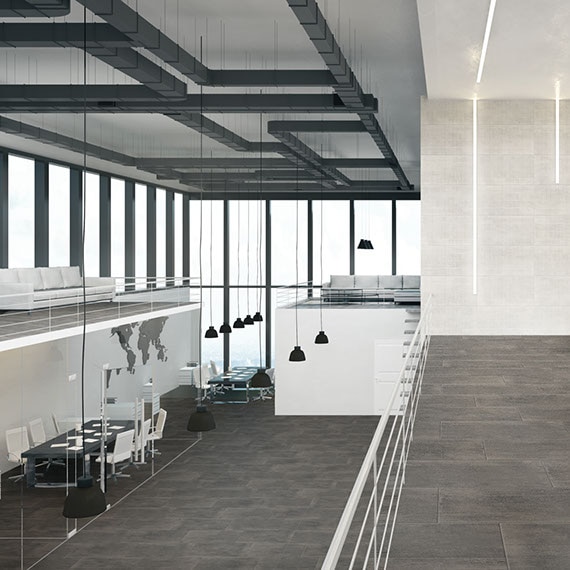 Why Daltile?
With so many tile options, discover why Daltile products & services are your best choice.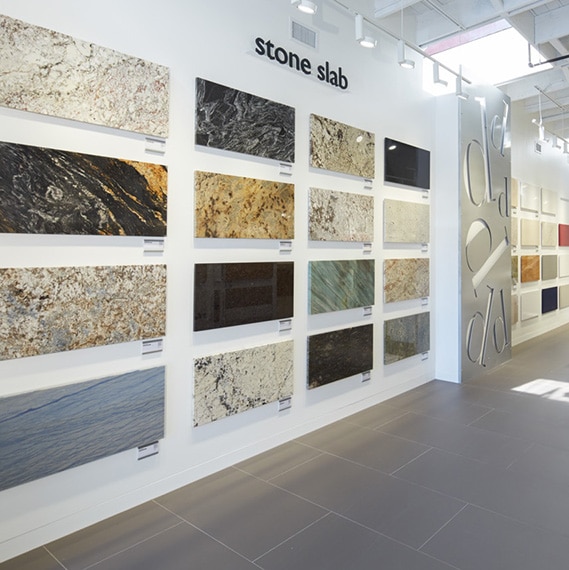 Product
Literature
All our Sales Sheets, Brochures, and Catalogs in one convenient location.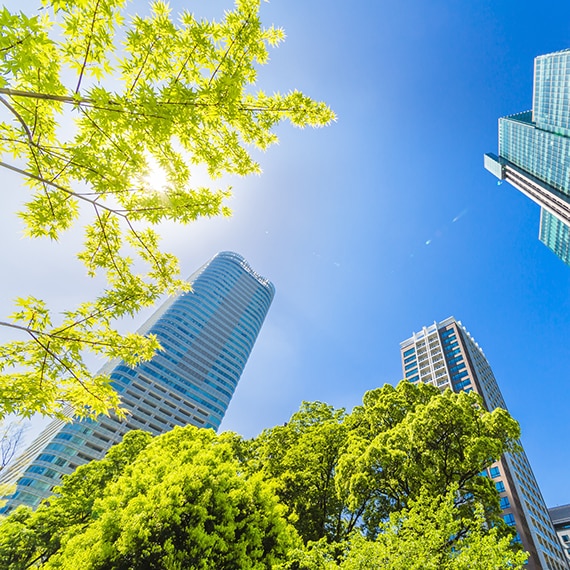 Got Questions?
We have answers. We're here to provide information on our company, services & products.