AMERICAN RESERVE
Only the FINEST QUALITY and most exceptional design lend their attributes to the AMERICAN RESERVE. The epitome of REVOLUTIONARY TECHNOLOGY and innovative style, every unique detail is carefully crafted for SUPERIORITY.
STATE OF THE ART DESIGN & STYLE
Exclusive colors & designs
Proprietary design technologies
MOST ADVANCED decorative capacity
MANUFACTURING & SERVICE
Largest footprint of distribution and service nationwide
IMMEDIATE AVAILABILITY with rapid response
State of the art warehousing system
Quality control center
LARGEST SLAB IN THE WORLD
More flexibility with LESS WASTE
Less seams for today's large islands
UNPARALLELED PERFORMANCE
Our products are the MOST heat, scratch & stain resistant in the market
Maintenance free
Food safe
ENVIRONMENTALLY FRIENDLY
Water RECYCLE used in manufacturing
Nonporous and non-absorbent for a healthy space and peace of mind
MADE IN AMERICA WITH IMPORTED MATERIALS
People care not only where products are made, but also how they are made
American Reserve is made in Dickson, Tennessee with imported material
RESIDENTIAL LIFETIME WARRANTY
Offering a LIFETIME of confidence
COMMERCIAL 25 YEAR WARRANTY
STRONGEST warranties in the industry
NATIONAL MARBLE
Inspired by the stone monuments memorializing this great country, the National Marble Series inspires charming American design and embodies the quality of the America's finest marbles. Made in the U.S.A. with imported material and bearing the heritage of products well made, this series allows you elegant style and outstanding durability.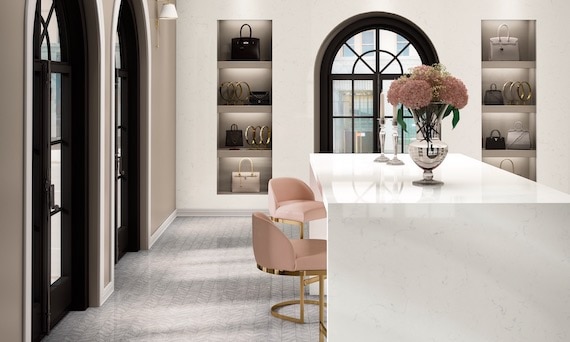 HISTORIC
Some of the most renowned landmarks across the nation tell the story of America's proud past, while symbolizing a strong and powerful future. With the Historic Series, establish historical significance and create unforgettable memories by incorporating revolutionary design in your space. Feel proud of the land you love, with products from the land of the free and home of the brave.*
* Made in the USA with imported material