Quaint Cottage with Vintage Vibes
Mina and Karen are back in Fountain Square with a quaint but expensive cottage-like home. In order to list this pricey property high enough to make a profit, they must figure out how to add plenty of bells and whistles without losing its vintage charm.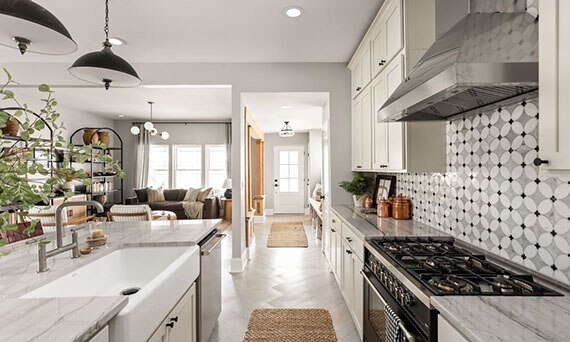 Beautifully blending vintage charm with modern materials, Mina & Karen selected natural stone for the kitchen - Lavaliere™ mosaics and Natural Quartzite slab.
The stunning backsplash is Lavaliere™ Petal Mosaic featuring Thassos White Marble with Black Antique Mirror accents.
This gorgeous countertop is Natural Stone Quartzite in Calacatta.
Shower walls are adorned by Lavaliere™ Chain Link Mosaic in Carrara White with Black Antique Mirror.