8 Questions Regarding Outdoor Tile
Consider outdoor tile for patio, pool, or outdoor kitchen? Before getting started, answer a few questions to ensure your tile will be well-suited for exterior spaces.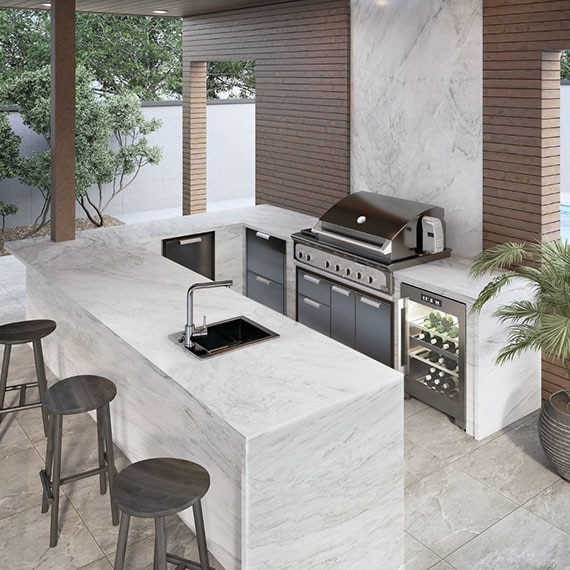 WHERE WILL THE TILE BE INSTALLED?
It seems a simple question, but it is the first one to answer as it dictates the type of tile that can be used. The playful mosaic that works wonders for your pool liner is not an option for pool decking. Likewise, some tile cannot face the elements as well as other tile.
The surface you intend to install the tile on is another important consideration. Concrete slabs work well if they are even and level*, have expansion joints, and are free of cracks. Uneven surfaces can cause grout to crumble. Confirm the substrate is properly prepared before installing tile.
*Outdoor flooring requires slope to allow sufficient rainwater drainage.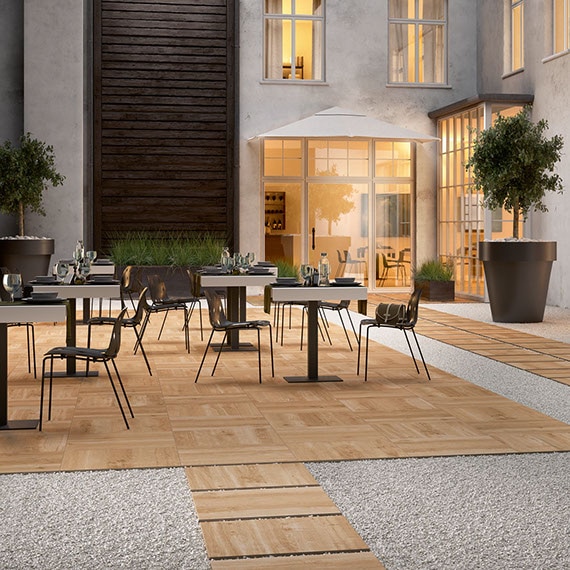 HOW WILL THE SPACE BE USED?
How much traffic is expected? Is moisture likely? Will the space be exposed to severe weather? What are you going to put on top of the tiled surface? Will the tile be in a place that is covered or uncovered? All of these questions and more must be answered before you select tile.

If you expect heavy traffic or plan to place heavy furnishings on your tile, you'll want a tough, scratch-resistant tile that can withstand a heavy load.

If you place tile on a pool deck or somewhere else where there might be standing water, be sure to select a tile that is rated for such.

Only specific tiles are appropriate for outdoor floor applications, especially if the space is uncovered. Take a look at the specs on tile you are considering to ensure it is a good choice for your application.
How thick should the tile be?
Using the right tile thickness is more important for the outdoors that most other applications. Tiles come in a range of thicknesses. Standard porcelain tile is typically 1/4" thick, while the thickest tile, pavers, are 3/4" (2CM) - three times thicker.
Standard 1/4" tile is recommended for interior applications only.
For covered exterior areas with minimal exposure to adverse weather, 1/2", 3/8", or 5/16" tile can be used. These thickness are also appropriate for applications in which they will not be expected to support heavy objects, like large appliances or vehicles.
2CM pavers are recommended for the following situations: uncovered exterior application, inclement weather exposure, needed for heavy object support (including vehicles), and/or commercial foot traffic. Additionally, only 2CM pavers should be used for raised pedestals installations, over flexible substrates, or set on sand, gravel, or grass.
For detail information, see our handy, downloadable guideline for When to Use 2CM Porcelain Pavers versus Standard Tile.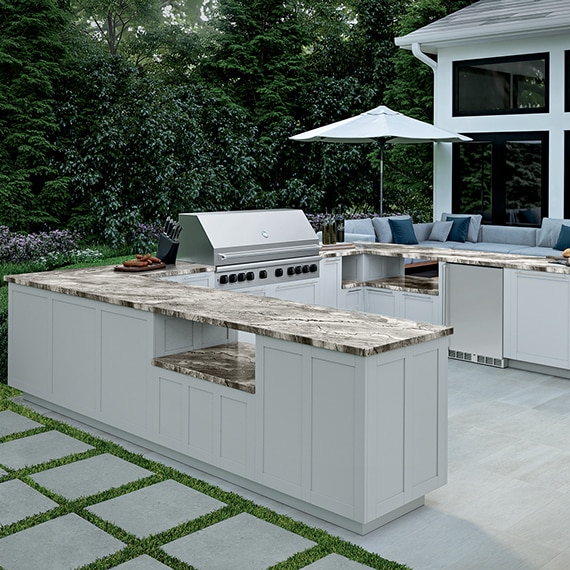 WHAT'S YOUR CLIMATE?
Your climate may have an effect on your tile selection as well. If you expect to have regular freeze/thaw cycles you'll need a dense tile that can stand up to the extreme changes in temperature. If you live in a hot sunny place, you may want to select a light-colored tile that won't get as hot in the sun as a dark tile.
For in-depth information on selecting tile for your climate, see our Solar Reflectance Index guide.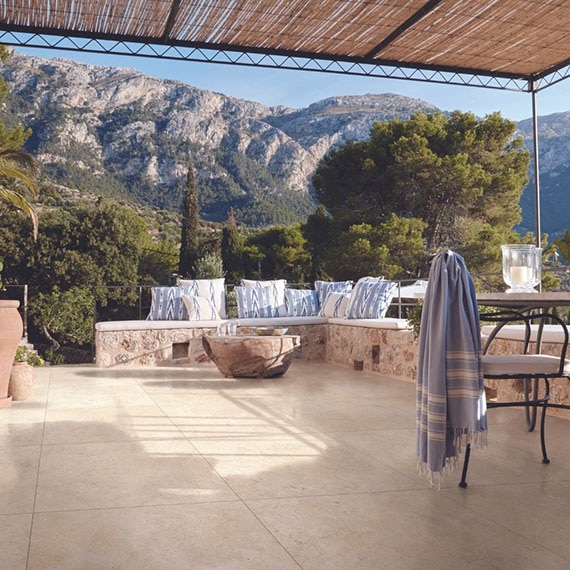 WHAT'S YOUR SCALE?
Scale refers to the size of the space you intend to cover with tile. Traditionally, small spaces take small tiles and large spaces take larger tiles. But a larger size tile in a small space can actually make the space look larger. Likewise, small tiles don't impinge on the visual size of a large space.

Larger scale tiles (more than 12 x 12) are an exciting addition to spacious areas. Big spaces also allow for more design features, as smaller spaces quickly begin to feel too busy. Keep in mind that large tiles require planning (and perhaps additional cutting) to accommodate the appropriate slope needed for proper drainage.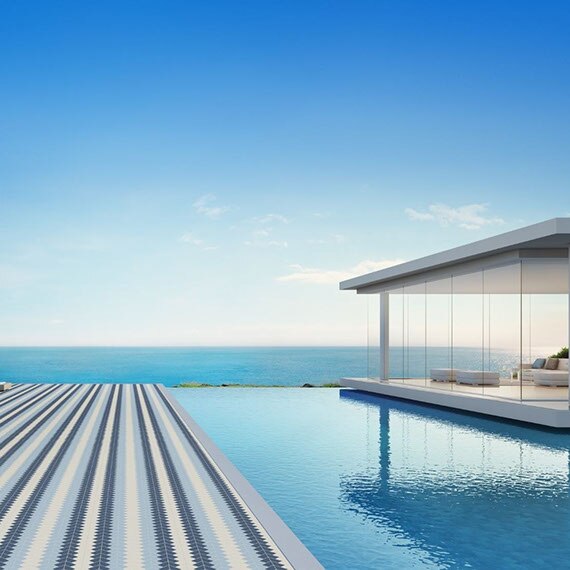 WHAT'S YOUR DÉCOR STYLE?
Your home's design might guide your tile selection. A modern, monochromatic tile might look out of place next to a traditional colonial home. Then again, that same modern tile would be right at home next to a midcentury modern home.

It might help to have your designer come up with a CAD representation of what your home might look like with your favorite tile.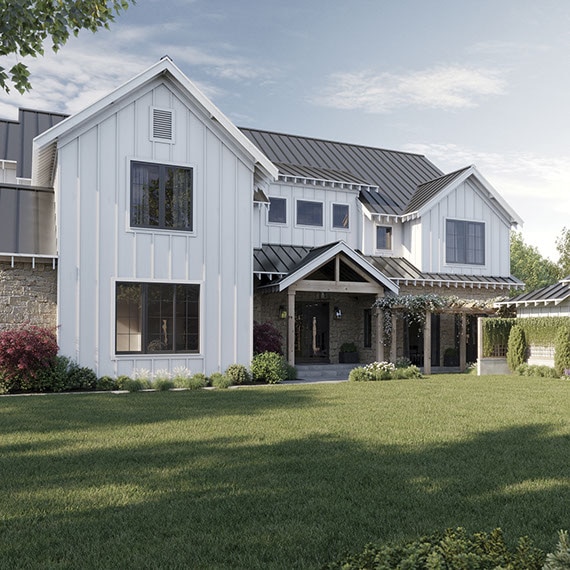 WHAT COLOR IS YOUR HOUSE?
Besides considering the style of your home, think about the color as well. Your backyard patio is an integral part of your property and must harmonize with it.

You can match the color, or you can complement it, but keeping an awareness of the other colors in your exterior space is key to selecting outdoor tile.
HOW MUCH LIGHT WILL THE AREA RECEIVE?
Determining the light levels where you want to install exterior tile can also be a deciding factor. Using dark tiles in low-light areas can make the space a bit melancholy. If you select a detailed tile, these nuances will be lost without proper light.
A good rule of thumb is to put light-colored tiles in dark areas and dark tiles in well-lit areas. This will help you optimize the natural light in the space. You can also add lighting to increase light in the area.
We do not suggest dark
floor
tile in areas that receive copious amounts of direct sunlight. See our
Solar Reflectance Index
guide for more information.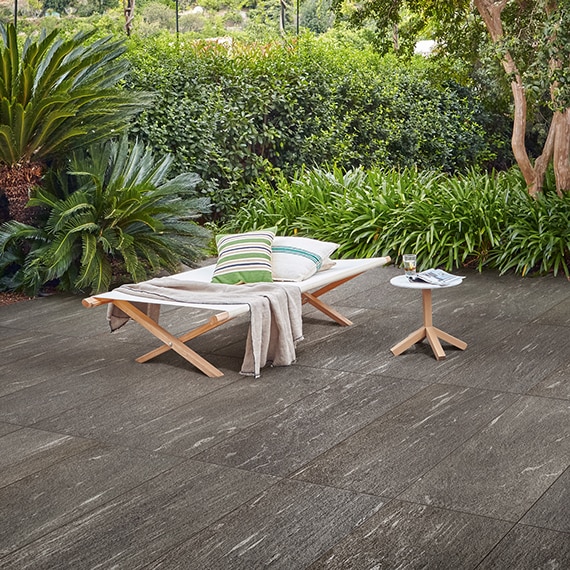 Tread Porcelain
Pavers
Epic strength and beauty come together in our impressive 2CM porcelain pavers.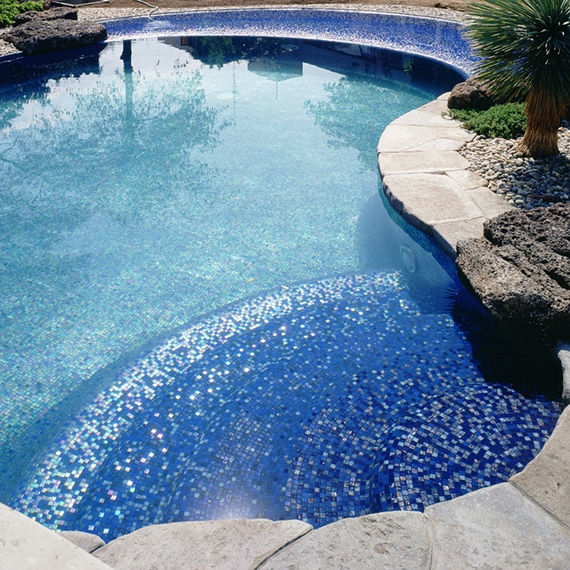 An Ocean of Possibilities
From classic mosaic to unique options like wood or stone look, shop our pool tile selection.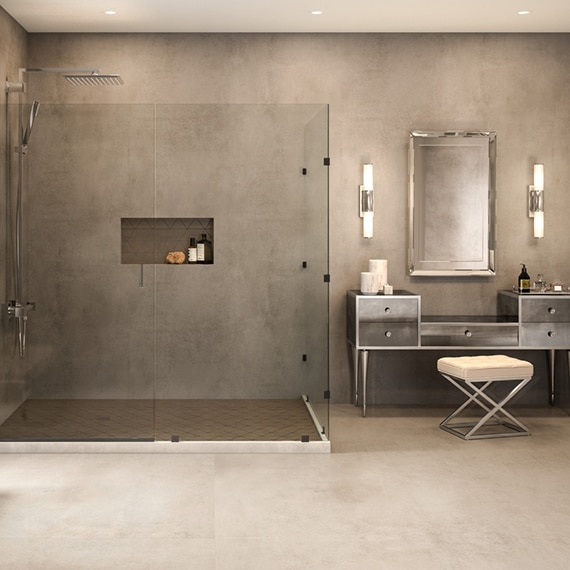 Factors to Consider
Knowing these technical details can help you make the best choice when selecting tile.