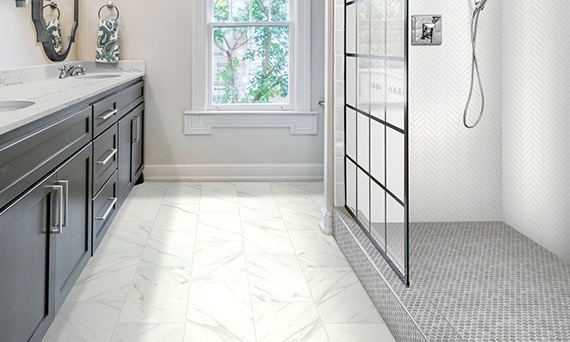 RevoTile Frequently Asked Questions
Many of your questions are best answered by our outstanding staff at sales service centers, design studios, and showrooms.
Find your nearest location by visiting our
store locator
In the meantime, read answers to some of our most frequently asked questions about RevoTile
™
below.
What is RevoTile?
RevoTile is a revolutionary new porcelain tile that installs more than two-times faster than standard tile. The RapidPrep™ underlayment, RapidGrout™, and ClicFit™ technology allows easy, quick installation without the mess of mortar, spacers, or long wait times.
How is RevoTile different than standard tile?
RevoTile is a revolutionary, patented tile flooring created by Daltile. This floating floor system is glazed porcelain laminated onto RevoCore, a proprietary core backer with patented ClicFit
™ Technology locking system.


RevoTile offers the same durability and benefits of standard porcelain tile. The only difference is the ClicFit™ Technology that allows for the click-together installation that makes the process quick and easy.
Does RevoTile look different from standard tile?
RevoTile is regular tile on the surface. The only difference is the ClicFit™ Technology and that doesn't show after installation but provides perfect spacing for perfect grout lines.
What is the core made of? Is it SPC?
RevoCore is a revolutionary core with a proprietary blend of composite materials designed to enhance the product performance.
How much does RevoTile cost?
The price of the full RevoTile package (with RapidPrep Underlayment & RapidGrout) is comparable to having basic builder grade tile or higher end floating floor installed – BUT you get a stylish, premium porcelain product upgrade. Plus, RevoTile is backed by a Residential Limited Lifetime Warranty when installation instructions are followed.
Does RevoTile have a warranty?
Yes. RevoTile genuine porcelain tile floor is backed by a Limited Lifetime Residential Warranty or a 1 Year Light Commercial Warranty when installed using RapidPrep and RapidGrout.
Is RevoTile waterproof?
Yes. It is also slip-resistant, stainproof, dentproof, scratch-resistant, fire-resistant, and easy to clean.

What sizes are available in RevoTile?
Sizes include 12x24, 6x24, 6x36.

What thickness is RevoTile?
The tile thickness are as follows:
12x24, 6x36 - 8.5mm plus 4mm thick core = total thickness of 12.5mm
6x24 - 8mm plus a 4mm thick core = total thickness of 12mm

What size are the grout joints?
6x24 = 3/16" (calibrated)
12x24, 6x36 = 1/8" (rectified)
What is the sub-floor flatness/level requirements?
3/16" over 10 feet and 1/16" over 1 foot.
What is the sub-floor deflection requirement?
L/360

What is the impact resistance rating?
1/2 lb. steel ball drop: 35"-70" high

What is the breaking strength?

What is the thermal expansion rate?
.2mm at 149 degrees fahrenheit.

What is the sound transmission rating?
With RapidPrep underlayment: IIC - 64/STC
What is the grout recommended for the RevoTile system?
RapidGrout, which is a premium, premixed, water based, flexible grout designed specifically for use with ClicFit™ Technology. RapidGrout offers the ulitmate in color accuracy, water resistance, stain, and crack protection.

Can I use other grouts with RevoTile?
No. The warranty only covers the system with the use of RapidGrout.

What size container is RapidGrout sold in?
9lb container.

What is the coverage rate for RapidGrout?
Working time is 3 hours. Tack free time is 8 hours.

How long do I have to wait to walk on the floor after applying grout?
Your floor is reay for light traffic in 24 hours. Heavy foot traffic in 3 days.

Can RapidGrout be used with other tile (not RevoTile)?
Yes. Just follow the installation instructions.

Is RapidGrout freeze/thaw stable?
Yes.

What is the grout joint width for each size platform?
6 x 24 – 3/16" (pressed)
12 x 24 & 6 x 36 – 1/8" (rectified)

How many colors of grout are available?
Ten neutral colors in white, gray, and brown palettes.

Who can install RevoTile?
Anybody! Any type of flooring installer can easily install RevoTile. Even do-it-yourselfers can install RevoTile.


How to install RevoTile?
Installation is a simple 1, 2, 3 step process.


• Place the underlayment
• Click tiles together
• Grout immediately


For further details, see the installation guide.


Do I have to use RapidGrout and RapidPrep underlayment?
To comply with the warranty, RapidPrep and RapidGrout are required.

What subfloors can RevoTile be installed over?
Concrete - 3/4" plywood or OSB over 16" or 20" O.C. joists - firmly bonded hard surface products, such as, other tile, hardwood, or LVT.


Can I put RevoTile over existing floor?
Yes. RevoTile can be installed over many existing flooring surfaces, including tile.

Can RevoTile be installed over carpet?
No. Only hard surfaces that meet level and deflection criteria.


How long does it take to install RevoTile?
Install time depends on the size of the room. It takes half the time to install RevoTile as it takes to install standard tile. With RapidPrep, there no mortar to wait for and ClicFit eliminates the need for spacers. You can install the tile and the grout the same day.


Can underfloor heating be used with RevoTile?
Yes. Calorique Perfectlywarm, 0.8MM film heating system has been tested and approved for use with RevoTile.


What are the subfloor leveling requirements?
The requirements are the same as other flooring, 3/16" over 10 feet.


Is RevoTile approved for exterior applications?
No. It cannot be used outdoors.


What joist spacing is allowable?
RevoTile is certified at 16" and 20" over center with 5/8" plywood deck


What transitions can be used with RevoTile?
Any 125 Schluter transition can be used with RevoTile. Expansion joint requirement – standard over 100 linear feet.


Can I do a herringbone pattern with RevoTile?
No. ClicFit is not designed to do this type of installation.

Does RevoTile require acclimation?
It does not require acclimation. If stored and installed above freezing temperatures of 32 degrees fahrenheit.


How long does RevoTile need to acclimate to freezing climates?
No acclimation is required if the tile is stored and installed in above freezing temperatures of 32 degrees Fahrenheit. If stored below 32 degrees, an acclimation period of 12 hours is required.

Can RevoTile be installed over a sound mat system?
Use RapidPrep underlayment.

What offset can RevoTile be installed?
RevoTile can be installed in 33% or 50% staggered on 6x24 and 12x24 - 33% stagger on 6x36.

Can RevoTile be installed on walls?
No. Not at this time.

Can RevoTile be installed outdoors?
No, only indoors at this time.

Will a small chip on the profile render the tile un-useable?
No. A chip of up to one inch on the profile will still allow the tile to be installed and perform as expected.

How do you cut RevoTile?
Using "score & snap" tool and/or wet saw.

What construction section will RevoTile be classified in?
Due to the product being tile and grouting involved, RevoTile will still be classified in Section 09300. However, we should also notate it as a "floating tile floor".

What are the expansion joint requirements?
RevoTile requires an expansion joint every 100 linear feet, as well as, compensating for control joints.

How much expansion allowance is required on the perimeter edge of the floor?
Use the RevoTile spacers, which provide 5/16" gap on all perimeter edges, columns or other fixed walls.

How do we address floor transitions?
Use the appropriate Schluter profile for the specific application.

How are Schluter transitions adhered to the subfloor?
Use construction adhesive to bond the transition to the subfloor or anchor using screws.

Can I use RevoTile in an area with a drain?
No. Due to the level requirements of the RevoTile system, it will not allow for the slope to a drain. This is an installation more suitable for traditional tile.

Can cabinets be installed on top of RevoTile?
Yes.