Enhancing Design with Technology: EverLux™
Daltile is always attempting to push the boundaries to get tougher, more beautiful, more authentic tile. We're pleased to introduce you to one of our newest technologies that is helping us do just that: EverLux.
It's All in The Finishes
EverLux is a method that produces state-of-the-art finishes that enhance detail and color. It's another way we deliver the most realistic looks available in the tile industry today. Think even more authentic wood looks and porcelain that replicates stone textures so beautiful you'll want to touch them.
There are three different ways we use the EverLux method to achieve different finishes:
EverLux Microsphere
Our version of high definition for tile. It delivers high-gloss finishes that enhance color and create designs like you've never seen them on tile before. The finish material we use is fired right into the tile so it doesn't wear off or dull—giving your tile stunning beauty that lasts.
EverLux Matte
This emulsified finish enhances color and creates a rich dimensional matte surface. The process is very similar to the Microsphere process but for matte looks. Once again, the material is fired into the surface so it won't wear off or dull over time.
EverLux Sync
Also known as dry glazing, this finish is achieved with the digital synchronization of the finish and the design of the tile. It creates a high-definition realism that is new to the tile industry and creates looks that you've never seen before.
Seeing is Believing
With EverLux, photographs don't do it justice. When you get a chance, find a sample of a tile with EverLux to get the full experience. Here's a few of our favorites.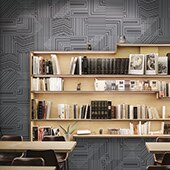 geometric fusion
In nine patterns and four colors, this collection is designed to be installed randomly creating an intentional deconstructed, geometric look. Each tile features a blend of finishes
Metro Impressions
Classic aged cotto with the sheen of modern gloss creates a whole new aesthetic in Metro Impressions. 8 neutral, high-variation colors in a matte finish 10 x 10 tile for the wall or the floor.
Trellis Oak
Traditional wood look reimagined adds unexpected flair to your design. Available in 36-inch planks with specialty chevron pattern and lattice work mosaic as an accent piece.
4 Cool slab Backsplashes
Consider a seamless slab backsplash. Here are four favorites.
5 TIPS FOR HIRING A TILE INSTALLER
Expert craftsman Chip Wade shares his must do's for hiring a tile installer.
Hot Trends
Learn what's trending in tile and spark creative ideas for amazing, stand-out design.