On the Wings of a Dovetail
The opulence of natural stone marble and luxurious Italian tile combine to create this stunning bathroom. The backsplash and shower walls feature our heavy glaze Remedy in Hydro RD22.
Natural stone marble in polished Carrara White M701 serves as a beautiful and durable countertop, shower bench, and shower shelf.
Providing slip resistance for the bathroom flooring and shower floor is our striking natural stone mosaic in honed Daphne White M103 2 x 4 elongated hex.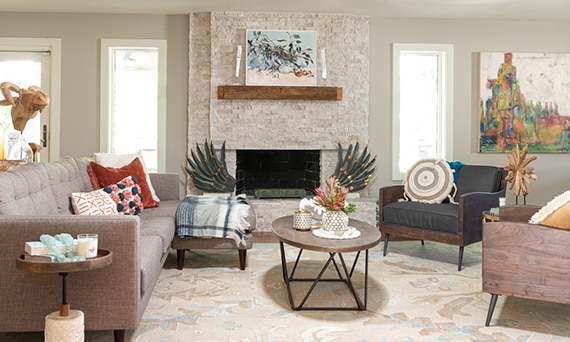 The rugged elegance of natural limestone provided just the style Tamara wanted for the fireplace. Our Arctic Gray L575 limestone, in three sizes, completes the look. The vertical surface is 2 x 6 split face mosaic, the hearth is honed 12 x 24, and 3/4 x 12 honed pencil rail trim finishes the edges.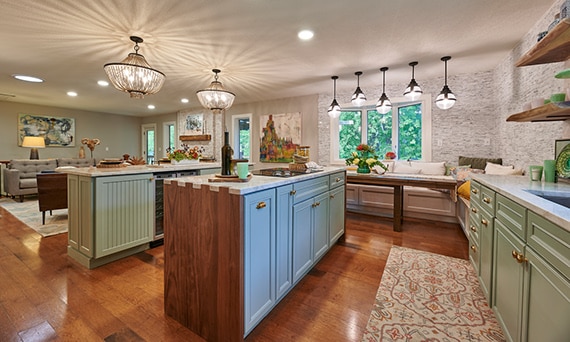 The countertop, islands, and backsplash feature our polished Crystallize Q705 natural quartzite.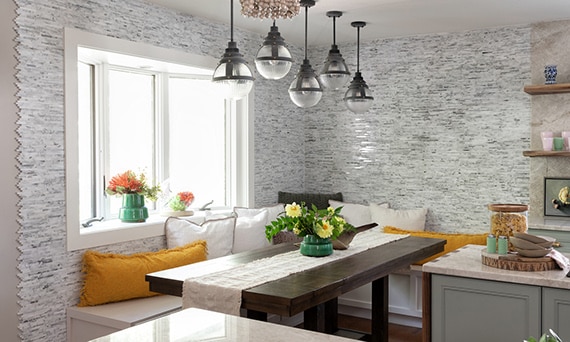 Stunning natural stone marble mosaic in Venetian Calacatta M474 adorns the banquette walls.
This gorgeous backsplash features our Mythology Harmonia MY92 Arabesque mosaic.