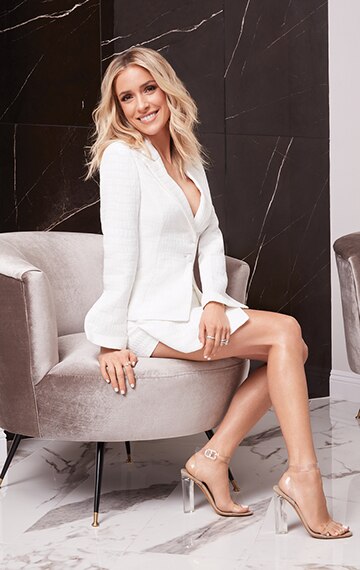 KRISTIN'S BIOGRAPHY
Born in Denver, Colorado, the Rocky Mountains couldn't have predicted what was in store for Kristin Cavallari when she headed west to live with her father and brother in Laguna Beach, CA. Cavallari was in her junior year of high school when the first season of Laguna Beach: The Real Orange County began production for MTV. With her whit, charisma and girl next-door looks, Cavallari was an instant TV sensation, winning over audiences across the nation. She was nominated for a Teen Choice Award in 2006 for "Choice Reality Star."
After wrapping two successful years on MTV's hit show, Laguna Beach, Cavallari switched gears to focus on a career in acting. From 2006 – 2009 Kristin starred in numerous films like Van Wilder: Freshman Year (2009), Green Flash (2009), Spring Breakdown (2009), and Wild Cherry (2009), starring alongside Amy Poehler, Rumer Willis, and Rob Schneider.
Still, Cavallari's fun-loving attitude towards TV continued to shine, and was apparent when she landed a guest role on CBS's hit show CSI: NY in 2008 and ABC's The Middle. Other gigs under Cavallari's belt include Veronica Mars, a lead role in Teddy Geiger's "For You I Will (Confidence)" music video and Gavin Degraw's video for his single, "In Love with a Girl."
In May of 2009, Cavallari confirmed that she would be joining the cast of the mega-popular MTV reality series, The Hills. Already a smash hit, Kristin appeared in the mid-season finale before continuing on as the reality-drama's new lead girl and narrator throughout the last two seasons.
In 2010, Kristin joined the fight to aid underprivileged children around the globe, serving as an ambassador of the children's charity One Kid One World. Cavallari traveled to El Salvador where she dedicated personal time towards rebuilding schools in local communities. Continuing her humanitarian efforts, Kristin made her way to Kenya in early 2011 for yet another extraordinary and successful project with One Kid One World.
In early 2011, Kristin combined her passion for fashion and love for charity on a new passion project. She teamed up with ShoeDazzle to design a spring shoe with proceeds benefiting One Kid One World. Her new spring shoe, named Bardot, became available for the first time in the spring of 2011.
Cavallari joined the season 13 cast of ABC's Dancing with the Stars. With her strong wit, charm and loveable charisma, Kristin competed against the likes of David Arquette, Chaz Bono and Nancy Grace for the DWTS Season 13 trophy. The bombshell reality star received a standing ovation for her Samba performance with partner Mark Ballas, before she was undeservingly voted off the hit show in week 3.
In August 2012, Kristin and husband, former NFL quarterback Jay Cutler, welcomed their first child together, son Camden. That fall, Kristin debuted her highly anticipated new shoe collection, Kristin Cavallari by Chinese Laundry. The popular collection was designed hands-on by Cavallari and was carried in several Nordstrom department stores across America.
In late 2013 Kristin returned to TV for FX's The League for her second cameo appearance on the show.
On Wednesday, May 7, 2014 Kristin and Jay welcomed their second son, Jaxon. After taking a few months to spend time with her family and newborn son, Kristin launched her first jewelry line Emerald Duv in the fall of 2014. The handmade line was dedicated to bringing effortless, refined, and on-the-pulse jewelry to timeless women. In 2015 the line expanded to candles and hats and clothing. Later in 2015, Kristin and Jay welcomed their third child, daughter Saylor on November 23rd.
In February 2016, Cavallari debuted her first book, Balancing In Heels: My Journey to Health, Happiness, and Making It All Work. In her book, Cavallari shares how she balances all aspects of her busy life with style and grace. From outlining health and wellness, food, fitness, fashion, and her success as a businesswoman to more private matters of family, motherhood, and her relationship with her husband, Jay Cutler, Kristin leaves no stone unturned. Shortly after its release, Balancing in Heels hit the New York Times best-seller list.
After several successful partnership opportunities, Kristin craved the creative freedom and fulfillment of founding her very own company and in 2017, Uncommon James was born. The jewelry line and lifestyle brand has gained recognition from industry authorities such as JCK and WWD. Her spring jewelry line for Uncommon James, sold out the first week of releasing. That same week, Kristin debuted her passion project and first cookbook True Roots - filled with hundreds of recipes that are free of refined sugar, dairy free and gluten free. Two days after its release, True Roots hit the New York Times best-seller list – making this Kristin's second book to receive this honor. With the success of her jewelry line and cookbook, Kristin launched Uncommon James home goods. That same day, Kristin opened her first Uncommon James flagship store in Nashville. Expanding her love for kids clothing, she launched Little James at the end of 2018.
Kristin has shown no signs of stopping as a busy Momepreneur, now adding CEO and producer to her belt. In July 2018, Kristin made her long awaited return to reality TV with her E! docuseries Very Cavallari. The first season followed Kristin as she opened the flagship store and Nashville headquarters of her rapidly growing fashion and lifestyle brand Uncommon James. With her new home of Nashville as a backdrop, fans got an exclusive look inside Kristin's life as a boss, producer, businesswoman, wife, mom and friend. The hit series was just renewed for it's third season.
Currently, you can catch Kristin on-screen as she hosts Paradise Hotel on FOX. The series is a reboot of the innovative unscripted dating competition series in which sexy singles try to remain in paradise for as long as possible by pairing up. The series originally aired on FOX in 2003, and then became an international hit, produced around the world in more than 18 countries.
Interactive
Tools
Create with Stylizer & mosaic design tool or tour inspiration gallery & virtual house.
Tile Your Way
Discover a wide array of personalized services for a tile installation like no other.
Got Questions?
We have answers. We're here to provide information on our company, services & products.